The Summer of Coming-Of-Age TV!
Written by Emma Cohen. Published: May 17 2023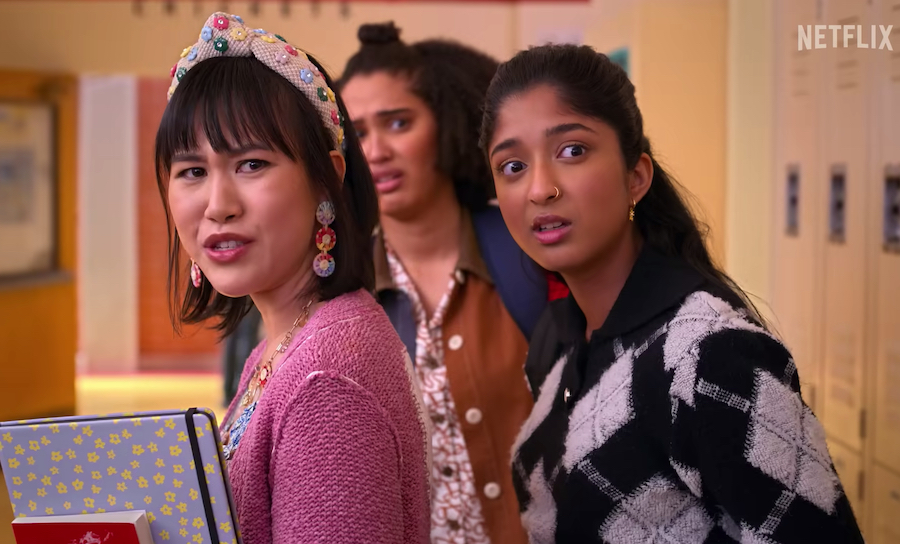 (Photo: Netflix)
This Summer's lineup for streaming series is jam-packed with both returning and brand new series, but it's coming-of-age TV in particular that will be having its moment in the sun. The following titles have been wildly successful, and each grew their own devoted fan bases that have been awaiting the arrival of new seasons. It's time to say goodbye to a triumphant series, welcome back some adored fan favorites, and say hello to a new series from the mind of a popular author!
1. "Never Have I Ever", Season 4: The Final Season (June 8, Netflix)
It's Devi Vishwakumar's (Maitreyi Ramakrishnan) senior year at Sherman Oaks High, and on June 8th, we will get to watch her and the whole gang adjust to new changes, make hard decisions, and cause plenty of chaos, of course. Devi had quite the eventful year in Season 3 -- she landed her dream guy, Paxton Hall-Yoshida (Darren Barnet), but when that crumbled, she had a stint with the new guy, Des (Anirudh Pisharody). After that crumbled too, the season ended with Devi showing up at Ben Gross's (Jaren Lewison) house, which was a big win for Team Ben and an unfortunate loss for Team Paxton. So what will Season 4 entail?
In the Season 3 finale, Devi decided to finish her last year at her high school, not accepting the invitation she received from a distinguished boarding school. Co-creators Mindy Kaling andLang Fisher have also made it clear that, though graduated, Paxton will still be a part of Season 4. This means that Devi is going to have to look her love life square in the eyes, and not just because her love triangle is evolving into a love square. In the teaser, it was announced that Michael Cimino, who's known for "Love, Victor", will be joining the cast as Ethan, a.k.a. Devi's latest love interest. 
"Never Have I Ever" will likely delve into much more, not just the relationship mayhem (even though it is so fun). The series has been praised for its inclusive representation, thoughtful depictions of grief and family, and genuine portrayals of teenagehood in all of its messy, hilarious glory. With a new chapter of her life on the horizon, Devi has some tough choices and personal growth ahead of her, plus several senior-year shenanigans. It looks like the final season will be going out with a bang, and whatever happens, we will always be Team Devi!
2. "The Summer I Turned Pretty", Season 2 (July 14, Prime)
Pack your bags because we're heading back to Cousins Beach this Summer with new episodes weekly beginning July 14th! Inspired by Jenny Han's novels of the same name, this show quickly became a hit last Summer. In addition to going viral all over TikTok (especially BookTok), it became the No. 1 series on Amazon Prime Video during its premiere weekend, and it was already renewed for a second season before the premiere date. In Season 1, Isabel "Belly" Conklin (Lola Tung) had her most memorable Summer at the beach house yet: She went through tedious preparation for the Debutante Ball, got caught in a love triangle between brothers Conrad (Christopher Briney) and Jeremiah Fisher (Gavin Casalegno), and sipped enough pomegranate margaritas for the whole family. 
Han has yet to shy away from making changes to the original book trilogy, and it looks like she will continue to shake things up for the second season. At the end of the first season, Belly ends up with Conrad, so if Season 2 follows the storyline of the second book, then things will turn around for Belly and Jeremiah as they venture closer together while she and Conrad drift further apart. It has not been revealed yet whether the new season will continue with the tragedy that hits the Fisher family in the second book, but if it does, then we will likely see many more emotional moments affecting these characters. Also, hints have been dropping on social media over recent months indicating that we will see the famous Christmas getaway, as well as possibly the iconic prom scene from the book. 
And get ready for some Season 2 cast changes. It was announced that Shayla (Minnie Mills), who was the love interest of Belly's brother, Steven (Sean Kaufman), would not be returning this season. Almost all of the other familiar faces in the cast have been confirmed to return, including Cam (David Iacono), one of Belly's previous love interests. We will see two newcomers arrive as well: along withKyra Sedgwick, Elsie Fisher will be joining the cast as Skye, with a role that has yet to be divulged. 
When the poster for Season 2 dropped, fans were quick to notice the easter egg of how the entire image alludes to what the new relationships will be. Allow us to break it down for you: everyone's eye line is going in different directions, suggesting the person toward whom they are gazing is who they will be romantically pursuing. Jeremiah and Conrad are looking at Belly (as expected), Steven is looking at Belly's bestie Taylor (Rain Spencer), Taylor is looking back at Steven, Cam is also looking at Taylor (potential new love triangle), Skye is looking at Jeremiah, and Belly is looking up at the sun because she will definitely need all the help from the Universe she can get if she's going to make it through this Summer! 
3. "Heartstopper", Season 2 (August 3, Netflix)
Make way for one of the loveliest feel-good shows of 2022 to return for a second season on August 3rd! Alice Oseman's beloved graphic novels of the same name made for a beautiful screen adaptation that left fans wanting more after Season 1. Luckily, we already know that we are getting both a second and third season!
In Season 1, we saw Nick Nelson (Kit Connor) and Charlie Spring (Joe Locke) navigate their feelings for each other as Nick grappled with understanding his sexuality. Since the first season was based on Volumes One and Two of theHeartstopper graphic novels, it is likely that Season 2 will be inspired by Volumes Three and Four. Nick and Charlie will figure out their new relationship, Elle (Yasmin Finney) and Tao (William Gao) will deliberate whether to jump into their friends-to-lovers era, and Tara (Corinna Brown) and Darcy (Kizzy Edgell) will encounter unexpected difficulties. We will also get to watch the iconic school trip to Paris, and they will be doing some busy prom planning in between exam commotion at school. 
On top of the return of the whole main cast, we are getting so many new characters. Nick's older brother, David, will be played byJack Barton; Nick's dad, Stephane, will be played by Thibault de Montalembert; Nima Taleghani will play school teacher Mr. Farouk;Bradley Riches, who was a background character in Season 1, will take on a new role as James McEwan; Elle's new friends, Naomi and Felix, will be played by Bel Priestley and Ash Self; and newcomerLeila Khan will play Sahar Zahid. There are a lot of new faces to meet and stories to catch up on, and we can't wait to do it later this Summer!
4. "XO, Kitty", Season 1 (May 18, Netflix)
Jenny Han is about to have a major Summer because she has another original creation dropping on May 18th! Kitty Covey (Anna Cathcart) derives from the To All the Boys I've Loved Before film franchise, which became an incredibly successful book-to-screen trilogy. She is the younger sister of Lara Jean (Lana Condor), and Kitty became known for being unapologetic and acutely perceptive of romance (a.k.a. a matchmaking queen). In the spinoff "XO, Kitty", we will watch as she travels to Seoul, South Korea, for boarding school to be with her long-distance boyfriend, Dae (Minyeong Choi), whose character we initially met in To All the Boys: Always and Forever. This boarding school also happens to be the same one her late mother attended, and we will get to see her connect with her mother's past as she creates new experiences for herself. 
The cast will include Anthony Keyvan as Q, the sweet jock who becomes Kitty's American bestie abroad; Sang Heon Lee as Min Ho, an affluent, admired classmate; andGia Kim as Yuri, the most popular girl in school.John Corbett and Sarayu Blue will also make a little appearance to reprise their roles as Kitty's father and stepmother, Daniel Covey and Trina Rothschild. 
We can't wait to watch as Kitty carves her own path and *quite literally* becomes the main character in her own life!