Catching Up With: IndyCar's Colton Herta!
05-28-2022 by Lesley Robins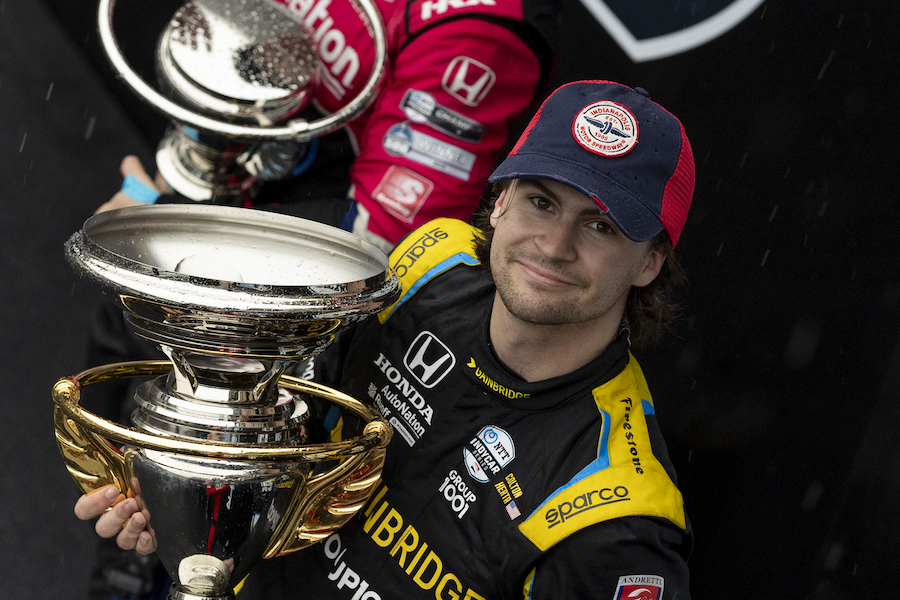 ( © Travis Hinkle)  
Get to know IndyCar star Colton Herta, who drives the No. 26 Honda-powered car for Andretti Autosport for IndyCar! Colton has won 7 races in the IndyCar Series, including the GMR Grand Prix, which was the lead-up to the 2022 Indianapolis 500 happening tomorrow (May 29). He won 3 times in 2021. Colton is the youngest race winner in series history, winning at Circuit of the Americans in 2019 at 18 years, 359 days old. It's Q&A time!
---------------------------
YH: Colton, great to chat with you again. Last time you and I were face to face was in the winner's circle last year at the Long Beach Grand Prix in your home state after you nabbed first place. What is something that has become a tradition that you do after a win? 
CH: So, it's nothing new to me, but for the longest time, me and my dad would get Mexican food. We would get tacos after. That started around when I was eight years old. And, obviously, just growing up in Los Angeles and Southern California so just racing around there, there was a plethora of taco stands. One track that I always did well at, there was this taco stand that just started to become a thing after I would win, that we would do that, and it carried on to today. 
YH: Yes, you are the youngest race winner in series history, but you're still young. You're only 22 years old. What is something you hope to never outgrow, something you hope you will keep — will keep you forever young? 
CH: Hopefully my love of racing, and that I'm able to be in a racecar for a very long time. So far, it hasn't been a problem, and I love what I do. But, hopefully, I can do it 40-plus. 
YH: Your father, Bryan Herta, is a former IndyCar driver. He competed in five Indy 500s between 1994 and 2006 with a best finish of 3rd in 2005. He won four IndyCar races. Talk about your father's influence on you and your team currently. Also, Father's Day is coming up if you want to use this forum to give a shoutout to your dad. 
CH: [laughs] And today's his birthday, so Happy Birthday! Yeah, obviously, I think getting into racing was mostly because of him. Growing up around the track, I was always kind of around it, so it was kind of natural for me to want to — want to be in it in some capacity. And for me, it was always striving. And yeah, it's really good to have a father that's done it before, just for the fact that he's been in pretty much every situation that I'll be in during my racing career. So, different types of media, or problems with the car, or how to tackle certain racetrack — yeah, he's always there for me. 
YH: Of course, when you refer to the Indy 500, you have competed in three so far: 2019, started 5th, finished 33rd; 2020, started 10th, finished 8th; and 2021, started 2nd, finished 15th. You did say on the radio after winning the GMR Grand Prix, "First win of the month done", which obviously means the Indy 500 could be your second. What's your mental prep like for the big race? 
CH: I think, mentally, it's more sourced into data acquisition and what we get from the race cars during the month, and then analyzing all that sort of stuff so I can be best prepared. You know, mentally, I feel like I'm always ready to go and hop in the car. But there's a lot more than just getting in the car. You need to understand a lot of different things for the race and for the racecar before you even hop in.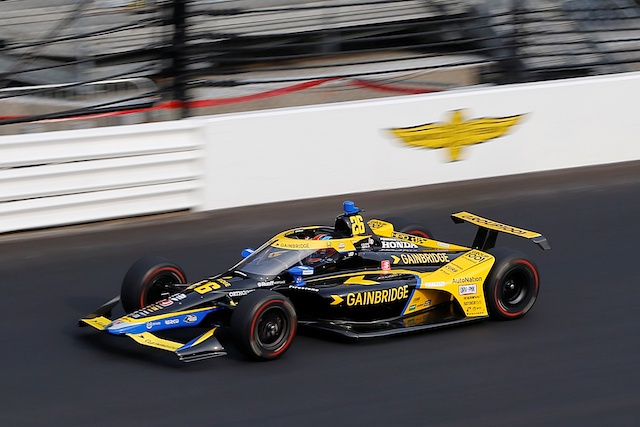 ( © Paul Hurley)
YH: This year's Snake Pit at the Indy 500 is right up your alley with 5 huge EDM artists performing; can you imagine if you rolled up to watch some of the show? How do you think fans would react? And on the music front, what are you listening to today? 
CH: You know, I think if I pulled up in my driver's suit, people would get the hint, but that's a little bit excessive and unnecessary. And right now, I'm listening to a lot of, like, garage rock and hardcore punk stuff from the '80s. 
YH: Speaking of music, you play drums in a rock band called The Zibs and actually toured in the West Coast in 2019. How did the band start, and when do you have time to practice? 
CH: I really don't have time to practice ever, unfortunately. [We practice] in the off-season mostly. And yeah, the band started just from our high school friend group, and I play drums when I was — started playing when I was about eight, so I knew how to play the drums. My friends were learning different instruments and stuff, so we started playing together, and that's kind of how it started. 
YH: You have a day off and can hang out with three of your fellow IndyCar drivers. Who are you chilling with and what are you guys doing? 
CH: I think, whenever I have a day off, because we travel so much and do all this stuff, I prefer to do nothing. Let's see, we'll go with Alex [Palou], Conor [Daly], and Josef [Newgarden]. Those guys are always fun, and they're always fun together, so maybe just like a pool day. 
YH: It seems Prank Wars have begun at IMS amongst the drivers. What is the best prank you've ever pulled, and what is the best prank ever pulled on you? 
CH: I've never pulled any pranks. And the best prank — no one's ever gotten me either. I will never admit to anything I do. 
YH: Alright last one — after this interview, what are you going to do? 
CH: After this interview, I'm going to get in the car and we're going to go practice. 
---------------------------
Catch the Indianapolis 500 live tomorrow, May 29, on NBC and on Telemundo Deportes on Universo at 11am ET!