5 Huge EDM Stars to Play Indy 500's Biggest Party!
05-17-2022 by Lesley Robins
  ( © IMS Photo)  
You know the race: The Indianapolis 500. And what if we told you that The Greatest Spectacle in Racing – taking place this Memorial Day weekend – also comes with the Greatest Spectacle in EDM? Race cars and dance music?! Don't you know it.
Welcome to the Snake Pit. It's called the BIGGEST PARTY of Indy 500 race weekend for a reason. The Snake Pit, presented by Coors Light, goes down inside Turn 3 of the Indianapolis Motor Speedway before and throughout the race. The Snake Pit, therefore, only adds to the Indianapolis 500 flare, drama, and non-stop excitement.
Labeled as one of EDM's most unique events, the Snake Pit will feature a festival-caliber lineup packed into mere hours, all starting bright and early at 7am! This year's Snake Pit will be headlined by superstar DJ and producer Martin Garrix with stellar artists that also includes Deadmau5, Steve Aoki, Galantis, and Yellow Claw.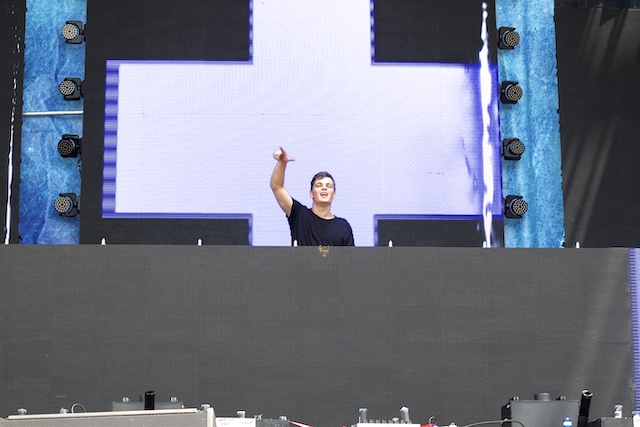 ( © IMS Photo)
Both Garrix and Aoki have previously played the Snake Pit, while former lineups have included Skrillex, Griz, Diplo, Krewella, Nervo, Afrojack, Illenium, Chris Lake, and more.
And not only is the Snake Pit an electric atmosphere for friends, fun, plus new and old racing fans alike, it's super meaningful this year because 2022 represents the return of the Snake Pit after a two-year hiatus due to the COVID-19 pandemic.
But what if you want to check out the race and the music? Not a problem. While all Snake Pit attendees must also hold a valid Indianapolis 500 Race Day ticket, Snake Pit attendees can catch racing action from Turn 3 of the famed venue, or they can leave the music area and catch some car action nearby and come back! Tickets are on sale now, but be careful – you could get bitten and want to return to the Snake Pit & The Indy 500 year after year after year.
Fans across the country can catch this year's race on NBC beginning at 11AM on Sunday, May 29th. And check out the Snake Pit schedule below:
7:00 AM – Gates open
8:15 AM – Yellow Claw
9:15 AM – Steve Aoki
10:30 AM – Deadmau5
11:45 AM – Pre-Race
12:45 PM – Green Flag
12:50 PM – Martin Garrix
2:35 PM – Galantis
Are y'all ready?!