Why Will Ferrell Needs to Drop an Album Immediately
Written by Kevin Donaldson. Published: June 24 2014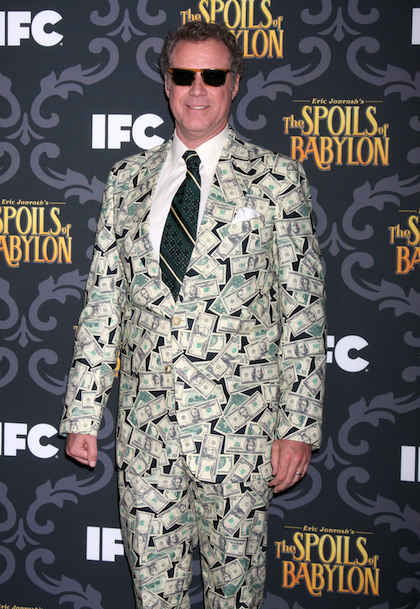 Eddie Murphy, David Hasselhoff, andBruce Willis… what do these three have in common? They're actors, yes, but they also have all released musical albums. Will Ferrell, the time is now for you to join these gentlemen as the artist you were born to be. With his latest stunt of having a drum-off with long-time doppelganger and drummer for the Red Hot Chili Peppers,Chad Smith, it is clear that Ferrell is at the height of his musical creativity. But don't take my word for it. Have a look at the video below from "Late Night with Jimmy Fallon". Just a heads up, it might be hard to tell the difference between the incomparable Will Ferrell is and Chad Smith. Just kidding, you can tell who Will Ferrell is by his superior drumming.
Will Ferrell first captivated audiences with his musical ability in a sketch on "Saturday Night Live", way back in the year 2000. The sketch was comprised of Ferrell and other SNL cast members acting as members of the band Blue Öyster Cult and takes us back in time to the '70s when the band had to pitch the classic song "Don't Fear the Reaper" to a record producer, played flawlessly byChristopher Walken. The skit, now referred to as "More Cowbell", had audiences demanding Ferrell to provide them with just that as he pounded his soul into the cowbell. For those of you have never seen the sketch before, take a look below. I must warn you, your mind will be blown.
After his departure from SNL to pursue a career in film, Ferrell has continually showed us time and time again that he has the musical talent to record the most successful musical album an actor has ever created. In the film Anchorman: The Legend of Ron Burgundy, Ferrell plays the title character and breaks out into a spontaneous jazz flute solo. His musicianship and overall prowess is only rivaled by the flute-playing ability ofJethro Tull's frontman Ian Anderson, who doesn't even have an acting credit. In the middle of his jazzy jam, which he is CLEARLY playing himself with no playback track, Ferrell even screams out, "Hey Aqualung!" This is a reference to one of Jethro Tull's most popular songs entitled, funnily enough, "Aqualung". It was like Will Ferrell was calling out Ian Anderson. Since there hasn't been a flute-off between the two, it is clear that Anderson fears Ferrell's flute playing ability, thus effectively showing us all that Will Ferrell is, in fact, the better flutist.
If you thought from reading this so far that Will Ferrell is only known in the music community for his instrumental abilities, than you are gravely mistaken. For not only can the man play numerous instruments, he can sing like a male version ofAdele. In films like Elf andSemi-Pro, Ferrell's pipes are on display. In Elfhe sings a beautiful duet with the also talented Zooey Deschannel (who has released musical albums of her own) of the Christmas classic "Baby, It's Cold Outside" by Frank Loesser. Meanwhile Semi-Pro sees Ferrell contributing for the first time with an original song as his character Jackie Moon entitled, "Love Me Sexy".
Ferrell's singing doesn't stop there. In the film Step Brothers, he plays a man named Brennan Huff opposite the multi-talented Academy Award-nominated actor John C. Reilly, who plays stepbrother Dale Doback. Ferrell sings a heartfelt rendition ofBonnie Raitt's "Let's Give Them Something to Talk About", which makes Reilly, as well as the audience, tear up from the sheer excellence of Ferrell's voice. "Brennan, that is the voice of an angel," Reilly remarks. "Your voice is like a combination of Jesus and Fergie." Later in the film, Ferrell astonishes audiences yet again with a sweet-as-candy version of "Por ti volaré" by Andrea Bocelli. Reilly accompanies Ferrell's singing with his drumming ability, which is easily overshadowed by the absolute beauty of Ferrell's voice.
If you thought Will Ferrell was done showing off his musical inclinations in Step Brothers, once again you are dead wrong. The middle of the film features an original rap song by Ferrell and Reilly entitled "Boats 'N Hoes", which ultimately left audiences believing that a new voice was about to dominate the rap game. Fans have been patiently waiting six years for a follow-up track but have received nothing in return. Come on, Will! The rap game needs you!
So, there you have it. The facts are right there in front of you. Will Ferrell's musical artistry is unmatched in the acting world, but it's time for him to step up and prove it to more than the select few who can recognize such raw talent. Will Ferrell, where ever you are, the world needs your voice available for digital download with multiple tracks. Please, give the people what they wantdeserve!
(Photo via WENN)
- Kevin Donaldson, YH Staff