Entrepreneurs & Celebs Honored At Annual Milken Institute Global Conference!
Written by Polina Levant. Published: May 12 2023
( © The Milken Institute)
"Follow your heart and passion, even if people are doubting you."
Those were the words of Sandra Namboozo, the 2023 winner of the $300,000 Milken-Motsepe Prize for Innovation, presented last week at the Milken Institute Global Conference in Beverly Hills. Sandra, 25, and her business partner Samuel Muyita, 26, were chosen from an impressive talent pool of more than 3,300 entrepreneurs from 100+ countries.  
"The purpose of the prize is to find anyone on this planet who has a good idea – who has an entrepreneurial way to solve a problem – and reward them," said Mike Milken, Chairman of the Milken Institute.
For the second year in a row, Young Hollywood was on the scene at the annual, invitation-only event that mixes celebrities and business leaders and brings attention to some of the world's biggest challenges. Music legends like Snoop Dogg andWill.i.am were in attendance, as were successful creators like Demi Lovato, Issa Rae, Daniel Dae Kim, andSeth Rogen. This year, Young Hollywood met two rising stars in the world of socially-minded business who were honored with the prestigious Milken-Motsepe Prize.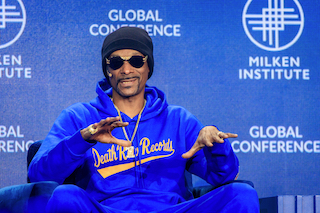 ( © The Milken Institute)
Sandra and Samuel co-founded KarpolaX, a start-up in Africa that solves a growing problem facing countries around the world: food insecurity. The college friends discovered a novel way to extend the shelf life of fresh fruits and vegetables by 33 days. Thanks to their creative use of nano-technology, more food can now reach consumers while less gets thrown away. Sandra, the CEO of Karpolax, told us how she came up with the idea for the company: "My parents were farmers, so I had firsthand experience witnessing great losses when food wasn't sold immediately."
( © The Milken Institute)
Of course, their journey wasn't always easy. The COVID-19 pandemic shut down their business just as it was launching. Then they accidentally purchased the wrong chemicals. But despite the setbacks, Samuel never considered quitting: "Our passion to change the world kept us going. We knew we were so close to creating something that many people could benefit from."
Once they finally got their product working, Sandra and Samuel felt tremendous relief. Winning the Milken-Motsepe Prize gave them a feeling of "pure joy". After receiving their award, Samuel offered advice to Gen-Z entrepreneurs: "Don't assume you have time. Maximize every minute you have to pursue your goals and dreams."