Blake vs. Rihanna: Who Is The Queen of the Met Gala?
04-20-2022 by Abigail Hayes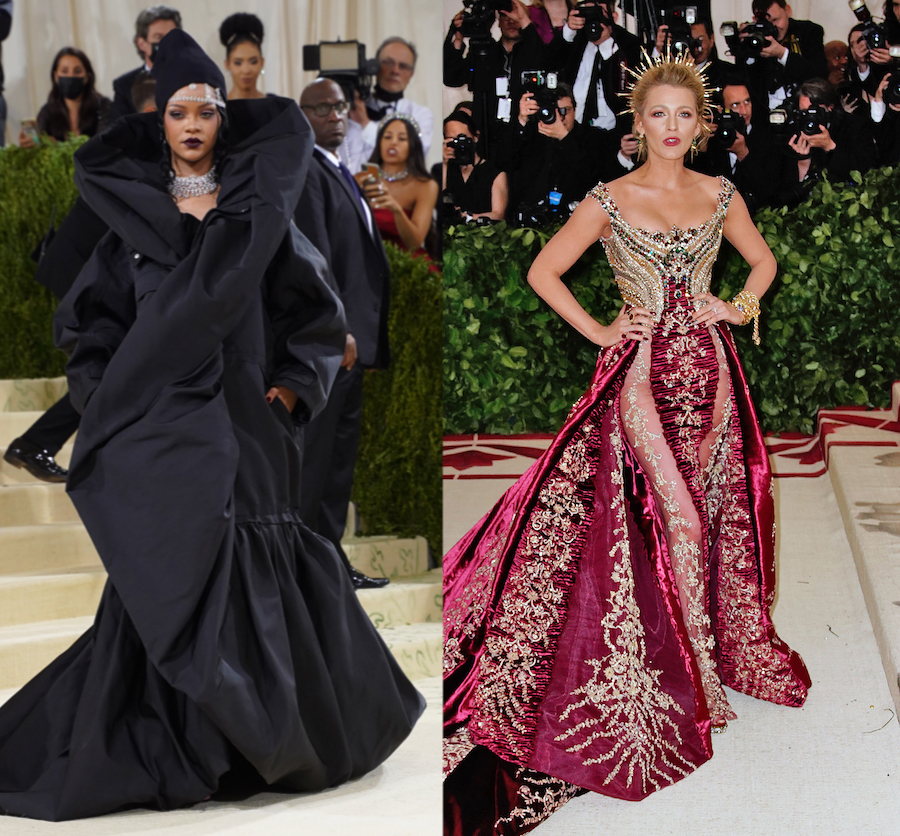 ( © Sean Zanni/Patrick McMullan, Jackson Lee via Getty Images)  
Every look that Blake Lively and Rihanna have worn at the Met Gala has been iconic. These two definitely know how to make an entrance in the best way possible. From star-studded gowns to diamond headpieces, these women make the Met Gala something worth talking about year after year. But who is the ultimate Queen of the Met? We break down Rihanna and Blake's best looks and we want to let YOU decide who reigns supreme! 
2009: The Model as Muse: Embodying Fashion
This "Gossip Girl" star wore this deep blue dress for the 2009 Met Gala. 
The "Rude Boy" singer wore a sophisticated black suit with a pixie cut. 
2011: Alexander McQueen: Savage Beauty
Lively stunned in Chanel with her classic blonde hair. 
Rihanna debuted her now-iconic red hair, which was the start of a new era. 
2014: Charles James: Beyond Fashion
Lively looked gorgeous in Gucci's soft pink gown. 
Rihanna wore a chic two-piece dress accessorized with a diamond choker. 
2017: Rei Kawakubo/Comme des Garcons: Art of the In-Between
Blake wore a metallic dress with vibrant blue feathers. 
Rihanna was definitely on theme with her extravagant dress and laced up shoes. 
2018: Heavenly Bodies: Fashion and the Catholic Imagination
This is one of Blake's most iconic Met Gala looks and it still has people talking. 
Rihanna transformed into the Pope for this Met Gala's theme. 
BONUS LEWKS from when Blake was present at the Met when Rihanna wasn't, and vice versa!
2013: Punk: Chaos to Couture
Feathers were the moment, and so was Blake. 
2015: China: Through the Looking Glass 
Rihanna wore this gorgeous yellow gown made by Chinese designer Guo Pei. 
2016: Manus x Machina: Fashion in an Age of Technology
Instead of wearing metallic just like everyone else did, Blake decided to wear this elegant pink dress. 
2021: In America: A Lexicon of Fashion
Rihanna wore an all-black Balenciaga Couture fit. 
So who do YOU think is the Queen of the Met Gala? Let us know! And be sure to keep an eye out for this year's Met Gala, taking place on May 2, where Blake herself will serve as a co-chair!