YH AT HOME with "What We Do In The Shadows" Stars Kayvan Novak & Harvey Guillén
05-26-2020 by Katie Marzullo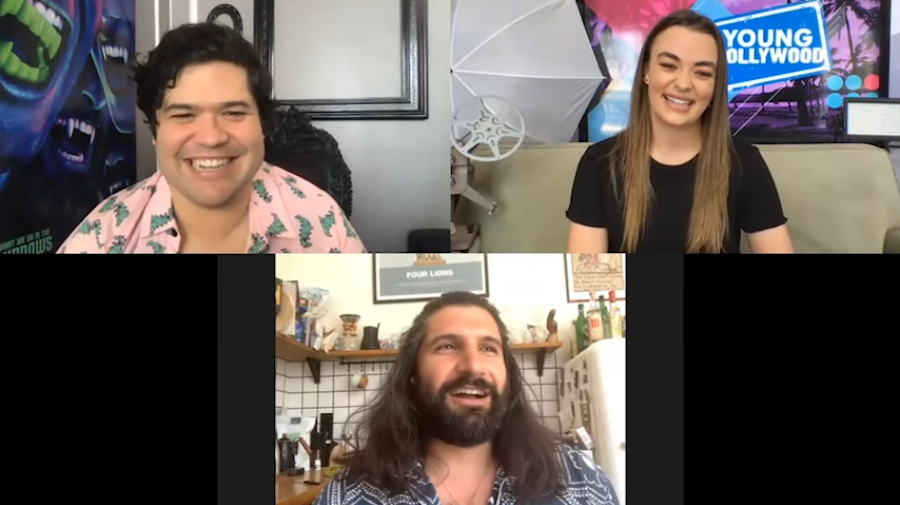 If you haven't been watching "What We Do In The Shadows", (1) where have you been?? And (2) now is the perfect time to start!

What We Do In The Shadows originated from the brilliant minds of "Flight of the Concord" co-creator & star Jemaine Clement and Oscar-winning writer, director, actor, and all-around pure cinnamon roll Taika Waititi as a mockumentary about centuries-old vampires living in modern-day New Zealand. The 2014 film quickly became a cult favorite, including here in the States, and 5 years later, the duo brought their concept to the small screen as a hilarious series on FX!
"What We Do In The Shadows" the show follows a similar concept, except with a whole new cast of wacky vampires (and one familiar) chilling in Staten Island, New York. The 4 roommates – consisting of 700-year-old Ottoman Empire conqueror Nandor the Relentless, 500-year-old Romani Nadja, her English husband Laszlo Cravensworth, and energy vampire (whose "deal" is still somewhat of a mystery) Colin Robinson -- tackle everyday issues like chain emails, cursed hats, werewolf battles, and burying bodies. As you do! Also living in the house with the foursome is Guillermo, Nandor's long-suffering familiar, who puts up with an array of nonsense all in the hopes that he will one day realize his lifelong dream of being made a vampire.
The series has also boasted an impressive variety of guest stars in its short run so far, including Tilda Swinton, Mark Hamill, Wesley Snipes, Doug Jones, Dave Bautista, and more!
Young Hollywood caught up with Nandor and Guillermo themselves,Kayvan Novak and Harvey Guillén, respectively, over Zoom to get the scoop on the two characters' increasingly tense relationship, which is coming to a head in Season 2! And speaking of heads, Kayvan discussed the upkeep for Nandor's fabulous flowing mane, which, incidentally, most assumed is a wig! And speaking of false assumptions, Harvey revealed that the photo of Guillermo as a kid dressed up as Antonio Banderas's character from Interview With a Vampire is not, in fact, really him! (A fact which surprised even Kayvan!)
They also gave us a run-down on their casting process and their familiarity with the film going into their auditions. Kayvan had been a huge fan for years while Harvey purposely avoided watching the movie until after he booked the role, a decision he says he is grateful for!

Additionally, the twosome ponder the origins of Nandor and Guillermo's relationship – what the heck were the circumstances of their first meeting?! Did Nandor wander into a Panera Bread one day, where Guillermo worked before becoming a familiar? Hopefully we will find out soon!
In the meantime, Season 2 is currently airing on FX, and if you need to get caught up, all episodes are available to stream on Hulu. The show also just got renewed for a 3rd season, so it's definitely not going anywhere!
Check out our chat with Kayvan and Harvey below, and catch a new episode of "WWDITS" Wednesday nights at 10pm on FX!