WOMEN WE LOVE: Michelle Williams
09-30-2019 by Lori Bashian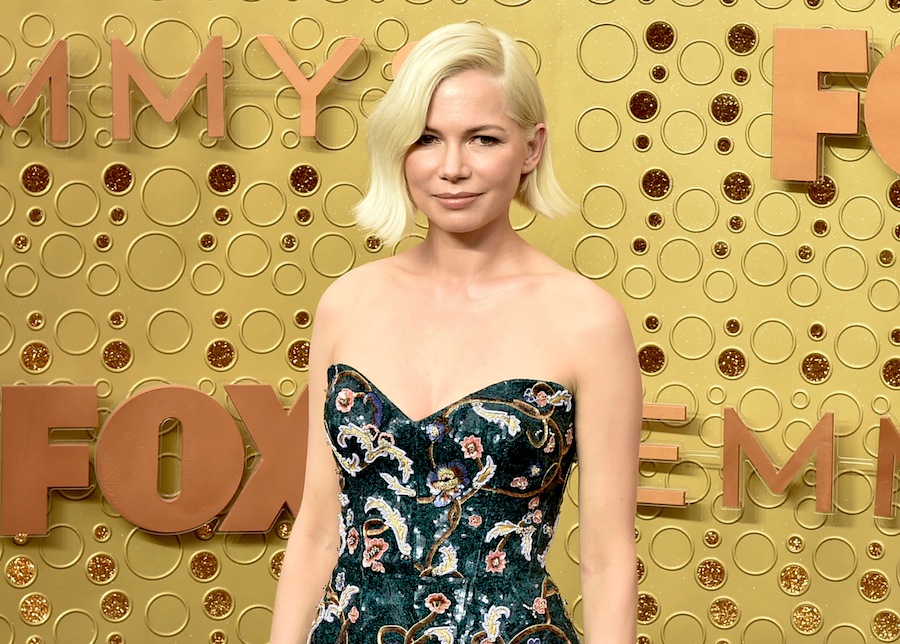 ( © David Crotty/Patrick McMullan via Getty Images)  
At the 71st annual Primetime Emmy Awards last weekend, one actress in particular has made headlines after her win and subsequent speech.Michelle Williams won for Best Actress in a Limited Series or Movie for her outstanding work in FX's "Fosse/Verdon".

In an empowering speech, Williams called for equal pay in the entertainment industry, crediting her employers for making her feel valued by placing the same value on her as they would her male co-star. She goes on to say that they listened to her and believed her when she said her performance would improve if changes were made, such as getting a better wig to get into character, and in the end it did, and resulted in a better finished product.   
"The next time a woman, and especially a woman of color, because she stands to make 52 cents on the dollar compared to their white male counterpart, tells you what she needs in order to do her job, listen to her, believe her, because one day she might stand in front of you and say thank you for allowing her to succeed because of her workplace environment, and not in spite of it."
Before Williams was giving epic speeches at the Emmys, she was just a small town Montana girl who got bit by the acting bug after watching a performance of The Adventures of Tom Sawyer. At the age of 15, she emancipated herself from her parents and moved to Los Angeles and booked a lot of low budget commercials and TV shows. In 1998, Williams got her big break starring as Jen Lindley for six years on "Dawnson's Creek", until the end of the show in 2003.
Williams's role in "Dawson's Creek" opened up a lot of doors for the budding star, who then went on to star in a string of independent movies. Her credits include British film Me Without You, The United States of Leland, and Land of Plenty. Her biggest role of that time period came in 2005 when she portrayed Alma, the wife of Ennis, who is a homosexual man, inAng Lee's Brokeback Mountain.
Critics were quick to call Williams the breakout star of the film, which was her most successful at the box office up until that point. The film was nominated for 3 Academy Awards, including one for Williams in the Supporting Actress category. While filming Brokeback Mountain, Williams met and began dating Heath Ledger, and gave birth to their daughter Mathilda in 2005.

FollowingBrokeback Mountain, Williams starred in a series off box office disappointments, until she was cast in Martin Scorsese's Shutter Island in 2008 andDerek Cianfrance's romantic dramaBlue Valentine in 2010. The latter earned Michelle a Golden Globe nomination and her second Academy Award nomination, this time in the Lead Actress category.
In 2011, the actress took on the role of Norma Jean herself in the film My Week with Marilyn. She spent 6 months researching the character, which ultimately paid off with excessive amounts of love from the critics and her second Academy Award nomination for Best Actress. One of her highst-grossing film releases came in 2013 when she portrayed Glinda the Good Witch in Oz the Great and Powerful.
Her success in the film industry translated seamlessly onto the stage when she starred as Sally Bowles in a Broadway revival of Cabaretin 2014. Williams considers this to be her toughest role yet, but was not discouraged from working on the Great White Way, starring in a 2016 revival of Blackbird where she played a woman who confronts a man who sexually abused her as a child. For this role, she received a Tony Award nomination for Best Actress in a Play.
It seems as though everything this woman chooses to participate in results in a nomination of some sort. Her next film came in 2016 withManchester by the Sea. The film starred Casey Affleck as her ex-husband who is living with the depression he feels after accidentally setting the house fire which killed their children. Williams received a fourth Academy Award nomination for this role, and her second in the Supporting Actress category.
Most recently, she has starred in The Greatest Showman as Charity, the wife of P.T. Barnum, the man credited for starting the world's first circus. She provided her amazing vocals for two songs in the film's soundtrack. She then went on to star in All the Money in the World, I Feel Pretty, After the Wedding, and of course the television show "Fosse/Verdon" for which she just won an Emmy. Her portrayal as Broadway legend Gwen Verdon was nothing short of brilliant.
In true Michelle Williams fashion, the work does not stop. Her schedule is already full with a slate of films to be released in the coming years. Her upcoming projects include: Venom 2; aJanis Joplin Biopic in which she will play the iconic singer; The Challenger, a film about the Challenger Space Shuttle disaster, in which she will portray astronautChrista McAuliffe; and lastly a film titledThis is Jane about the underground abortion counseling service known as the Jane Collection.
While not too much is known about these projects in the moment, we can only expect them all to be amazing and end up in another Oscar nomination or two, just like everything else she has acted in.   
What's your favorite Michelle Williams movie?!