Why Penelope Disick Is Our Favorite New Influencer!
01-09-2022 by Meredith Reilly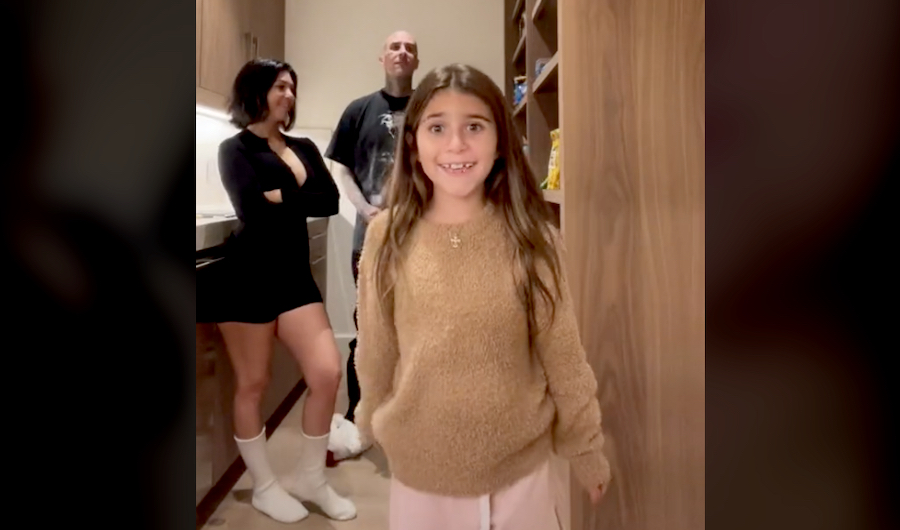 (Penelope Disick/TikTok/@pandkourt)
Penelope Disick, daughter of Kourtney Kardashian and Scott Disick, has taken TikTok by storm and we are here for all of it! Back in October, she posted her first video and has already accumulated 2.9 million followers on her account @pandkourt. We'd say that is pretty impressive for a 9-year-old! Her content consists of transitional videos showing off products and her lifestyle. 
Many TikTok users have coined Penelope the "transition queen" because of how smooth the transitions in her videos are. Take this video, for example -- here P is roasting marshmallows with the Barkers at the beach. Let me just say, I wish I looked this cool while roasting some 'mallows. 
Another reason we love P's content so much is not just because of her swanky transitions but for the inside scoop on the Kardashian clan; things we as viewers typically don't get to see, like the TikTok she posted of herself, Kourtney, and Travis Barker doing the helicopter trend. During the video, Travis grabs Kourtney for a sweet hug. We would not have been blessed with this inside content if it weren't for Penelope!
It doesn't stop with just content from Kourt's house; we get rare peeks of Scott as well! One of our favorite videos posted by Penelope, -- and actually her most popular with 33.1 million views -- is one with the Lord himself. In this video, we get a peek inside at how cute the duo is, with P nudging Scott when it's time for his lines. Just adorable!
We aren't the only ones obsessed with Penelope's content either -- the popular TikTok user @girlbosstown, also known as GBT, posted a video commenting on her obsession with @pandkourt's content. She discusses how much she loves P's new red hairdo, then pauses to realize she needs to get a life. (Me too, GBT!)
It's safe to say Penelope Disick has made a big splash on TikTok, and she's only been on it for 4 months. We can't wait to see what she does next, but for now, we'll just add all the products she recommends to our Amazon wish list...