Our Favorite Celebrity Cameos In Netflix's 'Don't Look Up'!
01-08-2022 by Meredith Reilly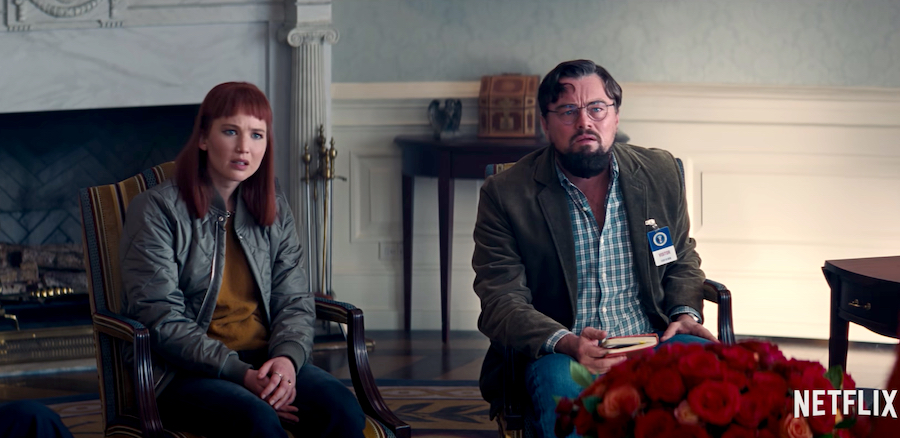 (Netflix)
Adam McKay's Don't Look Up premiered on Netflix over the holidays, and not only is it an exciting movie, but it has one star-studded cast! Leonardo DiCaprio and Jennifer Lawrence play two unimpressive astronomers, Randall Mindy and Kate Dibiasky, who discover a comet that will destroy Earth. The duo then goes on a media tour to warn humankind... but nobody cares. 
But wait untill you hear who else makes an appearance in the film! Here are our favorite celebrity cameos in Don't Look Up! 
1. Timothée Chalamet 
When I saw Timothée grace my screen while viewing Don't Look Up, I screamed out loud! I mean, who doesn't love Timmy? Also, his character, Yule, was just hysterical! 
2. Ariana Grande
Not only did Queen Ari make an appearance, but she also sang! Her character, Riley Bina, was the stereotypical pop star. Watching Ariana play a diva was such a switch from her personality, making it so fun to watch! 
3. Chris Evans 
I was ecstatic to see Captain America back on my screen; I really missed his face, but I have to admit I did a double-take! Chris played Devin Peters, a movie star giving an interview, and you may not have realized it was him because of how great his acting was. 
4. Kid Cudi 
Kid Cudi made a cameo as the iconic DJ Chello, who has a very public on-again/off-again relationship with Ariana's Riley Bina, and everyone is way more concerned with their dating status than the Earth-destroying comet! 
If Hettienne Park's character Dr. Calder looked familiar to you, there's a very good reason -- she plays Jodi Menzies, Aki's mom, on "Gossip Girl"! I have to say, her cameo was one of my favorites! 
Don't Look Up was a fascinating movie, but what made it better was seeing some of our favorite celebrities up on the screen. Don't Look Up is streaming now on Netflix!