Why Everyone Is Going Crazy For Netflix's 'Maniac'!
Written by Michael Gonzalez. Published: August 09 2018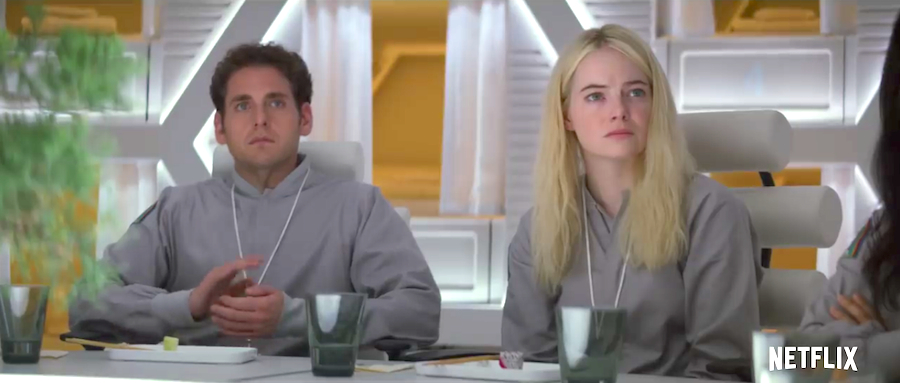 Cary Joji Fukunaga and Netflix have teamed up again to bring audiences Maniac, a trippy, fantastical voyage seemingly set in the confines of a mental institution. Starring Emma Stone and Jonah Hill, the story appears to start off as an analysis of drug treatment for individuals with mental illness and evolves into a mind-bending tale interweaving multiple realities. The production design and set pieces look similar to something you'd see from "The Twilight Zone", and the stunning colors and perplexing intrigue set up a bizarre tone, as Stone and Hill attempt to unlock the mysteries of the mind.
Maniac also boasts a tremendous cast, all of whom seem to be out of their element, which may benefit the absurd nature of the film. Emma Stone displays her diverse acting chops, portraying a more broken, less cheerful character than what audiences are used to seeing from her. Jonah Hill, whose tired, scrawny appearance sets the tone in the trailer's very first frame, looks to deliver a polar opposite performance to his previous work, as even in the mellow Moneyball, Hill still served as the comedic relief for the film. The trailer promises multiple alterations for these characters, providing glimpses of the varying roles and performances both Stone and Hill are going to deliver. At different times, you can see Hill sporting a mullet and a blonde wig, and at one point Stone is carrying a bow and a quiver full of arrows. Quite a mind-bending trip indeed.
Maniac is far cry from Stone and Hill's previous collaboration, Superbad, which they starred in together back in 2007. This film demonstrates just how prominent the two actors have become in the past decade, as Hill has earned two Oscar nominations for his wild performance in The Wolf of Wall Street and for the aforementioned Moneyball, both of which were nominated for best picture. Stone was nominated in a supporting role for Birdman in 2014, and, of course, she won an Oscar for her dazzling performance in La La Land. She looks to be a frontrunner for another nomination this year, as she stars in Yorgos Lanthimos's The Favourite later this year.
The talented cast also includes Justin Theroux ("The Leftovers"), who plays the scientist in charge of the entire operation and seems to supply more madness than method when it comes to his patients. Also starring is Sonoya Mizuno, who many may recognize as the dance partner inOscar Isaac's iconic boogie scene in Ex Machina. Mizuno also starred in La La Land as one of Emma Stone's friends, so the film contains yet another reunion.
Fukunaga and Netflix made history in 2016 when Fukunaga's film Beasts of No Nation became the first movie distributed by Netflix, as it debuted on the streaming platform and in theaters. Fukunaga is probably best known for his work on the first season of "True Detective", and was also the original director for Itbefore he dropped out, directing Maniac instead.
Maniac is set to premiere on Netflix on September 21.
(Image via Netflix)
- Michael Gonzalez, YH Contributing Writer