What Movies & TV Shows You Need to Watch Before "Black Panther: Wakanda Forever'!
11-09-2022 by AnnMary Mailyan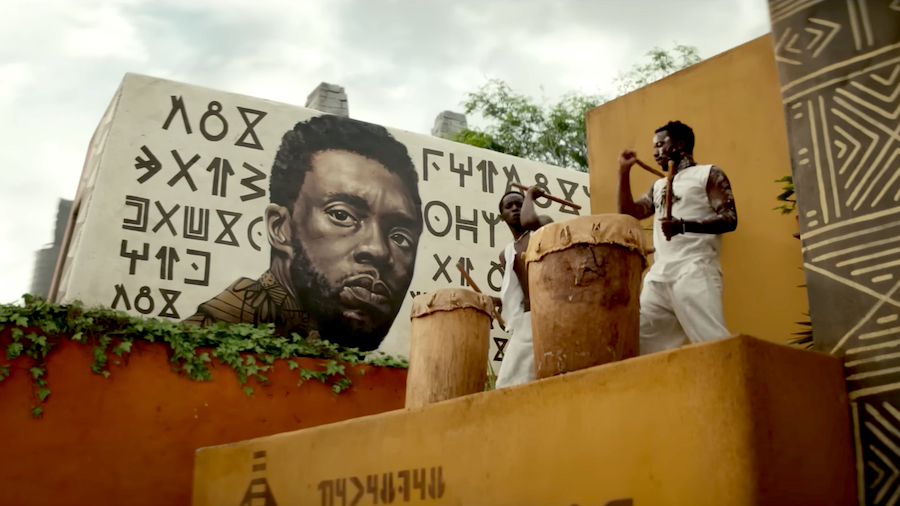 (Marvel Entertainment)
Finally, after 4 years of waiting, soon all MCU fans will be able to go back to Wakanda and see the new adventures and dangers that threaten the famous fictional country. The sequel to Black Panther is going to come out on November 11, and we can't wait! 
From the very first second of the trailer, we can predict how emotional the new movie is going to be after the passing of incredible actor, Chadwick Boseman, and his iconic character T'Challa. Wakanda Forever feels like a tribute to Black Panther, and fans will get a chance to say their goodbyes to both Chadwick and T'Challa.
However, before heading to the theaters and enjoying the second part of our favorite story, we need to get ourselves up to speed and remember where we left off. If you are a true Marvel fan, you'll know that, if you want to watch one single movie in MCU, you need to see many others in order to understand what's going on. People are now even joking about the unfortunate fate of fans in the future, who will have to watch 20 movies to know why Peter Parker decided to eat a sandwich for his breakfast. 
But don't worry, the amount of movies and shows you'll need to see before Wakanda Forever is surprisingly small, and you can definitely manage to watch them before the big premiere! 
1. Captain America: Civil War (2016)
In the third movie centered on Steve Rogers where the Avengers fall apart, we get introduced to the King of Wakanda, T'Chaka (John Kani), who dies from an explosion. His son, T'Challa (Boseman), becomes the new Black Panther and later joins Iron Man's team in order to get revenge against the Winter Soldier for his father's death.
The movie is important to watch, as we finally learn about Wakanda, its traditions, and history. Also, besides T'Challa we meet a couple of other characters that appear in later movies, like CIA Agent Everett Ross (Martin Freeman) and the Wakandan Royal Guard, the Dora Milaje.
2. Black Panther (2018)
Well, this one was quite obvious, wasn't it? The movie follows T'Challa's journey when he goes back to Wakanda, becomes the new king, and has to face new threats in his country. We finally get to see what Wakanda actually looks like after hearing about it for a while (spoilers - fascinating!) and meet a bunch of characters who will play major roles in Wakanda Forever, including Nakia (Lupita Nyong'o), Okoye (Danai Gurira), M'Baku (Winston Duke), Ramonda (Angela Bassett), and, of course, Shuri (Letitia Wright), who becomes the new Black Panther after her brother's death. 
3. Avengers: Infinity War (2018)
After finding out about Thanos and his evil plan to obtain all 6 Infinity Stones, Vision (Paul Bettany), along with other Avengers, flees to Wakanda to get the Mind Stone out of his head and protect it. Thanos soon arrives too, and we see one of the greatest fights in MCU's history - the Battle of Wakanda. 
Infinity War shows the crucial role of Black Panther, as well as all the technologies developed in Wakanda in the MCU world. And it is great to see T'Challa and his friends interacting with the rest of the Avengers and how they all unite against one mutual enemy. 
4. Avengers: Endgame (2019)
Endgame will be a must-watch movie in the MCU for a long time. Otherwise, how else would you be able to understand The Snap, the 5-year time jump and the Blip afterwards? When the Avengers make a new plan to defeat Thanos and bring back everyone who had turned to dust, T'Challa and his army play an important role in the most epic battle in the history of cinema, when every single hero we know appears in one place and fight to save the humanity. Also, this is your chance to see Chadwick Boseman reprising the role of Black Panther for the last time on big screen. (The fact that he's the first blipped Avenger that Steve sees when they all come back at the end hits so different now...)
5. "What If…?" (2021-)
The first animated series from Marvel shows us alternate realities and how things would happen if events played out differently. And, of course, we see some alternate versions of Wakanda as well. Two episodes that show the most of Black Panther are "What If… T'Challa Became a Star-Lord?" and "What If… Killmonger Rescued Tony Stark". 
Even though the animated series isn't crucial in the storyline of Black Panther, it can still be interesting to see the alternate reality of your favorite heroes. 
6. "The Falcon and the Winder Soldier" (2021)
The 2021 show instantly became a fan favorite, as we got to see two former rivals, Sam Wilson/Falcon (Anthony Mackie) and Bucky Barnes/Winter Soldier (Sebastian Stan), unite and fight the evil together. 
In Episodes 3, 4, and 5, we see Ayo (Florence Kasumba), representing the Wakandan Nation. She arrives leading an army of Dora Milaje warriors in order to capture Baron Zemo and bring him to justice. In order to do that, she gets involved in Bucky and Sam's mission. In these episodes, we get to know the details of how Ayo helped Bucky heal after Hydra's brainwashing. And another important moment in the series is when the Dora Milaje provide Sam with a new vibranium costume, as he becomes Captain America's true successor.