TV Stars Support Young Storytellers Arts Initiative
Written by Jasmine Evaristo. Published: October 21 2013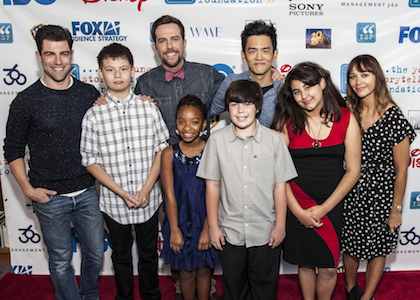 Every child has a story worth telling, and for this year's four honored young writers with big imaginations and a little help from some of Hollywood's funniest, big laughs abounded at the 10th annual Young Storytellers Foundation "Biggest Show" on October 12 at the New Roads School in Santa Monica.
The Young Storytellers Foundation (YSF) is a nonprofit, L.A.-based volunteer initiative providing hundreds of local elementary, middle, and high school students with mentorship as they write their own short screenplay (their Script-to-Stage program). Its mission is to "inspire children to discover the power of their own voice" by developing literacy through the art of storytelling, and advocating for arts education and education equality.
Every year, the "Biggest Show" honors select young writers from the program to see their scripts staged by celebrities – cast by the kids themselves. The actors are given mere minutes to study their lines, making for hilarious, improv-like shenanigans. The four scripts were selected among more than 700 written in the last year. Pre-show festivities had the brilliant young writers mingling with celebrities in the VIP room.
The event, hosted by comedian brothers (and longtime organization supporters)Randy and Jason Sklar, assembled a superlatively comical group of actors to bring the students' scripts to life. "The Office" cast members reunited on stage with Ed Helms doing a better Bruce Willis than Bruce Willis, Mindy Kaling playing her bestLil Wayne, and Rashida Jonesputting forth her finest dinosaur and monkey portrayals. And the sidesplitting continued with John Cho as a decrepit panda bear and Max Greenfield often breaking character through laughter.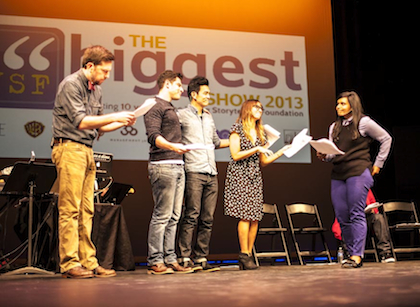 Past "Biggest Show" performers include "Glee" stars Naya Rivera,Darren Criss, and Kevin McHale, as well as Casey Wilson and Ben McKenzie.
Young Storytellers was founded in 1997 by a group of screenwriters (including Brad Falchuk) who learned arts programs were casualties of school budget cuts. They were moved to action to bring creative arts programs directly into public schools at no cost to the school. In 2003, the organization became a 501c3 nonprofit. Today, the program has served 5,485 students in 544 in-school programs with plans of continued growth.
With our arts programs often being the first casualty of budget cuts, Jason Sklar conveyed the urgency of arts education in our schools, recognizing it as a "doorway to unlocking so many things for students."
"You see these guys getting more excited about their other work when they see that they can succeed somewhere else. And this program is designed to make the kids succeed; bring the best out of them in a way that is not pejorative, it doesn't talk down to the kids, it uses what they do best," says Jason.
YSF Executive Director Bill Thompson echoes the value of the arts to our overall success.
"The skills fostered through the arts such as the ability to compromise, solve problems, collaborate, think divergently, possess emotional intelligence, and create a narrative are essential for the jobs that exist in a post-industrial economy," he says.
By grasping the value the arts have on our youth and communities, Young Storytellers reaps invaluable rewards for all those involved.
As a mentor with the organization myself, it feels a bit contrite to say that the experience can, in many ways, be more rewarding for the mentors. Admittedly, I feel as if I've gotten more out of it on occasion than my student writer. As I get older, I'm becoming more conscious to my own imagination becoming somewhat constrained due to a certain "adulthood" conditioning. It's inspiring to be around those young people who can imagine without inhibition. The process can humbly swell a heart when a student is empowered to turn up the volume on their inner voice.
And Mindy Kaling's advice for young writers is simple and profound: "See as much as you possibly can."
For more information about the Young Storyteller's Foundation, check out their website at www.youngstorytellers.com. And they're active on Twitter at @youngstory.
Photos via Kristine Ambrose.
- Jasmine Evaristo, YH Staff