"True Blood": The Musical?
Written by Kevin Donaldson. Published: June 23 2014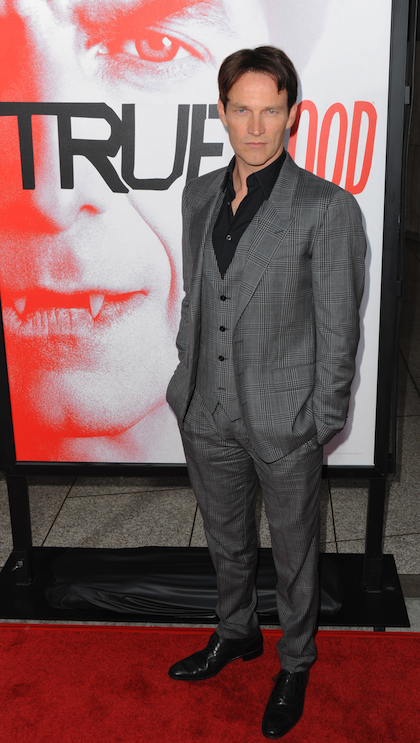 Over the past few years, we have seen a variety of movies re-imagined into musicals for the likes of Broadway. Drastically different movies like Heathers, Monty Python and the Holy Grail, and Elf have all been successfully adapted into musical theatre form, so why not a base a musical on a TV show? That's whatNathan Barr, composer of the hit HBO series "True Blood", is asking the network about their popular vampire series. If HBO likes his pitch for "True Blood: The Musical", Barr has hopes it will find a Broadway premiere.
So far, it is too early in discussions to say when or if the musical will be picked up. As for plot details, or if the original cast will be involved, that's up in the air as well; however, we do know that Barr has enlisted the help of Stephen Moyer (Bill Compton to you "True Blood" fans) in songwriting. Aside from his work on on the series, Moyer is also a renowned musical theatre actor. Almost a year ago, he appeared in a star-studded production of Chicago at the Hollywood Bowl, alongside Ashlee Simpson, Samantha Barks, and Lucy Lawless. YH was on hand for the rehearsals of that show, directed by Brook Shields; check it out below:
I know what you're probably thinking: "I thought vampires were so over? Aren't we obsessing over zombies and witches now?" It's true that vampires aren't the big supernatural pop culture phenomenon they were a couple of years ago, but who's to say that vampires feasting on a lustful telepathic waitress can't still work when they're singing about it? Who's also to say this won't spin a new type of musical adaptation? I, for one, would love to see a "Breaking Bad" adaptation, where Walter White teaches Jesse Pinkman the right way to cook meth as they argue/sing over the proper way to dispose of a corpse with hydrofluoric acid.
"True Blood" fans, would you see "True Blood: The Musical"? Are there any other TV shows you would like to see adapted into a Broadway musical?
(Photo via WENN)
- Kevin Donaldson, YH Staff