ARTIST SPOTLIGHT: The Vamps
Written by Amanda Baltazar. Published: June 23 2014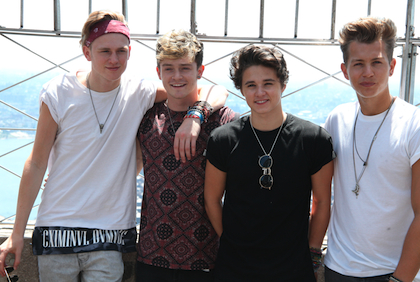 No, this isn't a new book or television series about vampires. Thank goodness. I think we're all pretty vampired-out for a good few years.
ButThe Vamps is a pop/rock quartet from the United Kingdom. The group came together in 2012 and started uploading covers on Youtube. In 2013, they released their first original song and it got over forty thousand views in the first few days.
Later that year, they released their debut single that got over a million views in the first couple weeks.
So, who are these very cute boys in these videos? Let's start withJames McVey (lead guitar). He initially started playing guitar and wanted to start a band, so he found Brad Simpson (lead vocals) on YouTube, and the pair started writing songs together. Eventually, they added Tristan Evans (drums) and Connor Ball (bass guitar) to the mix, completing the foursome.
You can make all of your "another One Direction" comments now. Another British boy band, but with instruments. Let me help you make this comparison. The band politely covered "Story of My Life" by 1D:
But don't put them in that box. The Vamps are a very versatile band. Here's another song they covered by The Killers where they show their rock roots:
And here's their cover of Miley's "We Can't Stop":
The Vamps are starting to pick up some momentum, having already supportedMcFly, Selena Gomez, andThe Wanted on tour. They are also set to open forAustin Mahone on his summer tour and have even collaborated with Demi Lovato on an original song.
We were lucky enough to have The Vamps come into the YH studio to perform and answer some interview questions. Check it out below!
Make way, Directioners, there's another British boy band out there, and The Vamps are picking up speed!
For all things The Vamps, check out their website and follow them onTwitter.
(Photo via PNP/WENN)
- Amanda Baltazar, YH Staff