The Stars of "Dance Moms": Where Are They Now?
Written by Brooklynn Taylor. Published: September 23 2023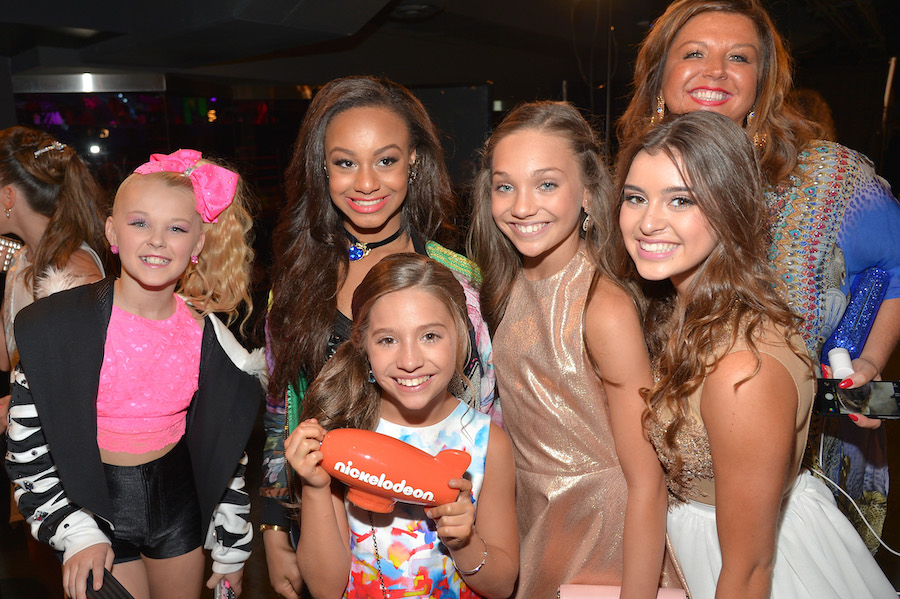 (Photo © Charley Gallay/KCA2015/Getty Images)
How crazy is it that the hit series "Dance Moms" premiered 12 years ago? As these girls grew up in front of a camera, they stole the hearts of millions all over the world (and still do!). Let's see what they've been up to since the show's conclusion!
1. Maddie Ziegler
Placing first at competitions and landing the spot at the top of the pyramid week after week on the show, Maddie Ziegler's dancing was phenomenal! From tap to lyrical and everything in between, her passion for dance ran deep at a young age.  
Shortly after her departure from "Dance Moms" in Season 6, Maddie was named one of the most influential teens by Time magazine, judged the 2016 season of "So You Think You Can Dance: Next Generation", and wrote a memoir titled The Maddie Diaries. In 2020, she also launched a makeup collection with Morphe. And, of course, we can't forget to mention one of her career-defining moments as the star in Australian singer-songwriter Sia's "Chandelier" music video that became a viral hit on YouTube (followed by a string of collaborations with the singer in a number of subsequent music videos).
Maddie now has stepped into the world of acting! Her most recent roles include the Max film The Fallout alongside co-star Jenna Ortega, West Side Story directed bySteven Spielberg, and a 2023 coming-of-age film titled Fitting In (previously titled Bloody Hell).
2. Mackenzie Ziegler
As the youngest member of the junior elite competition team, Mackenzie Ziegler(also known as Kenzie) was just 6 years old when "Dance Moms" premiered and was the cutest dancer! She debuted her music career on Season 4 of the show, recording the leading single "It's a Girl Party", which reached No.1 on the iTunes pop charts!
Even after leaving the show in 2016, Kenzie's dancing didn't end. She became a finalist on "Dancing With The Stars: Juniors" in 2018 and competed on "The Masked Dancer" as "Tulip" in 2021, finishing in third place. Kenzie and her older sister Maddie just launched a fashion collection together with American Eagle, giving a nod to the '90s-era of denim and style icons such as Kate Moss, Cindy Crawford, and Drew Barrymore!
Recently, Kenzie released a single entitled "Anatomy" about her strained relationship with her father. The music video has over 2 million views on YouTube and the dancing was choreographed by Maddie! "I was very hesitant to release it at first just because it is so personal, and I don't think a lot of people know that about me," Kenzie said in an interview with People. "But I also think that it could really help some people that are exactly like me to relate to this and not feel alone." 
3. Nia Frazier
Fun fact:Nia Frazier was the longest-running member of "Dance Moms", remaining on the series until Season 7! She was a pro at doing the "death drop" and had an amazing presence on stage! In later seasons of the show, Nia kicked off her singing career, releasing her first song and accompanying music video entitled "Star in Your Own Life". After the conclusion of Season 7, Nia started to explore acting, landing a recurring role on "The Bold and The Beautiful" and a leading role in the Broadway musicalTrip of Love.
In 2021, she starred in and produced her own Facebook Watch show called "Dance with Nia" where she highlighted dancers who have disabilities to share their stories and talents with the world. That same year, she started a podcast "Adulting with Teala and Nia" alongside social media influencer Teala Dunn, sharing stories and advice on how they're handling adulthood.
Currently, Nia is a full-time student at UCLA studying American literature, and although being a student can be overwhelming, that doesn't stop her from pursuing exciting opportunities outside of school!
4. Chloé Lukasiak
During her days on "Dance Moms", Chloé Lukasiak was recognized for her incredible technique and emotional execution on the stage. Throughout the series, she competed in over 45 solos! In Season 2, Chloé also earned at national title as Junior Miss Energy!  
As an avid reader and writer, Chloé took her passion and went on to publish her first book Girl on Pointe in 2018 after her exit from the show. She also started acting and was featured in several films including Center Stage: On Pointe, A Cowgirl's Story, and Next Level.
Chloé is currently enrolled at Pepperdine University and is majoring in creative writing. She will graduate at the end of the Fall 2023 semester! And for her post-grad plans? Chloé recently announced on all her social media platforms that she is the co-founder of Elevé National Dance Competition! The first competition dates are set for January 2024.
5. Brooke Hyland
Known for her beautiful acrobatic solos, Brooke Hyland's flexibility was mind-blowing! She recorded two songs, "Summer Love Song" and "I Hurt", during her time on the show, eventually releasing an album titled Brooke Hyland with several other songs.
Since leaving the show in Season 4, Brooke stepped away from the cameras to return to a little bit of the normalcy she missed out on. She graduated high school and then attended Ohio University, graduating in 2019, earning 2 degrees in 3 years – okay smarty-pants!
As seen on her Instagram in 2023, where she has nearly 4 million followers, Brooke enjoys traveling and spending time with her friends, family, and boyfriend. She also is active on TikTok where she posts vlogs, "get ready with me" videos, and cooking content.
6. Paige Hyland
Paige Hyland's bubbly personality, straddle jumps, and high-energy solos on the show were incredible to watch. Her favorite solos were "Get Up, Get Loud, Get Tough" and "Make Some Noise".
After her exit from the show, Paige walked in several fashion shows for designer Sherri Hill during New York Fashion Week and started a YouTube channel. She also graduated high school and was accepted into college. Paige went on to attend West Virginia University and graduated in May 2023 with a degree in marketing and a minor in event planning! Like her older sister Brooke, Paige is also active on social media and enjoys posting on Instagram and TikTok. Her TikTok features hilariously iconic voiceovers from "Dance Moms", vlogs, and viral trends.
7. Kendall Vertes
After joining the junior elite competition team in Season 2, Kendall Vertes stayed on "Dance Moms" until Season 7. During her time on the show, Kendall performed high-energy jazz solos and pivoted into a singing career as Kendall K. Her hit single "Wear 'Em Out" surpassedTaylor Swift's "Bad Blood" on the iTunes music video chart on its release day back in 2015 – nbd!
She has a strong social media presence, with 11 million followers on Instagram. As an influencer, she has worked with brands such as Bloom Nutrition, Dunkin', and Bang Energy. Kendall currently is a student at James Madison University and is a member of the JMU Dukettes dance team. After college, she has plans to attend law school!
8. Jojo Siwa
We first metJojo Siwa after appearing on "Abby's Ultimate Dance Competition" back in 2013. Two years later, she joined the Season 5 cast of "Dance Moms"! Known for her bright personality, flashy clothes, and big bows, Jojo was a star on the show and quickly became a fan favorite!
Just before her departure from "Dance Moms" in 2016, Jojo released her hit single "Boomerang", which featured her co-star from the show, Kendall Vertes, in the music video. The song currently sits at 981 million views on YouTube and went Platinum! That same year, Jojo created a line of hair bows inspired by the ones she is famously known for wearing. And if you're wondering how many bows she has sold to date – over 80 million globally!
Jojo has also won several Nickelodeon Kids' Choice Awards, created 3 studio albums, and was listed as one of Time's most influential people. In 2021, she went back to reality TV, this time for her own show, "Siwa's Dance Pop Revolution" on E!, in search of talented triple-threat girls to create pop music's next big sensation, XOMG POP, which she currently manages with her momager,Jess!