The Post-Olympic Adventures of Ryan Lochte
Written by Kate Ferguson. Published: August 15 2012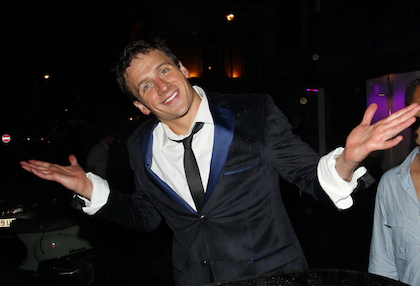 For some, the Olympic games are over. But for swimmer Ryan Lochte, he's only getting started. The 28-year-old walked away with five shiny new medals at this year's London Olympics, to add to his collection of 10, with plans to return in 2016... but not before taking care of some other important business.
Whether you were keeping up with the Olympic events or not, you probably caught wind of this character that is Ryan Lochte. Yeah, yeah, he's an amazing athlete... but what we're really fascinated by is, he uses a lot of the catchphrase "jeah", makes appearances on the pool deck with a diamond grill made by rapper Paul Wall in his mouth, and has admitted to peeing in the pool. If it wasn't already clear that he's not taking himself too seriously (or, wait, incredibly seriously?), there are the recent Funny Or Die episodes (one starringSimon Pegg and Patrick Stewart) where he pokes some fun at himself. And then talks some more about the wholepool/restroom-integration thing.
Instead of a resting period after dominating performances at one of the most prestigious sporting events in history, it seems to be all about the face time. Lochte will be hitting the small screen with an appearance on the CW's "90210" where he will, naturally, be playing himself. The episode is set to air October 29 after the show starts back up October 8.
The television dreams are not stopping there; Lochte has also expressed interested in making appearances on reality TV as well, specifically "Dancing With the Stars" and "The Bachelor". Seems likely if not absolute -- it's no secret that the guy is an athlete and he's known to enjoy the ladies. (Mother Lochte said it, not me.) Is there an imminent grill line on the horizon? Rap album alongside buddy Lil Wayne? Stay tuned!
(Image via JUAA/WENN)
- Kate Ferguson, YH Staff