Q&A With Hollywood's Newest Go-To Novelist, Emily Giffin
Written by Sarah Osman. Published: August 14 2012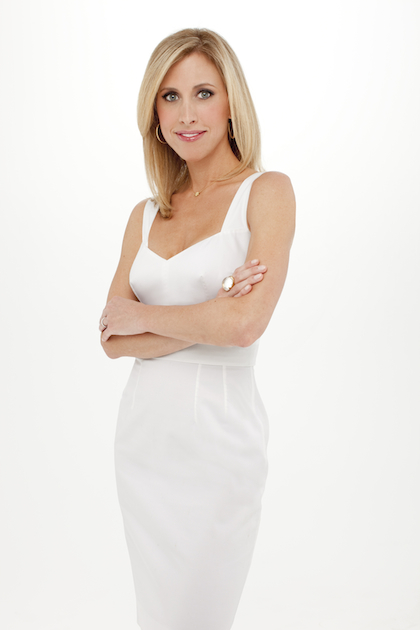 I had the pleasure of chatting with best-selling author Emily Giffin during a stop in L.A. for the release of her new book. In the wake of her five New York Times best-selling novels, Giffin's latest work, Where We Belong, is a must-read. Giffin first launched to commercial success with Something Borrowed, now a film starring Ginnifer Goodwin and Kate Hudson, which asks the question: What's more important, a life-long friendship or the chance at the perfect romance?
Where We Belong is certainly a bit different than Something Borrowed, yet from the well-crafted characters to the parts set in chic New York, from the witty narrative to the touching moments, Where We Belong has all of Giffin's signature markings. The story follows Marian, a 36-year-old television producer who has the perfect life in New York City, and Kirby, an 18-year-old high school senior with a love for the drums. The two tell both sides of the story as Kirby shows up on Marian's door (minor spoiler alert!) claiming that she is her daughter. Marian instantly recognizes the daughter that she gave up 18 years ago and now has to face the secret that she buried down so many years ago. Through both women's voices, Where We Belong explores their new found relationship and how it impacts both of their lives.
Giffin is simply wonderful to chat with -- she is witty, warm, and has a sense of style and charisma about her that felt as though I were talking to a real-life Carrie Bradshaw. We discussed Where We Belong, her favorite authors, and her advice for young writers such as yours truly (note: must have thick skin!).
YH: Where did you come up with the idea for Where We Belong?
EG: I wanted to tell a story about a secret, a really big secret, and the impact that can have on someone's life. The notion that the past can be the past, as opposed to the truth setting you free, really intrigued me. I asked myself, which is it, and what happens when you have a secret? What does a secret do to you, and what does it do to your relationships? I began to think about really big life secrets, ones that you could hide from people; a lot of them tend to be really grim, such as incest, abuse, fidelity -- so I thought adoption was a way to explore this theme, but with a more positive backdrop.
YH: In Where We Belong, Kirby is a very talented drummer. Are you yourself a musician, and how did you decide on Kirby's great taste in music?
EG: I played instruments growing up, but I never became accomplished in any of them, and I have never played the drums. So, that was a little tough for me to write about. But I have some friends who are musicians who helped me with coming up with her taste in music, playing the drums, etc. One of my really good friends is actuallyAdam Duritz of the Counting Crows; he knows a lot about drums and music, and he was able to really help make those scenes a lot more authentic.
YH: Why did you choose to make Marian a TV producer, and so incredibly different from Lynne, Kirby's adoptive mother?
EG: I wanted a contrast in Kirby's adoptive mother and her biological mother. I want to create a glamorous career for Marian. Marian has always been on a path of wanting to accomplish, and wanting to have the perfect life (on paper). When one thinks about glamorous careers, obviously the entertainment industry comes to mind. I also wanted Marian to live in New York, so I felt that this was a nice way to connect the two -- television producer, with a hit show that's being based in New York.
YH:Where We Belong is rumored to be coming to the big screen. Do you have any hints on casting, and are there any of your other books that you would like to see made into a movie?
EG: 5 of my 6 books have actually been optioned to be made into films, which is quite exciting. Love the One You're With is probably the most likely to be shot next, and I'm really excited about that.Where We Belong is in the very, very early stages, so there's nothing official in terms of casting. Personally speaking, I do like the idea of Gwyneth Paltrow as Marian. I think Paltrow could be interesting. When I write the books, I don't write with actors in mind to play them, but once the book sort of goes out to the world, as Where We Belong has in the last few weeks, I think it's fun to discuss casting choices with my readers.
I think Paltrow just fits Marian; very thin, perfect look, very groomed, and Paltrow just reminds me of New York. At the moment, I actually haven't considered who would play Kirby. There are so many great young actresses out there, there's probably someone I haven't even heard of who will play Kirby. And I really like the idea of an unknown playing Kirby. [pause] You'd be a cute Kirby!
YH: Thank you! Now, you were a lawyer before you became an author. What motivated you to start writing, and to make that career switch?
EG: Well, I guess the question really should be, what made me go to law school in the first place? [laughs] Since I was five or six years old, I've always had a love for writing -- really, ever since I first learned to write. I think I wanted to be a writer even before I could write... when I was just reading or being read to. I think I went to law school because, at some point in college, I panicked and felt that I couldn't just go out and write fiction; I needed to do something more legitimate, and so I fell into the trap of law school. And I say trap because I think some people really have a passion for it and really want to be lawyers, while as others aren't sure what to do and want to continue to achieve. That said, I have no regrets about the decision to go to law school, as it led me to New York, brought me incredibly rich friendships, and also showed me what I didn't want to do. And sometimes, being in a relationship that doesn't work or a job that you don't love is the very thing you need to be motivated to find something you love.
YH: Who are some of your favorite authors/books that you would recommend to your readers?
EG: Some of my favorite authors include E.B. White,Ann Patchett, Alice Munro,Wally Lamb, Elinor Lipman,Tom Perrotta, Sue Miller,Kent Haruf, Nick Hornby,Jane Smiley, Jhumpa Lahiri,Anne Tyler, Jane Hamilton,Elizabeth Strout, Marisa De Los Santos, and Anne Lamott. I'll read most anything with real, interesting characters.
YH: Are there any new projects that you are working on at the moment?
EG: I'm excited about the movies that are being made from my books. I wouldn't really consider myself a producer; I feel that I am more of a consultant, but I am still very excited about them. My primary career job/focus will always be on writing. So, when I get back from my tour, I will take a couple of weeks to decompress and digest everything and then I have two ideas for a book, and actually a third -- I am really considering doing a sequel forWhere We Belong. This is actually the first time I have been tempted to do a sequel since Something Blue. But for now, I just want to focus on the tour, and getting home, and sleeping! [laughs
Something Blue and Where We Belong are actually my two favorite books. I really love how much Darcy transforms.
YH: As a writer, I wanted to ask if you have any advice to give to young writers such as myself?
EG: I would sa,y read everyone, and imitation can be a good way to get into a groove of writing. But ultimately you just have to find your voice and be true to it. Be authentic and tell the story that you want to tell. Don't compare yourself to others. If I were to compare myself to some of my all-time favorite authors, I don't think that I would ever write again.
I think that writers should never think of themselves as "aspiring writers". If you're writing, you're a writer. I think there's a very fine line between commercial success and a brilliant writer who's never been published. Think of yourself as a writer, and keep a thick skin if publishing is your goal.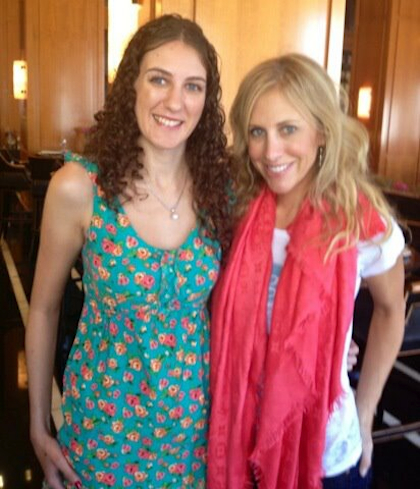 (Images provided by Sarah Hall Productions)
- Sarah Osman, YH Staff