The First Full-Length Trailer For Marvel's 'Eternals' Is Here!
05-25-2021 by Rebecca Breitfeller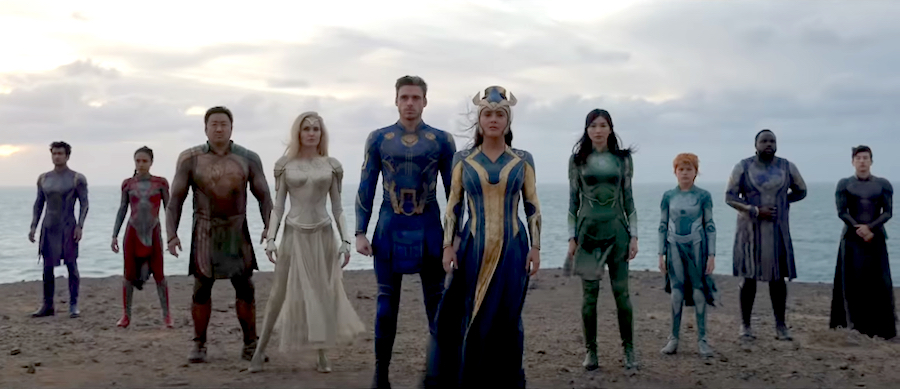 (Marvel Entertainment)
Marvel fans, it's time to re-assemble! The first full-length trailer for Marvel Studios' Eternals is here and we are freaking out. In May, Marvel released a small teaser for the highly-anticipated film, but now fans are getting their first significant glimpse into some of the real action and plot of the movie.
The movie is set to hit theaters in November of this year and is being helmed by Oscar winning-director Chloé Zhao. Chloé snagged the Oscar for Best Picture and Best Director this year for her film Nomadland, and we have no doubts that her introduction into the MCU will be nothing short of spectacular.
In the comics, the Eternals are a group of highly powerful beings thanks to some good ol' genetic experimentation. This same experimentation also created another race known as the Deviants. The Eternals have been protecting humans from the Deviants for quite some time, but now we are finally getting a better look at their powers and significance. We've never officially been introduced to the group until now, but something tells me they have a lot of history to unfold.
President of Marvel Studios, Kevin Feige, summarizes the movie as "a very bold and very ambitious, sprawling 7,000-year story of humanity and our place in the cosmos." I think it's pretty safe to say that this film feels like the most grandiose project the company has set out to release since Avengers: Endgame – cue the excitement!
Not to be outdone by the scope and scale of the film, the cast is also pretty striking. This new slate of superheroes includes Richard Madden, Angelina Jolie, Salma Hayek, Kit Harrington, Kumail Nanjiani, and so many others. A voice looms over the trailer stating, "We have watched. We have guided. We have watched them progress, and seen them accomplish wonders," as we can see the group appear (for what we can presume is their first time) on Earth. Is it just us or did anyone else get chills while watching this trailer?! 
The MCU is always full of twists, turns, and epic arcs, so we will have to wait until the Fall to really learn the story behind the Eternals. We know we will be first in line to see it in theaters, will you?