The 12 Best Episodes & Moments of "UNHhhh" With Trixie & Katya!
08-23-2021 by Gabbi Wiesehan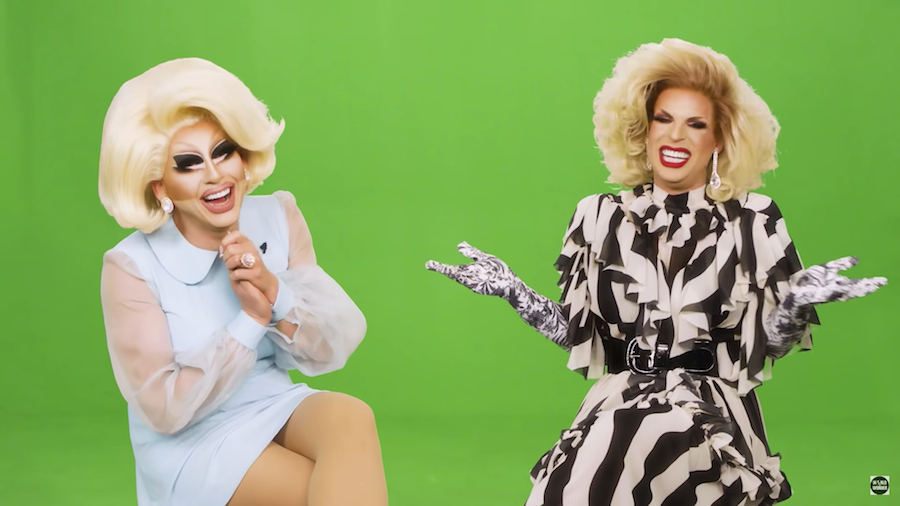 (WOWPresents)
Trixie Mattel and Katya Zamolodchikova are not only "RuPaul's Drag Race" legends but also (un)authorized self-help gurus on their World of Wonder show "UNHhhh". The two queens discuss any and all topics they feel like covering (it's their show, not ours), racking up a whopping 6 chaotic seasons so far.
 I took on the task of rewatching every episode and devising my own list of Best Episodes (determined by a calculated analysis of the best moment[s] in each episode). Here we go! (Warning: NSFW!)
1. Episode 152: Disappointment
The Moment: Katya tells Trixie that she was bound to lose Season 7 of "Rupaul's Drag Race". Queen of Keeping It Real and Humbling Your Friends.
2. Episode 148: Babies!
The Moment: Trixie talks about how good her theoretical baby would look in wigs.
3. Episode 68: Goodbye Barbara
The Moment: Katya gives an unsolicited review of Jodie Foster's acting abilities, all while wearing her hand hat (so camp). Talk to the hand.
4. Episode 100: 100th Episode Milestones
The Moment: Trixie shatters the illusion and pulls back the curtain on the studio and green screen they film in front of. We love (and appreciate) the transparency.
5. Episode 142: Wealth
The Moment: Trixie makes Katya believe that Leslie Jordan had passed away (he's of course still up and kickin' and dominating Instagram). Katya's soul left her body for 0.5 seconds.
6. Episode 36: Happy Holidaze
The Moment: Katya is just really excited about Christmas popcorn while confusedly comparing the Christmas song "Mary Did You Know" to Michael Jackson's "Smooth Criminal".
7. Episode 131: Straight People
The Moment: Trixie refers to Dave & Buster's as a straight bar.
8. Episode 43: High School (Part 1)
The Moment: Katya tells a charming anecdote about a classmate that had worked as a contract hitman before being brutally murdered.
9. Episode 70: Halloween
The Moment: Trixie crafts the name "Seancé Knowles" for a conceptualized spooky hip-hip artist drag queen. Genius.
10. Episode 85: Driving
The Moment(s): Katya informs Trixie that she had thought cars worked like go-karts on a track, making it impossible to drive off a road even if you tried (which only reinforces the stereotype that gay people can't drive). Trixie brings up the fact that she has a multi-car garage but only parks her Barbie Jeep in it.
11. Episode 116: Walking Children in Nature (Part 2)
The Moment: Trixie tells Katya a cute childhood memory of her dog Checkers getting mauled by a bear in her neighbor's backyard.
12. Episode 140: Power
The Moment: The undisputed Moment of the entire series thus far, and it's saved for last. "License" and "Registration" make an appearance when Trixie busts them out for Officer Katya during a bit about getting pulled over.