"Riverdale" Season 5B: Serial Killers and Aliens and Mushrooms, Oh My!
08-23-2021 by Derin Yilmaz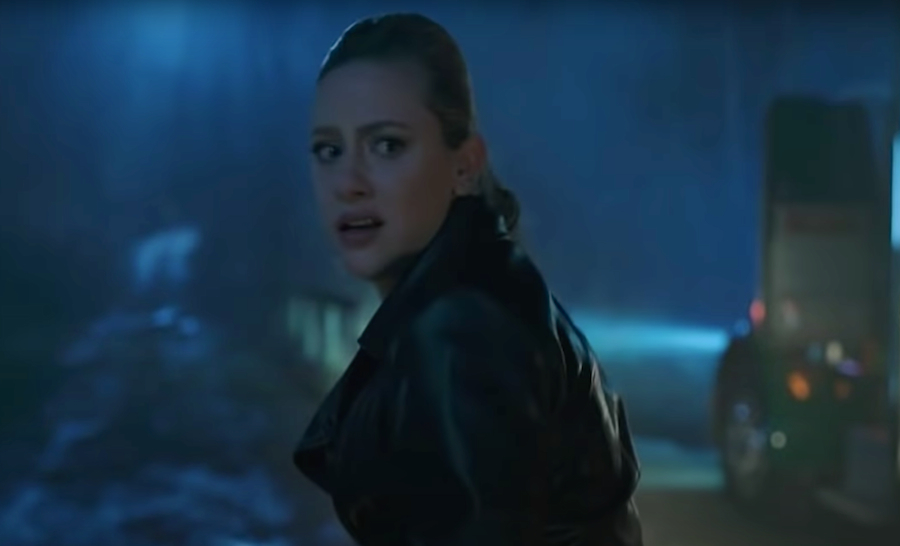 (The CW)
The CW's "Riverdale" is an ongoing mystery at its best with The Gargoyle King, a cult called The Farm, and Veronica refusing to stop calling Archie "Archiekins". The show's writers seem to have a motto in mind: The Sky Is The Limit. 
In the latest season, the 7-year time jump created a brand new vibe for the series -- the characters are no longer in high school and the beloved teen couples are broken up. Jughead is an author with writer's block and Archie just got back from the war -- total grown-up moves. The Adult "Riverdal"e makes a little more sense, considering how, in the previous seasons, the characters would act nothing like teenagers while still in high school. Remember when Veronica owned and operated a speakeasy called La Bonne Nuit while she was a junior in high school? 
On Wednesday, August 11, the newest episode of "Riverdale" -- the first one since the mid-season finale in March -- finally premiered. As usual, it was shocking and cuckoo bananas, as Cheryl Blossom would say... Extra-terrestrials, Jughead taking mushrooms and disappearing into the night, Betty teaming up with Jughead's new fling AND his ex-girlfriend from NYC, Cheryl starting a ministry in her house, and Veronica trying to divorce her Wall Street husband Chad… Whew! It's a lot.
Here are all the plot points from Season 5 that you'll need to know to keep up with "Riverdale"!
1. New Serial Killer on the Loose: Trash Bag Killer
Betty, who now works for the FBI and is no longer just a teen detective, is after a migrating serial killer on the loose. The Trash Bag Killer has held Betty captive for two weeks after she went into his lair in an attempt to rescue one of his victims (luckily, she was rescued). Especially with Betty's sister Polly Cooper going missing, as well as other young women from Riverdale, TBK could possibly be in Riverdale to get revenge on Betty. Betty as an FBI agent and a scary serial killer like TBK has definitely added some "X Files" flavor to the show and we love it.
2. Jughead Sees Aliens
Speaking of "The X Files", there may have been some actual alien sightings -- or Mothman sightings -- in Riverdale in the past, and it is happening again! Jughead has been seeing alien-like creatures in the new season, and honestly, we can't wait to see where that leads. He even talked to a therapist about it, who believed he was hallucinating due to some unresolved trauma from his past, which got us even more curious about the alien plot! Especially now that Polly is missing with no trace, could her disappearance be related to the aliens and not the TBK? 
3. Jughead Moved On From Betty?  
Bad news for Bughead fans, because Betty and Jughead are history. After the 7-year time jump, the power couple didn't stay strong and parted ways. Betty is currently a career woman who could care less about Jughead, and Jughead -- although we don't think he is completely over Betty -- is flirting with Pop Tate's grandaughter, Tabitha Tate. Tabitha has taken over Pop's Chock-Lit Shoppe and hired Jughead as a waiter, which led to them forming a friendship that slowly got a little romantic. Until his love for Betty rekindles, Tabitha seems to be Jughead's new love interest! 
4. Veronica's Husband
After years of resenting her daddy's questionable intentions, Veronica ended up marrying her dad's mini-me, Chad, an over-achiever and weathy Wall Street businessman who loves to manipulate Veronica by blackmailing her. Like father like husband? Veronica has had enough of Chad and she wants Archie back, but Chad is determined to keep his wife. Once again, Veronica has to deal with yet another bad apple from Wall Street. 
5.The "Tripping" Scenes
I will jump right into it. "Riverdale" had not one, but two mushroom trip scenes in the latest season so far. In Episode 10, Jughead had a bad mushroom trip in an attempt to break his writer's block. Then in Episode 11, Jughead's ladies Betty and Tabitha had a mushroom trip together. The girls didn't mean to get high, but Jughead's troublemaker ex-girlfriend from NYC drugged them and a trippy-musical scene was created. There was singing, neon lights, dizzy visuals… It was pretty unexpected for the audience, but especially for Betty -- it must've been the weirdest bonding moment with her ex-boyfriend's new girlfriend...
Hopefully, if you decide to watch this week's episode of "Riverdale" on Wednesday (August 25), now you know exactly what to expect -- aliens, mushroom trips, serial killers, and relationship drama!