Six '90s Fashion Trends Making a Comeback!
Written by Rita Korkounian. Published: August 09 2013
Are you a child of the '90s? What are your most nostalgic memories from that decade? It seems like it was ages ago, doesn't it? We're in 2013, people. And that only means one thing -- We're getting old. I know, the truth hurts. I'm sure Gen Z (born after 2000) thinks we're ancient. Prehistoric. Antique. But we need to tell those Millennials why we grew up in the Best. Decade. Ever. And why being a kid of the '90s is not so bad. Maybe this article will give you all a healthy dose of '90s nostalgia.
I know one thing for sure...okay, 4 things: I sucked at rock-paper-scissors. I definitely miss my Lisa Frank trapper keeper. "I saw the sign...it opened up my eyes I saw the sign". And I wanted Mrs. Doubtfire to be my babysitter.
The '90s may remind us of our favorite games, cartoons, movies, songs, toys, etc. But let's not forget about fashion in the '90s. And lucky (or unlucky) for you, some trends are making quite a comeback. Check out how these celebrities put a modern twist on '90s trends:
Overalls/Dungarees: I have mixed feelings on this one. I loved my dungarees back in the '90s, but I'm not gutsy enough to don a pair of overalls in public anytime soon. And is it me, or do you have to be stick figure to wear these? 
Jelly Shoes: These bring back so many great memories from my childhood, but that's where they belong. In the '90s. Definitely not in 2013. Just my opinion. Doesn't mean you can't rock your jelly shoes with confidence like Katy Perry,Anne Hathaway, and Solange Knowles.
Crop Tops: Another iffy one. Don't get me wrong, I really love crop tops... On other people. I've tried a few myself, but I find them extremely uncomfortable to sit in. You see, the only form of ab exercise I get daily is digestion. So, I'd rather not expose my abdomen area to the world. There are ways around this, though, like high-waisted skirts and shorts, that leave very little space between the crop top and the bottom.
High Waisted Shorts: Two words -- Miley Cyrus. This trend is all her own. High-waisted shorts have become part of her signature style. If you're on the hunt for a pair, check outAmerican Apparel. P.S. This is exactly what you would wear with a crop top!
Dr. Martens: In the second grade, I saved up my birthday and Christmas money to by myself a pair of black Dr. Martens. They were my all-time favorite shoes. I guess I've always been a follower of trends. Would I scoop up a pair now? After seeing howJessica Alba styled them, I just might.   
Fanny Pack: Don't do it. Don't even think about it. These are just as bad as Crocs. No, even worse. Yes, Rihannacan get away with wearing a fanny pack. But you are not Rihanna. And you're not a French Modeleither. I have you're best interest at heart, and I forbid you to wear a fanny pack. The end.
So, to sum everything up, I miss the '90s. Le sigh. But I can do without jelly shoes, dungarees, and fanny packs. What retro trends are YOU excited about?
(Image via WENN)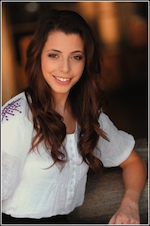 Rita Korkounian is a blogger from Los Angeles. She is shy and introverted, but her personality shines through her quirky writing style. She is a lover of all things food, fashion, and music.
Coast on over to her blog for life/style inspiration or follow her on Twitter @RitaKorkounian.