Season 3 of "Bates Motel" Brings the Crazy!
Written by Katie Marzullo. Published: March 09 2015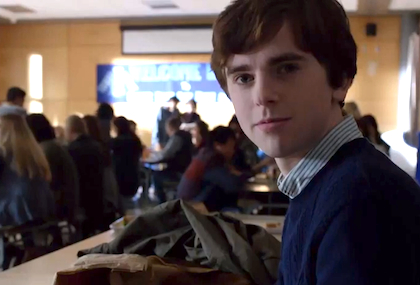 It's a well-known fact by now that I am a Psycho superfan, and as such, I have been reporting on A&E's prequel series "Bates Motel" pretty much from the moment it was first announced back in 2011. Thus it should come as no surprise to anyone that I was able to view the first 6 episodes of Season 3 in anticipation for tonight's premiere, and I have to say… it does not disappoint!
The thing I love most about "Bates Motel" is that it doesn't pretend thatPsycho never existed. On the contrary, it goes out of its way to pay homage to the classic movie on which it is based, right down to its background music and using the original house. In our recent interview with star Freddie Highmore (see below), he revealed to us that he not only watches the original film right before filming of each new season begins, but he has also read the book (!) and has done research into the events that the book was based on. It's so great to see a TV crew so embracing of the source material, which doesn't happen often enough, in my opinion (looking at you, "Game of Thrones"). And this season in particular features many great moments that will be very familiar to fellow Psycho fans!
Obviously, I can't give away too much, but here are some things to look out for:
- The creepiness factor between Norman & Norma is turnt up to 11.
- Some new developments for any fellow "Normero" shippers out there.
- Freddie H. pulls out all the stops for that long-overdue Emmy nomination.
- Emma is still as co-dependent as ever, which Norman uses to his advantage.
- The lovelyTracy Spiridakos shows up for a couple episodes to cause some trouble (in Norman's knickers).
- Fans of "Mad Men" will recognize Kevin Rahm, who played Peggy's one-time beau, in the role of this season's heavy.
- Dylan learns that Norman can make some bomb French toast in the most uncomfortable way possible.
Check out the sneak peek below to see Norman and Norma having a typical tender Mother-Son moment:
Yes, things are getting uber-cray in White Pine Bay. If you're a fan of the show, or a Psycho fan in general, then you best be tuning in to A&E on Monday nights to watch the nuttiness go down!
In the meantime, check out our YH Studio one-on-one with Lil Norm himself, Freddie Highmore!
(Screenshot via YouTube)
- Katie Marzullo, YH Staff Editor