Rihanna's Next Global Hit: Her Humanitarian Efforts!
Written by Ali Shannon. Published: February 13 2018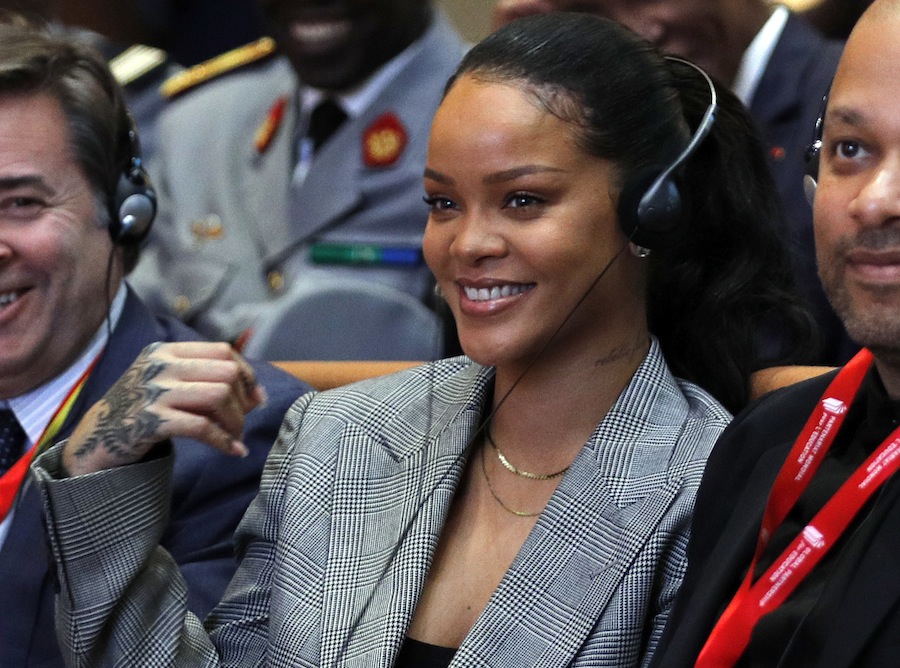 When she isn't jet-setting to exotic destinations, creating a hit record, or selling out her game-changing makeup company,Rihanna has been making huge contributions to communities on an international level.
In 2017, she received the annual Harvard University Humanitarian of the Year honor for her philanthropic work to aid children and adults around the world. She and her team built a brand new center for oncology and nuclear medicine to help diagnose and treat breast cancer in Barbados, her native country. She also created the Clara Lionel Foundation in order to help provide scholarships for students attending U.S. and Caribbean-based colleges.
But it's 2018, so what has Rihanna done so far this year? Helping raise $2.3 billion for global education, that's what.
The Global Conference of Education (GPE) was held in Dakar, Senegal, and moderated by Senegal's President Macky Sall and France's President Emmanuel Macron. Rihanna was among multiple representatives as a global ambassador for GPE. The GPE, which has partnered with Rihanna's Clara Lionel Foundation in the past, was able to raise $2.3 billion for global education.
$2.3 BILLION. With a B, people.
To have such a powerful voice like Rihanna bringing awareness and speaking out sends a strong message to the world that the mission is ongoing. "We've made tremendous progress today, but of course, our work is never done," she said. "We have a long way to go. This is a fight we're never gonna stop fighting until every boy and every girl has access to education."
It's only February, and we're sure RiRi will keep slaying every month this year with exciting projects and more mega humanitarian work!
To learn more about the Clara Lionel Foundations and the groundbreaking programs they support and fund, click here! 
(Image via Philippe Wojazer/Getty Images)
- Ali Shannon, YH Contributing Writer