Q&A: South African Chef Zola Nene Schools Gordon Ramsay in Season 2 Premiere of "Uncharted"!
06-13-2020 by Katie Marzullo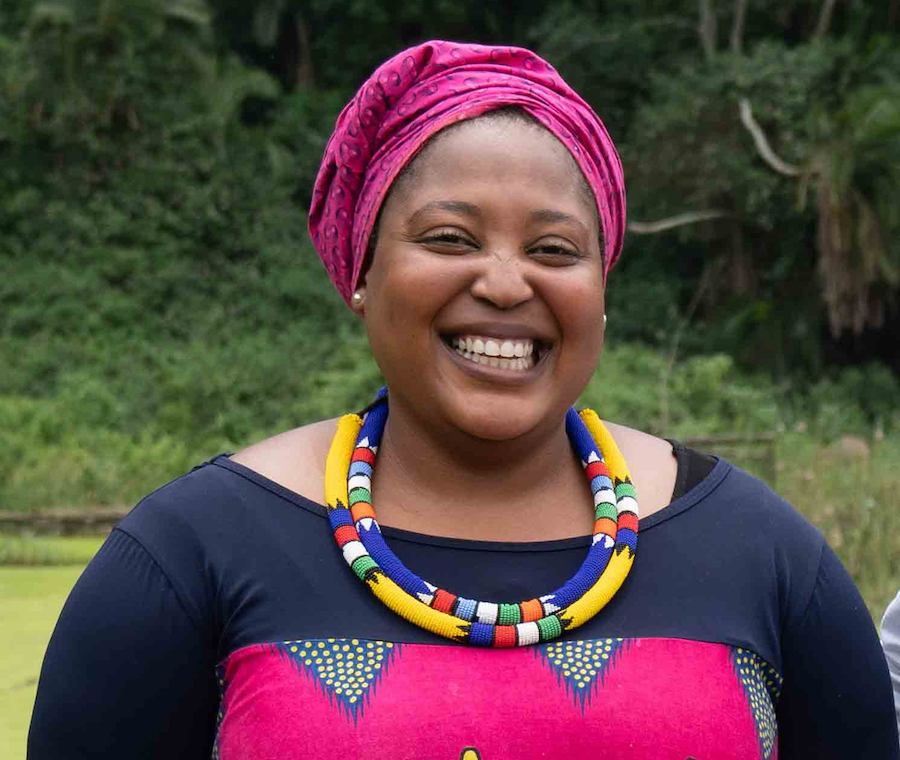 ( © National Geographic)  
At this point in his career, Gordon Ramsay has pretty much seen it all – except for perhaps a hippo staring him down while trying to cook!

The notorious chef has been taking his skills on the road for his new National Geographic series "Uncharted", finding himself in unique situations all over the world, and this weekend, during the Season 2 premiere, Gordon treks to South Africa where he meets a truly remarkable human being – Zola Nene.
Ms. Nene is accomplished chef in her native country, but it didn't come easy. Raised on a farm with her Zulu family, she eventually came to the realization that food and cooking were her true passions in life; however, pursuing such a career in her native country was next to impossible, as women (and woman of color specifically) studying the culinary arts was considered taboo. So, she had to travel all the way to the U.K. to pursue her dreams, and once she gained enough experience, she returned to her native land and enrolled in the Institute of Culinary Arts.
Now, she is one of the most well-known and respected chefs in South Africa, and she shares her talents with Gordon Ramsay, along with the traditional dishes of the KwaZulu-Natal region, in a decidedly intense episode of "Uncharted"! Has he finally met his match?!
We chatted with Ms. Nene ahead of the Season 2 premiere, where she dished (heh) on Gordon Ramsay himself as well as her favorite Zulu meal, her advice for first-time cooks, and more; check it out below!
YH: What was it like to turn the tables on the infamous Gordon Ramsay and boss him around a little?

ZN: Haha! I don't know that I was necessarily bossing him around, but it was fun seeing him in the "learner" role as opposed to the usual "teacher" role that we've come to know him in. He was actually a great student, very receptive to instructions, it was a fun experience for sure.
YH: If you were to cook for someone unfamiliar with Zulu cuisine, what would be your go-to dish to introduce them to your culinary heritage?
ZN: Isitambu (Samp & Beans) served with a hearty beef stew would be a good dish to start someone off with. It features dried mealies and sugar beans, which are staple crops in KZN, as well as beef, which showcases our love for beef and our cultural history of cattle farming.
YH: You broke down some barriers in your country by becoming one of the few women-of-color chefs in South Africa; have you started to see a shift in cultural attitudes about that sort of thing now that you have achieved it?
ZN: There has definitely been a shift and there are more and more chefs that "look like me" appearing in the industry, which is wonderful to see. But, we still have a long way to go in terms of diversifying our restaurant industry so that it is an accurate representation of our country's diversity. More traditional food, more indigenous ingredients at the forefront of restaurant menus, and more black chefs in executive positions in professional kitchens. 

YH: You and Gordon have quite the close encounter with a hippo on your episode of "Uncharted"; have you ever had any other fateful run-ins with wild animals while preparing a meal?
ZN: I try to not make a habit of cooking with dangerous wildlife as an audience (LOL), so that was definitely a unique experience for me.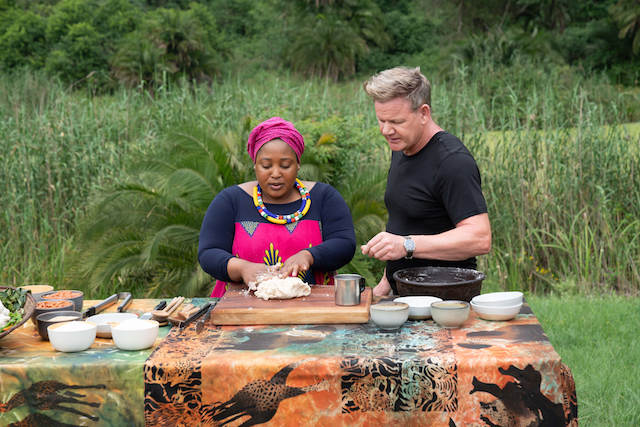 ( © National Geographic/Jon Kroll)
YH: You're also a food stylist; what's one secret of food styling that the average person would be surprised to know?
ZN: I always tell people that the most important thing when it comes to food styling is lighting - great lighting can make or break a food photo! 
YH: Before you became a renowned chef, you went to school to become a lawyer! What inspired that decision, and are there any instances in your current profession where you draw on your law education?
ZN: I always thought law would be the perfect career for me because I'm talkative and somewhat argumentative... but once I got into my studies, I realized that I wasn't passionate about it at all. That's when I decided to change career paths and explore food as an option with the encouragement from my dad – he was the one who always taught us that finding something you are passionate about is the ideal career choice.
YH: Because of the pandemic quarantine, a lot of people are cooking at home for the first time. What would be your number one piece of advice for first-time home cooks?
ZN: I love seeing everyone cook more these days, everyone is finding their inner chef and I love it!  My advice is practice makes perfect – lots of people put so much pressure on themselves for things to turn out perfect the first time around. I always encourage people to keep at it and not give up if it flops the first time; often once you've done something once, you are more likely to be even better at it the next time, so people shouldn't give up and just keep at it.
YH: What's something about Gordon Ramsay you learned while cooking with him that viewers might be surprised to know?
ZN: That he's SUPER TALL! I didn't realize that he's that tall, TV doesn't do it justice (LOL)... But honestly, the most surprising thing for people to learn would probably be what a gentleman he is; he is so engaging and friendly.
There you have it! Be sure to catch the marvelous Ms. Nene and the super tall Gordon Ramsay as they whip up some traditional South African cuisine in front of a live (and very large) audience, on Sunday, June 7, at 10pm on NatGeo!