Q&A: "Celebrity Apprentice" Star Brande Roderick
Written by Sarah Osman. Published: April 01 2013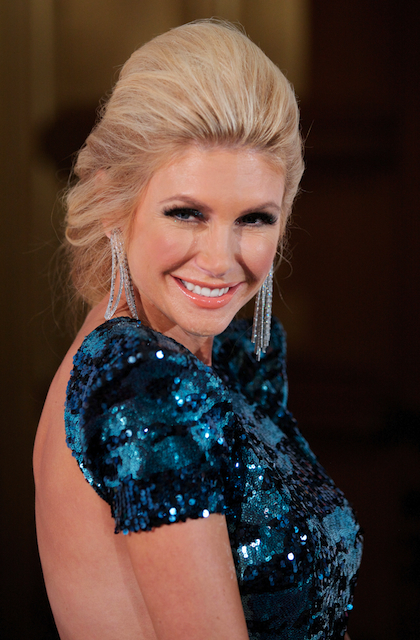 The lovely and talented Brande Roderick is currently working for her charity of choice, Promises 2 Kids, on the hit reality series "Celebrity Apprentice", which she has described as quite a unique experience. This is Brande's THIRD time competing on the show, and she is in it to win it! Brande also keeps busy running her two very different companies -- FantaZ.com, an online fantasy sports site, and Pantofola d'Oro, a designer shoe company. Brande also recently wrote an advice/memoir entitled Bounce, Don't Break: Brande's Guide to Life, Love, and Success, filled with interesting tidbits about her life. And if that isn't enough, this busy actress (Starsky & Hutch, The Nanny Diaries, "Baywatch Hawaii") is a mother to two adorable little boys (whom she describes as her "angel faces").
Brande is great fun to chat with. She is truly sincere (and funny!), but as she reminded me, I shouldn't underestimate her kindness -- she is a woman who knows what she wants and goes for it! During our interview, Brande told me how this season of "Celebrity Apprentice" has been going, why she picked Promises 2 Kids, and what it's like to be a part of the Rock Paper Scissors League:
YH: Tell us how this season of "Celebrity Apprentice" has been going.
BR: There's definitely fun times. But on my team, I have the woman that has been quoted as "the biggest villain in reality television." [laughs] That makes it a little difficult, and not as much fun. But it's definitely a great challenge. I'm always up for a great challenge because I'm a very competitive person. I've learned a lot.
YH: How is this season different from the other seasons you have been a part of?
BR: It's very different, because this time around, everybody knows what they're getting themselves into. They know the demanding hours, they know that it's 16-18 hour work days, six days a week. It's not for the light-hearted. In the first time around, you don't know how hard it is in the beginning. A lot of people go into it and give up early; they don't always care as much. But these are all people who have done the show before, and they know how hard it is. Since they've decided to come back, you know that they know how hard it is -- they're in it to win it!
YH: What is it like being a part of the Rock Paper Scissors League?
BR: It's so funny, because you wouldn't think there's an actual league, but there really is. People really get into it. I just happen to be really good at it. I've gone to competitions. (There are actual competitions.) You go to them, and at the end you can win a ton of money. They're usually really packed! It's really funny. The key to winning is sizing up your opponents, and you can feel how they're going to go.
YH: You are currently running two different companies -- FantaZ and Pantofolo d'Oro. Can you tell us about these two different companies?
BR: The first one is called FantaZ, and it's an online fantasy sports site, and also includes skill-based games such as chess and pool. My husband [Glenn Cadrez] played football for 11 years, he won two Super Bowls back-to-back, so between he and myself, we came up with this site. The other company is called Pantofolo d'Oro, and it's Italian-made shoe company that has made shoes in Italy for over 100 years. Our partner was a huge fan of these shoes, and he had to keep going to Italy to get these shoes, so he said, "Let's just buy the company, let's buy the American rights!" So we did, and we went ahead and partnered with Adam Levinefrom Maroon 5, who designed one of the shoes. We also partnered with Tommy Hilfiger's sister, who designed two of the shoes. These shoes are just really rock and roll -- they're really dressy tennis shoes. You can wear them with jeans and a blazer. I'm actually wearing them right now with jeans and a sweater. It's a lot of fun doing the marketing and events. It's really rewarding.
YH: You are one busy lady! Between having a child, running two different businesses, appearing in TV/movies and promoting your book, how do you balance it all?
BR: I wish there was a secret recipe to it. It's definitely very hard. But at the end of the day, knowing that I get to go home to these two little angel faces makes all of the hard work worth it. It's definitely hard for any working mom. You work like crazy, you work for those moments where you get to have one day on the weekend where you get to take your kids to the park, the movies, or wrestling around on the floor. You juggle it. As women, we're much better multi-taskers then men. My oldest is now three, and my youngest is now two. Having kids who are a year apart is definitely a handful at times.
YH: You are currently representing the charity Promises 2 Kids on "The Celebrity Apprentice". Why do you choose to represent this charity?
BR: After having children, I would hold my babies at night, and I would get upset knowing that there are kids out there who don't have a safe, loving place to be, and that just broke my heart. So, I went out there and searched for charities that take children in, and gives them that love and that shelter they need. Promises 2 Kids is a shelter that takes in severely neglected and abused children. Once the children are placed in foster care after leaving that home, the program has these great and wonderful foster care programs. It's a wonderful organization. I love that they help these kids who need love.
YH: What is something fun about Donald Trump that the rest of us don't know?
BR: Fun fact -- I don't know if this is a fun thing or what, but this is a fact -- He does have real hair. It is absolutely real. On the very first season, we were on a huge ship, and it was windy as all heck. The wind blew his hair right up and we could see roots everywhere. And he said to all of us, "Well, now you know my hair is real!" [laughs] It's the way that he styles his hair with tons of hair spray, looks like a helmet. But it really is all his hair. It's all real. I hope I'm not ruining his image, his little shtick. But it is real hair! 
You can keep up with Brande on Twitter and on Facebook!
(Photo via WENN)
- Sarah Osman, YH Staff