Playlist Prep for 'Pitch Perfect 3'!
Written by Amanda Baltazar. Published: June 27 2017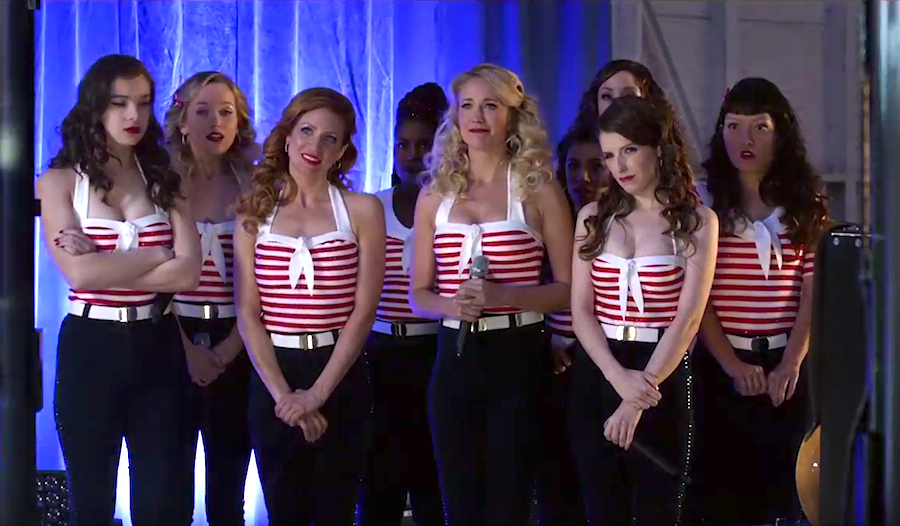 Get ready, Pitches! Pitch Perfect 3 is coming and we are all ready to see our Bellas back at it again! 
Earlier this month, a teaser trailer was released for the third installment of the franchise and the movie poster hints to this possibly being the last film with "LAST CALL PITCHES" headlining the poster. Check out the trailer below and get hype!
Looks like the Bellas are reuniting for a USO show and taking on a whole new rival girl gang -- bring it on! In the meantime, let's get into the aca-spirit of Pitch Perfect!
I have created the ultimate Pitch Perfect Playlist featuring memorable songs for you all to listen to while we wait untill December for the premiere of Pitch Perfect 3! Enjoy!
"Since You've Been Gone"
Such a great montage video to get you in the aca-mood and it's pretty hilarious to boot. You even get a taste of McLovin' in the beginning (shoutout to Superbad fans)!
"Lollipop"
It's a cute, upbeat song led by the handsome Skylar Astin. FUN FACT: In real life, Astin is married to Anna Camp, who plays Aubrey in Pitch Perfect!
"Cups"
Probably the most iconic song in the franchise, Beca's audition song and the reason why kids everywhere probably broke a lot of cups in 2012.
"Riff Off"
And if you weren't sold on the movie before, the riff-off definitely got you on board. Because who really wants to sing the whole song, right? It was fun and fast-paced and so good they had to bring it back in the second film.
"Riff Off 2"
So naturally, I had to put the second movie's riff-off on the list too. Das Sound Machine at their finest.
"We Belong"
I had to include this song to honor Fat Amy and Bumper's love and connection.
Trebles Finals
This gave me "Glee" flashbacks and let's be real, the Trebles are smooth and sexy.
Bellas Finals
The Bellas' finale song in the first movie is iconic because you can see Beca's mash-up talent and introduced a whole new generation to The Breakfast Club.
"Any Way You Want It"
This song is awesome because real-life a cappella groups likePentatonix and The Filharmonicare showcased.
World Championship Finale 2
And for the first time on the a cappella World Stage, the Bellas gave us an original song and brought back Bella alumni. 
Bonus Song: "All of Me" (Bumper)
Bumper speaks, I mean sings, for himself. God bless Adam DeVine.
Pitch Perfect 3 comes to theaters in December!
(Image via Universal Pictures/YouTube)
- Amanda Baltazar, YH Contributing Writer