PLAYLIST PICKS: Aubergine Machine
Written by Kate Ferguson. Published: June 30 2014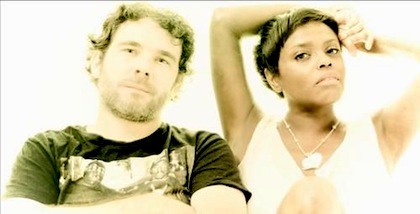 Electro-pop duo Aubergine Machine recently released the single "Hostage", which is a true must-listen. The group's pairing is one part established producer and one part newer musician. As a producer, Ian Carey has had two multi-platinum, one platinum, and two gold certified records, plus an MTV Music Video Award. He has toured in 60 different countries as a DJ with some huge artists, and now he has settled down for a moment to team up with vocalist Shanti Ellis to create Aubergine Machine, which they started in 2012.
The pairing is a bit experimental, with indie pop vocals and electronica/dubstep-type sounds. On the single "Hostage", they have said: "We went back to the future and used our favorite '90s trip-hop/neo-soul influences to produce a fresh, deep, ultramodern song. We really enjoyed working on this one because it felt very natural to leave a little space to make it a little bit dark."
The result is truly amazing; climbing out from the first beat, the track is carefully multi-layered but feels like it's taking its own journey at the same time. Ellis's voice borderlines on gravely, which is nice veer from the alien vocals a lot of EDM songs favor. The pair also released a remix to the single at the same time, which opens more upbeat and ends up taking you on the same walk on a different day.
Not to get stuck in one single vibe, they also released a video of their cover of The Strokes song, "Call it Fate, Call it Karma". You might smell the beach while you watch. The cover keeps the breathy quality of the song but adds tempo through the beats.
Aubergine Machine is sometimes fun, sometimes haunting, and all over making really great music. On what they do, the pair likes to say: "We make music, love life, and laugh sometimes." Which sounds pretty much perfect.
(Photo via James Moore)
Kate Ferguson is a Los Angeles local and freelance writer for a variety of blog genres. Look for article links (and the occasional joke) on her Twitter @KateFerg or check out her personal blog ThatsRandomKate.blogspot.com