Our 6 Favorite K-Pop Collaborations With Western Artists!
03-23-2021 by Madison Murray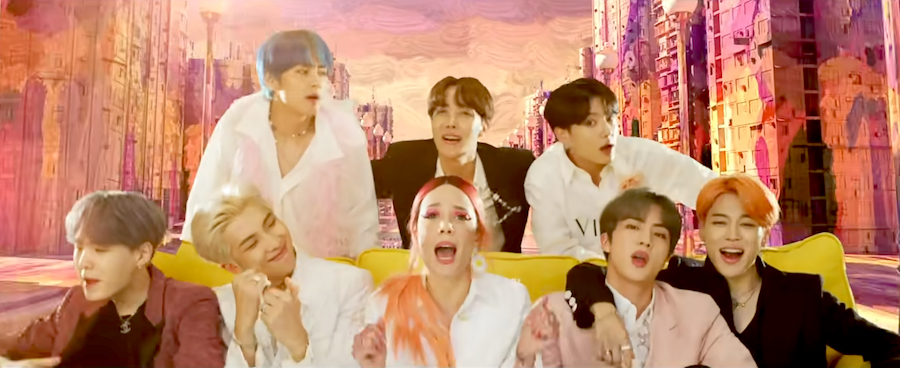 ( © Big Hit Labels/YouTube)  
Even though K-pop's popularity has skyrocketed in recent years, musicians from all over the world have believed in its potential to be a phenomenon for over a decade. Artists like Akonand Halsey showed support to South Korean groups and worked with them on unforgettable collabs that have only gotten better with time. Here are some of our favorites! 

1. Lady Gaga - "Sour Candy" feat. BLACKPINK
It says volumes about BLACKPINK that they were invited to collab with one of the biggest stars in music before releasing their debut album! "Sour Candy" is a punchy song full of confidence that appeared on Lady Gaga's latest record,Chromatica. We challenge you to listen to it without dancing along!
2. BTS - "Boy With Luv" feat. Halsey
One ofBTS's first hits in America, "Boy With Luv" is a fun, catchy pop song that features Halsey on the chorus. It has a retro vibe that came back with the group's recent hit "Dynamite", but it still feels fresh and modern. 
3. Ellie Goulding - "Close to Me"Red Velvet Remix
"Close to Me" was a bop already, but Red Velvet's remix really took it to the next level. Seulgi andWendy teamed up on a verse to replace Swae Lee's original version, then their bandmates joined in for a new Korean chorus and bridge! They were able to keep a lot of the original rhyme scheme, making it easy to sing or hum along even if you don't know Korean. 
4. Wonder Girls - "Like Money" feat. Akon
"Like Money" is a fun dance-pop track that sounds a lot like the K-pop music that has come out in the past year, despite being from 2012. The full song is in English and you'll probably memorize the catchy chorus so quickly that you can sing along by the time it ends! 
5. NCT Dream - "Don't Need Your Love" feat. HRVY
NCT Dream is a subset, or mini group, that includes five members from NCT, one of the biggest boy groups in recent years. "Don't Need Your Love" is the perfect track for a spring car ride with the windows down. If you're a fan ofLauv or Ed Sheeran, you should check it out!

6. BLACKPINK - "Ice Cream" feat. Selena Gomez
"Ice Cream" was a staple on our summer playlist last year, and it was even co-written by Ariana Grande! BLACKPINK andSelena take turns singing confident lyrics over a bouncy, whimsical instrumental. It's such a fun song with an equally exciting music video!

What are you fave K-Pop/Western artist collabs?