NBC's "Emerald City" Depicts a Not-So-Merry Old Land of Oz
Written by Sarah Osman. Published: June 30 2014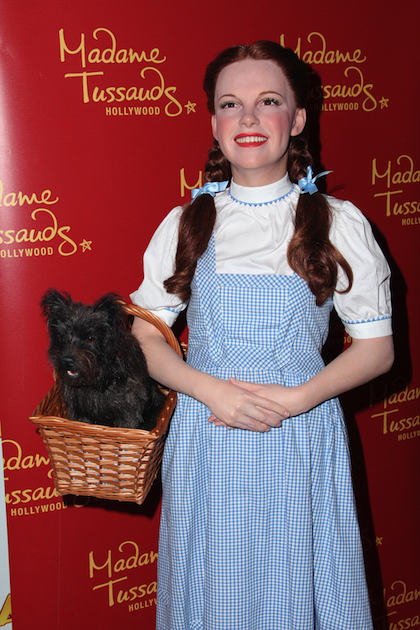 Over the years, L. Frank Baum's The Wizard of Ozhas been reimagined and retold into various musicals, books, and TV shows. NBC is about to tell their own version of Oz, entitled "Emerald City", which promises to be a much darker tale. This particular version of Oz (not to be confused with HBO's "Oz", no matter how bleak it gets) follows Dorothy to the merry old land of Oz where every character is either (a) psychologically damaged, (b) a drug addict, (c) sexually confused, or (d) all of the above. Dorothy Gale is described as a "a natural beauty scarred by past experiences... who has outward insecurity and a lack of self-awareness." Dorothy is introduced while searching for her biological mother, where she ends up near a "sinister facility in the midwest." After being busted by police, she steals a K9 dog (looks like Toto gets a makeover too!) before she is swept away to Oz.
Once there, Dorothy meets witches West and North (not to be confused with any Kimye offspring); the former is a femme fatale drug addict, while the latter is a Type-A manipulative perfectionist. No word yet on what mischief these two will get into, but my guess is that they run some sort of drug trade. The witches aren't the only strangers Dorothy meets, as she also gets a love interest named Henry (after her uncle, which isn't creepy at all...), a stand-in for the scarecrow, who is a strong, handsome lad with a bit of a sordid past. And, of course, it wouldn't be Oz without the Wizard, who is a charismatic leader, but is also harboring -- you guessed it -- a dark secret.
Finally, Dorothy meets Tip, a teenage girl who is confused about her sexuality, and Jack, the only somewhat normal character, who is described as an adventurous and outgoing teen. I'm going to take a leap of faith here and bet that Jack dies, since clearly no one who is remotely normal belongs in Oz. Rumor has it that Jack is the stand-in for Jack Pumpkinhead, while Tip is Princess Ozma. And these are just the main characters -- Dorothy also encounters a disgruntled Munja'kin (not to be confused with the Munchkins), who not only doesn't sing or dance but refuses to help her with her plight, as well as Sylvia, a ten-year-old "mimic" who is clearly haunted. "Emerald City" is so Dickensian, even the kids have problems!
There's no premiere date as of yet; Are you curious to see the (many) damaged folks of Oz?
(Photo via TRY CW/WENN)
- Sarah Osman, YH Staff