Legendary Actresses Sarandon & Lange to Play Legendary Actresses for Ryan Murphy's "Feud"!
Written by Katie Marzullo. Published: May 06 2016
Anthology Series are all the rage these days, and Ryan Murphy (and FX) seems to have a monopoly on them. But I'm not exactly complaining, especially in light of the recent news of their next collaboration…
"Feud" sounds to me like the perfect marriage of Murphy's other anthology shows, "American Horror Story" and "American Crime Story" – over-the-top quirkiness and glamour infused into a real-life scenario. Each season of the show will center on an epic battle between famous people. And the first one is gonna be a doozy.
Season 1 will focus on the longtime feud between legendary actresses Joan Crawford and Bette Davis, and you guys, I cannot wait. As a huge fan of both these ladies, I am quite familiar with their history, and it is NOT PRETTY. Joan and Bette were the HBICs of their day – they took exactly zero $#!ts from anyone, and because they were both so headstrong, they were either going to be BFFs or mortal enemies. Unfortunately (though fortunately for the gossip columns), they chose the latter route, and things got pretty intense over the 4 decades of their parallel careers.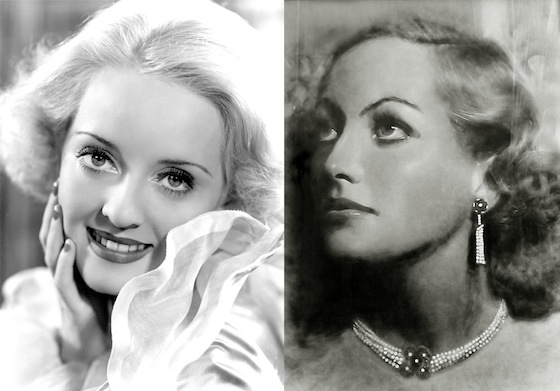 Davis and Crawford in their heydays
In the 1960s, however, they both agreed to co-star together (for the first time) in a horror-thriller called Whatever Happened to Baby Jane? The film's storyline was meta as hell – Crawford played a former movie star, Blanche, who is confined to a wheelchair after a tragic car accident paralyzed her. She barely survives under the care of her former child star/current nutbag sister, Jane (played by Davis), who hates her guts but takes care of her out of sense of duty since she was the one who caused the accident (or so she thinks…). Crawford spends most of the movie trying to get out of the house while Davis tortures her in-between attempts at a showbiz comeback. As you might expect, the behind the scenes turmoil mirrored the one on-screen, and this is what Murphy's series will be focusing on.
Davis and Crawford in Baby Jane
AHS vetJessica Lange has signed on to play Crawford, while Susan Sarandon is finally getting a chance to put her "Bette Davis Eyes" to use. I can easily picture both these ladies in their respective roles, and considering Murphy's tongue-in-cheek aesthetic, this is going to be a veritable camp-fest. Sign me up.
"Feud" will begin production this fall and premiere sometime next year.
(Photos via Joseph Marzullo/Derrick Salters/WENN)
- Katie Marzullo, YH Staff Editor