Jack Black Honored on the Hollywood Walk of Fame!
Written by Brooke Sharland. Published: September 20 2018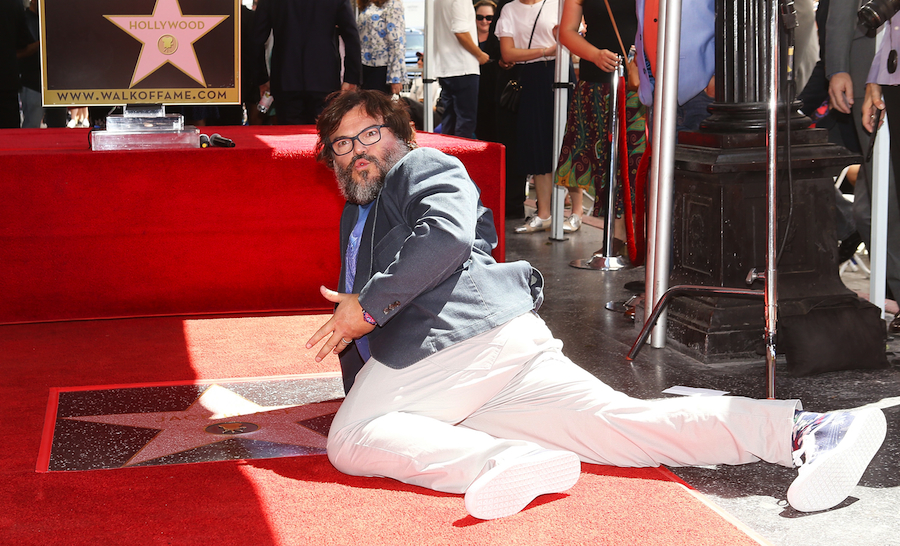 Rejoice, movie nuts! Hollywood legend Jack Black has FINALLY gotten his own star on the Hollywood Walk of Fame!! This star is number 2,645 on the Walk of Fame, and Black was honored in the category of Motion Pictures.
The much deserved star comes after over 25 years in the industry as an actor. With roles as iconic as Dewey Finn in School of Rock, Nacho in Nacho Libre, Po in the Kung Fu Panda series, and SO MANY MORE (the list goes on and on), it's about time he got one. Not only that, but what a great way to celebrate his brand new film, The House with a Clock in Its Walls, which premieres THIS FRIDAY (September 21)!
During the ceremony, Black rejoiced this great achievement, saying, "I've wanted one of these things for so long. Since I was a kid I thought, 'Oh man, if you get one of those stars on the sidewalk, that means you've made it.' And I feel like I've finally grasped that sweet brass ring… in the immortal words of Axl Rose, 'Where do we go now?'"
Long time friend of Black and School of Rock co-star/writerMike White also spoke at the ceremony, praising Black for who he is today. "He loves people, he loves to be loved, and people love him. What I think is the most impressive is that the legend that they love is incredibly close to the actual person that he is." AWWWWW!
"To be as famous as you are and still be a human takes a strong sense of self, a strong sense of character," White said. It's awesome to hear from a friend that the man we love to see on screen is actually a pretty cool down-to-earth guy in person!
I mean, now that he has the star, one of the most highly-acclaimed accomplishments in Hollywood… he's pretty much done and set to retire, right? (Totally kidding of course, WE HOPE HE NEVER RETIRES!) But, he did take the time to jokingly announce his retirement. "I got the thing! Why continue?" Black joked, adding, "Once you get the thing, I made it! I officially… I have made it".
Black also joked that once he gets a couple more films and albums withTenacious D under his belt, he might be done here in Hollywood, and ACTUALLY retire "Daniel Day-Lewis-style". About the next few years of his career, Black said, "I'm just gonna do Jumanji 2, Kung Fu Panda… What number are we on? One more of those…  then I'm sorry but that is it -- unless something really cool comes around."
We'd hate to see someone like Jack Black leave the industry some day, but we are SO lucky to have seen his career grow and evolve over all these years. I mean, just take a look at his IMDb page! You can't look at that and not fondly remember at least one of his roles bringing a smile to your face or making you laugh like no other. There's a lot of comedic actors out there, but none quite like Black. And his music from Tenacious D? We're hoping we can keep hearing more cool tunes from them for years to come, but who knows? Their new YouTube Series drops September 28, with the album following on November 2!
In classic Jack Black fashion, he ended his speech with a sweet sentiment, saying to the crowd, "I love you all so much," but couldn't hold himself back from adding in a quick "Except for Donald Trump" with some other… not so nice quick comments about the president, BUT ultimately ending it with one final "peace out, love you!" to everyone that came.
Congrats on the star Jack, much deserved! Be sure to check out The House with a Clock on it's Walls this Friday, September 21!
(Image via Michael Tran/FilmMagic/Getty Images)
- Brooke Sharland, YH Contributing Writer