Breaking Down The "All American: Homecoming" Season 2 Trailer!
09-09-2022 by Jazlen Patrick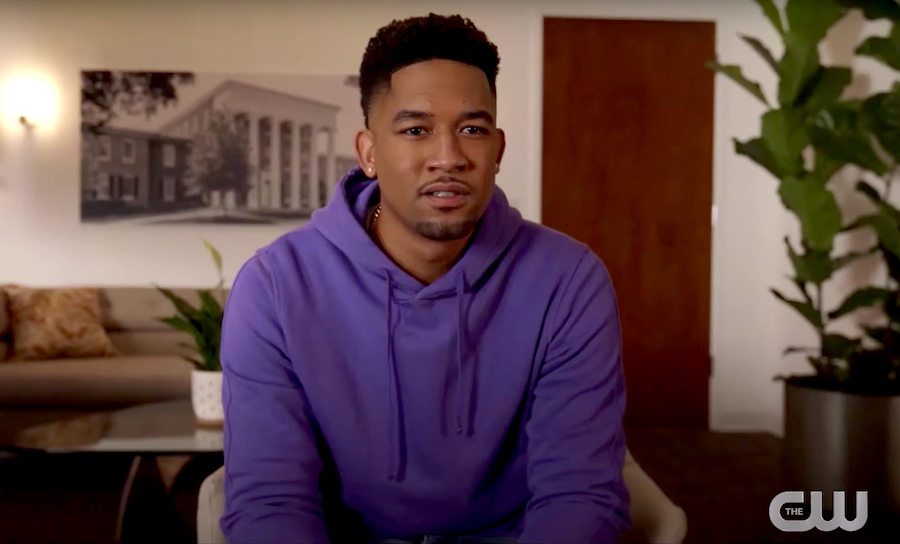 (The CW)
"All American: Homecoming" has officially released their trailer for Season 2 and the only thing we can say is "O-M-G."
There are so many things we noticed that we just can't wait to talk about, so let's get right into it! (There will definitely be some spoilers, so if you haven't watched Season 1…what are you even doing?!)
1. Damon's Decision
Season 1 ended with Damon (Peyton "Alex" Smith) calling rival school coach about transferring schools after his biological dad, who we all know isn't his favorite person in the world, takes over as head baseball coach at Bringston. Damon then had to make a decision on whether or not to let his family drama come in between his new life at Bringston. Of course, we were left with no answer after Season 1, but based on the trailer, it seems that he has finally made one! Will Damon stay at his new home with his team that he worked so hard to build up? Or will he leave it all behind? I guess we'll have to wait and see!
2. Trouble In Paradise
Damon's decision isn't just about him, however. Leaving Bringston means leaving everyone behind, including his new girlfriend Thea (Camille Hyde), and it seems that this has definitely caused some trouble in paradise. In the trailer, we see Thea say, "I  thought we were building something real here." Uh-oh. What news did he break to Thea? Was the conversation not related to his decision at all? Does this mean these two break up?
3. Simone's Tennis Career Still Struggles
Even after taking Thea's place on the tennis team, Simone (Geffri Maya) still seems to be struggling with keeping up a good reputation with her coach. A discouraging conversation can be seen taking place between Simone and her tennis coach in the trailer. But from the looks of it, she seems to have gained some confidence as well! Will Simone be able to uphold her new position on the team? We hope that she proves everyone wrong (especially Thea) and plays well for the team.
4. Simone and Thea Go Tit For Tat
It is very clear that Simone and Thea are still not getting along just as we saw at the end of Season 1. And honestly, this sucks because it seems that these two were beginning to become close friends. But of course, the jealousy from tennis took over and these two are still going at it. Will this rivalry affect Simone's tennis career?
5. Coach Marcus
The last we saw of Coach Marcus (Cory Hardrict) wasn't so great. He was battling with his Bipolar Disorder and ended up losing his job as head coach. We see Coach Marcus in the trailer giving advice to somebody (maybe Damon?), which means that he's still around and doing well! There were no signs that he took his spot back as head coach, but we hope to see this outcome in Season 2!
6. Spencer Is Back!
The best surprise of the trailer was seeing Spencer (Daniel Ezra) from the original "All American", and, as always, he was giving some advice and encouragement to Simone. It's great to see him on this end of the saga, but Spencer… why are you here?! If Spencer decides to transfer to Bringston, that would be crazy. Okay, that may be a little far-fetched, but a girl can dream, right? Maybe Simone visited home and went back to Beverly Hills. The anticipation is real!
7. Nathaniel's Love Interest
Did y'all catch that?! Nathaniel's (Rhoyle Ivy King) kiss?! O-M-G. Now we can't quite make out who it is in the elevator with him, but who's this new love interest, Nathaniel? And the mischievous look after the kiss makes this 10 times better. We can't wait to see what this is all about!
8. Simone's Love Interest?
Nathaniel isn't the only one caught with someone new in the trailer! From the looks of it, Simone also has someone special coming into her life. At least we think so. The two looked pretty close on the bench, and it seemed to be more than a casual conversation. And we love this for Simone! But is she completely over Damon? Is she completely over Jordan (Michael Evans Behling)? Has she found someone else at Bringston that sparks her interest? Only time will tell!
9. Jordan Makes a Comeback Too
We also see Jordan making a comeback as well, and this confuses us even more! Simone and Jordan broke up in Season 1, so what reason would he have for being back at Bringston? And this doesn't look like a warm and fuzzy visit either. From what we see in the trailer, it looks like Jordan shared a few words (and punches!) with Damon. Don't tell me they're fighting over Simone. Geez. This isn't going to end well.
Season 2 is set to premiere Monday, October 10th, and it's safe to say that we are super hyped for it!