Biggest Highlights of the 2021 Emmy Award Nominations!
07-13-2021 by Katie Marzullo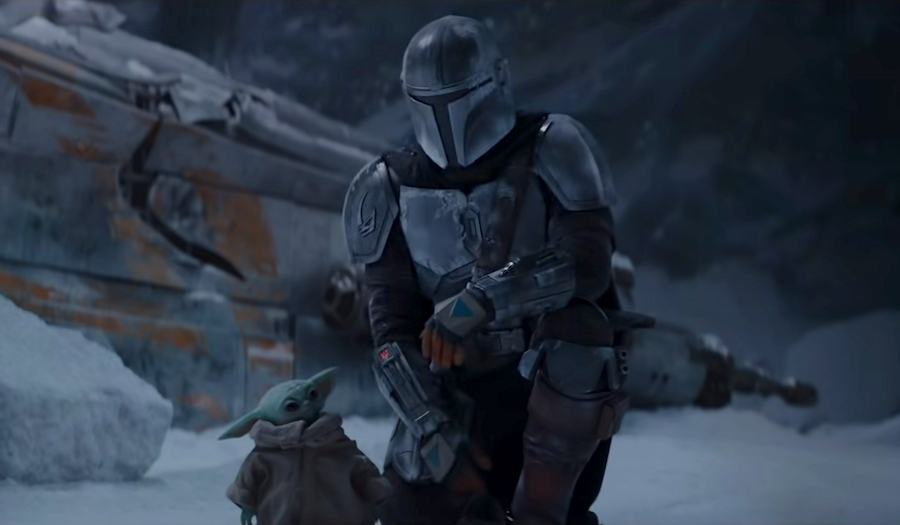 (Lucasfilm/Disney+)
Does it not feel like we just had the Emmys? Seems like only yesterday that people in beekeeper's suits showed up at the winners' houses to hand-deliver their Emmy (or just awkwardly turn around and leave if the nominee lost). Our collective loss of time perception notwithstanding, it is Emmy Season once again, with this year's nominees announced this morning for what will, hopefully, be a beekeeper's suit-less ceremony this year!
Let's break down some of the highlights!
- The biggest story, without a doubt, is that sci-fi/fantasy and comic book IPs are finally getting some big awards love.
First up, "The Mandalorian", which won 7 Emmys last year in mainly technical categories, finds itself again up for a smattering of big awards (24 total), including Best Drama Series, Best Writing, Best Supporting Actor (Giancarlo Esposito), and 2 Guest Actor Noms (Timothy Olyphant, Carl Weathers). Still no love for series lead Pedro Pescal, though, which is a travesty – who else is able to convey that much emotional depth with his entire face covered?! The final scene of the Season 2 finale alone should have garnered him a nomination! C'mon, people!
Elsewhere on Disney+. the MCU is also receiving some Emmys cred, with both "WandaVision" and "The Falcon and The Winter Soldier" earning major nods – the former for Best Limited Series, its outstanding stars Paul Bettany, Elizabeth Olsen, and Kathryn Hahn, plus Directing, Writing, and Casting, while the latter is represented in the Guest Actor Category (Don Cheadle) and Stunts. It can be argued (successfully, imo) that Anthony Mackie definitely needed to be included in this group for his standout performance in "TF&TWS", not nevertheless we're extremely happy for the cast of "WandaVision"!.
Meanwhile, over on Amazon Prime, graphic novel adaptation "The Boys" is sitting pretty with nominations for Best Drama Series and Best Writing – quite an upgrade from last year, when they boasted a single nomination for Sound Editing. Kind of a bummer not to see any of the amazing cast recognized, though; Karl Urban? Jack Quaid? Chace Crawford? Antony Starr? Tomer Capon? Aya Cash? Hello?? This show is LOUSY with talent!
- It seems Ms. Emmy has finally come to the realization that the rest of us has – that "Cobra Kai" is more than just some stunt show meant to tickle our nostalgia bones. The Netflix series has earned a nomination for Best Comedy Series (kind of stretching the definition of "comedy", especially since the movie it's a sequel to was decidedly NOT a comedy, but whatever…). It's a step-up from previous years, where they only got single noms in stunt categories; however, I have to again note the lack of any members of the cast in other categories. Or any other nominations in general. So you're telling me this is one of the best shows on TV, then what exactly about it makes it the best? The acting? The writing? The directing? How can it be the best if none of these other elements are recognized too? (The same query applies to "The Boys".)
- Mj Rodriguez, the de facto star of FX's "Pose", joins her co-star Billy Porter as a nominee this year, for Best Lead Actress. As much of a no-brainer as this is, as her performance in the show's final season (and the previous ones before that) was truly outstanding, Mj is making history by becoming the first transgender performer to be nominated in ANY Lead acting category at the Emmys! (If you're thinking "What about Laverne Cox?", all 4 of her Emmy nominations have been in the Guest Actress category.) Congrats, Mj, absolutely deserved!
- Bowen Yang, who has been a standout on "Saturday Night Live" since he debuted in 2019, finds himself on the receiving end of a shiny Best Supporting Actor in a Comedy Series nomination, DESPITE still only being a featured player (the first time that's ever happened)! Is THIS now enough incentive for Lorne Michaels to finally promote him to regular castmember?!
Check out the full list of nominees HERE. The 73rd annual Primtime Emmy Awards will air on Sunday, September 19, on CBS and Paramount+.