Bea Miller Curates Her Own Personal Playlist to Form The Story of Her EP 'sad boy hour'!
10-05-2020 by Adriana Darcy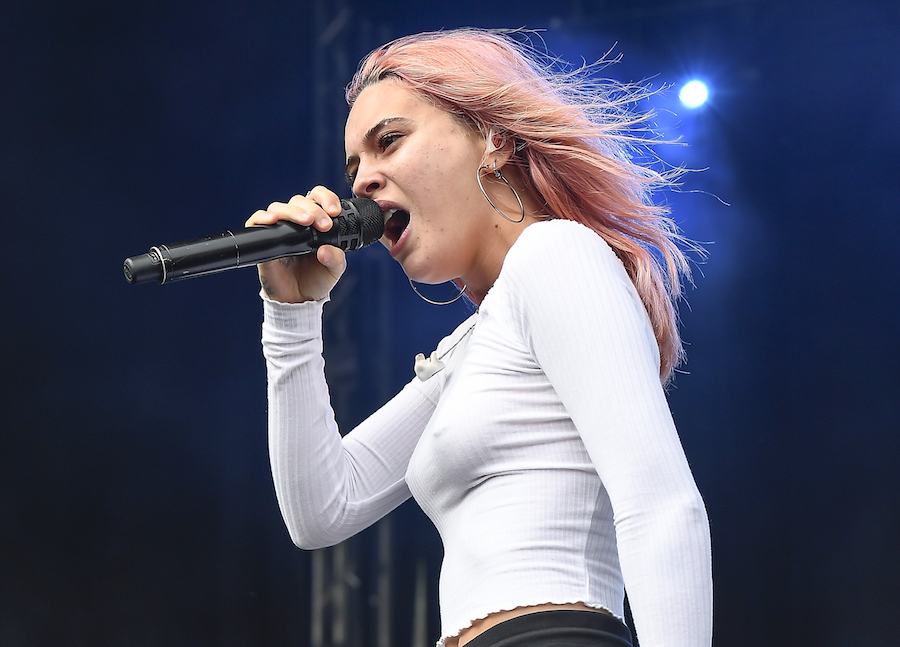 ( © Steve Jennings/WireImage/Getty Images)  
Bea Miller's new EP sad boy hour features just four songs, and at only 13 minutes long, it is one that you will have on repeat for hours! This EP is exactly as the name suggests -- it is melancholic, deep, soft, and strong all at once. In the first two songs, Miller sings about struggling with what seems to be depression and wanting to break out of the cycle but not knowing how, and in the last two, she sings about love (which, in both tracks, she continues to try to resist). 

Bea Miller is a 21-year-old singer who came in 9th on "The X Factor" when she was only 13 years old and has since released 2 studio albums, Not an Apology and Aurora, and 5 other EPs. 
The interesting part of this EP is that none of the songs are new; each one came from a different album or EP but seem to have been carefully chosen to form the story of this EP,  fitting together like a playlist. Here is a breakdown of sad boy hour!
1. "feel something"
"feel something" is my all-time favorite Bea Miller song! I first heard the track through a TikTok video, where the song seems to have blown up!
The song focuses on depression with lines like "I don't want to die but I don't wanna live like this / I just wanna feel something, I just wanna feel..." This was the perfect first song choice for this EP, encompassing the feeling of the sad boy hour, not only through the sad lyrics, but through the way this song has gotten popular through social media, just like the term "sad boy hour" itself. 

Despite the depressing lyrics, this song is super catchy, with strong beats that make it sound happier than it is.
The video for this song is also one of my favorites, featuring Miller in the center of an alien world. A green-skinned woman tells Miller and other alien-like beings that she can help them feel something before taking Miller to a room where she studies her. Throughout the entire video, Miller maintains a blank expression, sometimes showing a flash of emotion before returning to the emptiness.
Favorite Lyrics: "I don't wanna die, but I don't wanna live like this..."
2. "i can't breathe"
One of my favorite aspects of "i can't breathe" is the strong piano accompaniment, which makes this song stand out from the heavy bass of the first and last tracks. I don't think this EP would be complete without a soft and sad piano part. As the song progresses, she adds more instruments, bringing the instrumentals to a crescendo, before crashing into silence. The crash mimics a deep breath, which is ironic for a song called "i can't breathe."
In this song, Miller sings about another side of depression. While in "feel something" she sings about the numbness, in this one she sings about the feeling like you can't breathe.

I love this video for many reasons -- artistically, and visually, it is beautifully crafted, with gorgeous costumes and simple but eye-catching makeup. But the thing that stands out most is the emotion on Miller's face as she sings. In contrast to the previous video where Miller appeared completely devoid of all emotion, here you can see all of the pain and struggle she is dealing with.
Favorite Lyrics: "Now my body and mind are so distant / Don't know how to escape from this prison..."
3. "Force of Nature"
"Force of Nature" is much more upbeat than the previous two songs, about trying to avoid a love that you know just isn't good for you but not being able to resist it. In this song, we can hear Miller still keeping up those walls that she has formed in the first two songs but beginning to lower them for the love that she sings about in the next song. Even though this is a love song, it's less cheesy and lovey-dovey, and you can hear Miller trying to resist it at every turn.
Another aspect of this song that I love is the folksy guitar, which also stands out from the rest of the EP, but in a different way than the previous track did.
Favorite Lyrics: "I tried to tie my heart down / Board up all the windows / Oh but it's too late now..."
4. "crash&burn" feat. O'Neill Hudson
"crash&burn" is a love song featuringO'Neill Hudson, and the two singers' voices compliment each other perfectly; in fact, I almost didn't even realize it wasn't Miller doing all of the vocals!
This song is all about falling in love, completing the "sad boy hour" which started with Miller singing "If I could choose anything / I would be good in bed one day / I would fall into love and stay..." 
This is a very beat-heavy song, perfect for dancing around your room alone. My favorite part of the track is the orchestral introduction. It's also interesting to see the way Miller started and ended the EP with bass-heavy tracks.
Favorite Lyrics: "I wanna be yours / And you wanna be mine / And everyone else been a waste of my time..."
Overall, I am in love with the concept of this EP! While I am looking forward to new music from Bea Miller soon, getting to listen to her rearrange her pre-released music into fun new sets, available for digital download and streaming, is a super cool alternative to playlists, and sad boy hour is definitely one you should give a listen to! It is the perfect quarantine combination.