ARTIST TO WATCH: FLO
Written by Tiara Brownie. Published: July 23 2022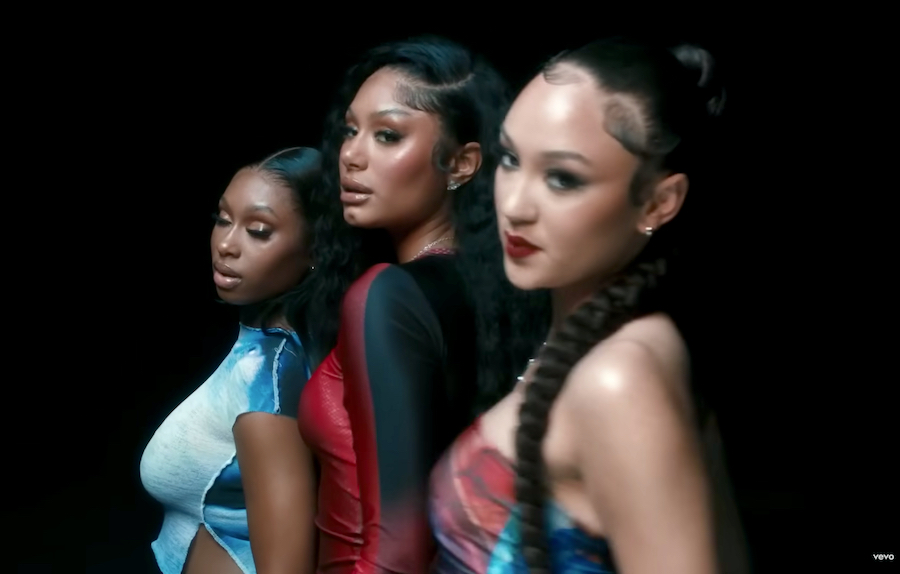 (FLO/YouTube)
Earlier this year, in March, FLO's single "Cardboard Box" achieved a level of recognition on TikTok. Since then, they've won over many new followers who are convinced they will be the next big girl group out of the U.K. Resembling the looks and styles of OG girl groups like 3LW and Destiny's Child, and with over 106k followers on Instagram and signed to Island Records, these new girls on the block are bound to make their mark in the music industry! 
The buzz-worthy song that put the girls on the map is about the difficulties the group members experienced in past relationships and the process of moving on from exes. Which every girl can find relatable, right? As a group, the girls felt like it was an excellent opportunity to grow closer together by working on the song, and it was only right that this should be their first single off their debut EP, The Lead. The popular song even gained the attention of R&B singer SZA. The song has accumulated nearly million views on YouTube as of this writing. 
FLO's recent music video for the second song off their album, "Immature," has already gained a over 600k views and counting on YouTube since its July 8 release. On the track, the young women express their dissatisfaction with partners who are emotionally unavailable and unable to make decisions. In the chorus, Jorja Douglas sings, "Say you want my body, body / But you ain't never do a thing about it," which is an apparent reference to a man not knowing what he wants and not going after what he wants. Renée Downer's stuttered vocals give the song an icy edge, and the trio's golden harmonies at the bridge keep the song flowing -- no pun intended. (Okay maybe a little intended...)
But I'm sure you guys want to know, who are the faces behind the lovely acoustic voices? The three girls who make up the group FLO are Renée Downer, Stella Quaresma and Jorja Douglas, who contributed the finishing touches to the group vocals. In addition, Jorja also triumphed in the 2017 competition of the CBBC talent show "Got What It Takes" by singingAdele's "All I Ask".
Renée and Stella have spent their entire lives involved in the performing arts, so they have known each other for quite some time. Stella relocated from Mozambique to the United Kingdom at age five. It was in London that she first met Renée, and the two became fast friends over their shared passion for singing. They first encountered Jorja around two years ago. When they all started going to open auditions to join a girl group to boost their careers, Stella and Renée gravitated toward Jorja. They became familiar with her through social media as well. They'd seen each other at one of their final auditions before becoming a group, and the obvious chemistry between them encouraged the girls to form a trio the following year in 2019.
We look forward to seeing what's next for the new R&B girl group. For now, you can follow the girls on their social media accounts (@flolikethis on IG, Twitter, & TikTok) to keep up with their latest music and video releases!