ARTIST SPOTLIGHT: MS MR
Written by Amanda Baltazar. Published: December 10 2013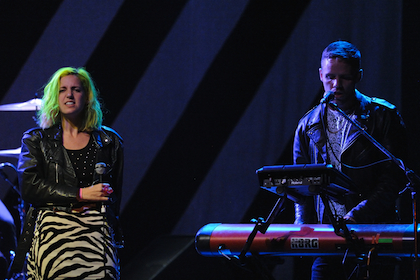 Material Science Mechanical Reproduction?
No, no.MS MR is not that complicated. It is actually a musical duo consisting of a singer Lizzy Plapingerand producer Max Hershenow. Based out of New York, where they both went to college, came a new and intriguing sound, and they released their first album earlier this year in May.
With Lizzy's soothing voice and Max's hypnotizing jams, their songs have created a lot of buzz, and it's not something you hear everyday. Four of their songs have been featured on "Pretty Little Liars", as well as other television shows like "Grey's Anatomy", "Covert Affairs", and more.
Check out their first music videos that are both on their album,Secondhand Rapture:
"Fantasy"
"Hurricane"
AnyFlorence + the Machine fans out there? Or maybeLana Del Rey? MS MR's sound is very similar to these talented artists.
One of their songs, "Bones", was used on the "Game of Thrones" Season 3 soundtrack; it has a more eerie and ominous vibe. Lizzy's voice is so melodic and unique:
Want to see them live? Well, here's your chance -- They are going on tour in 2014 in March and April with the wonderful GROUPLOVE.
For more information, check out their website.
With so much radio airplay and TV credits under their belt (including a performance on "The Tonight Show" last night), this is surely just the beginning for this musical duo!
(Photo via Dominic Chan/WENN)
- Amanda Baltazar, YH Staff