10 Group Halloween Costume Ideas For You and Your Besties!
Written by Hayden Roberts. Published: October 07 2022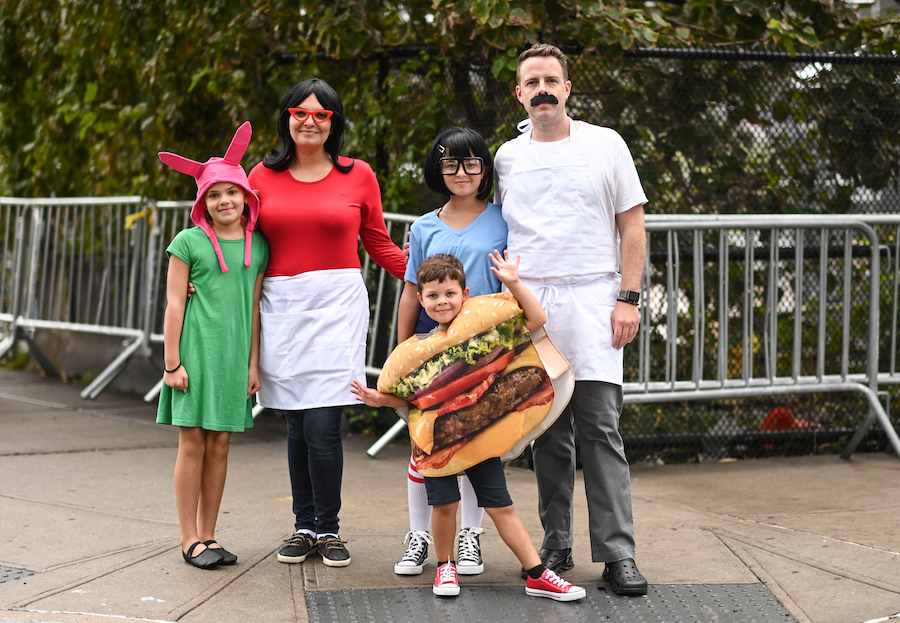 ( © Daniel Zuchnik/Getty Images)
Halloween is only a few weeks away, so the time is NOW to start prepping your costume! This is especially true if you plan on dressing up with a group of friends. Think about how hard it is to coordinate plans with people in your group chats. Stacy can't meet on Monday because she has tennis. John thinks that the group should go bowling instead of going to the movies. It's always something! Everyone is so busy all of the time, it seems to take forever to establish and execute group plans.
Whether you're going as a trio or with a larger group, we have prepared plenty of costume ideas for you and your friends to slay (pun intended) this spooky season!
1. Totally Spies!
Anyone who loved to watch girls kick butt in the early-2000s was a dedicated fan of the "Totally Spies!" Trio. Recreate Sam, Clover, and Alex's iconic bodysuits, or simply go with one of their cutest ensembles worn throughout the series. Just don't forget your gadgets!
2. Teen Titans
If you're a fan of superheroes, skip the Avengers this year and go for your favorite crime-fighting teens instead. This costume is a great option for friend groups of all genders and sizes. Although the main Titans consist of only 5 characters, the Titans universe has no shortage of other heroes (and villains) to add to your crew.
3. The Brides of Dracula
If you're looking for a slightly more traditional costume this year, no choice is more classic than a vampire. Instead of choosing a generic vampire costume, try taking some inspiration from one of the many movies featuring Dracula's brides. The best part about this idea is the sheer amount of content you have to choose from. Choose the Brides of Dracula (1960) for a more classic look, Bram Stoker's Dracula (1992) for a more mystical look, or Van Helsing (2004) for a sexier look.
4. Total Drama Island
This one is another great costume for those with large groups. The cast of "Total Drama Island"'s first season has some pretty recognizable characters with fairly simple costumes. Another benefit of this costume is that there are plenty of choices to pick from (that means no fighting over who gets to be who!). Hit the thrift stores to build your ensemble! 
5. Pixie Hollow Fairies
If you have a group of girls looking for a super sweet costume, the ladies of Pixie Hollow are the perfect choice for you. Just pair some adorable dresses with fairy wings to accomplish the look. Make sure to sprinkle some pixie dust to add some sparkle.
6. Our Flag Means Death
Every year, countless college students throw together a last-minute pirate costume for Halloween. This year, we're leveling up our swashbuckling game by making our pirates dirtier and funnier. HBO Max's new television series "Our Flag Means Death" answers this call by providing a wacky cast of characters that are perfect for anyone of any gender to replicate.
7. Glee
If you were ever a Gleek, it's time to reignite your love for the show by encapsulating one of the iconic characters this Halloween. Whether you choose to be a Cheerio, Sue Sylvester, or a member of Dalton Academy, make sure to have a little song and dance prepared to really top of the look.
8. The Cheetah Girls
If you've got a group of four, find yourselves some matching tracksuits and sweatbands to create an easy Cheetah Girls costume. This idea is perfect for anyone who is living in colder climates and in need of a few extra layers. Add some key components (such as Galleria's little white dog) to round out the look.
9. Bob's Burgers
Whether you're looking for a family costume or just want some adorable Halloween pics with friends, the Belcher family is about as wholesome as you can get. These costumes couldn't be any simpler and can be made with items already in your closet. Just don't forget Louise's signature bunny ears and you'll have certain success!
10. Jumanji
If you're interested in a bit of adventure, step into the jungle by dressing up as the video game characters from Jumanji: Welcome to the Jungle. Add in some characters from the sequel if you need to increase your group's size. Make the look even campier by carrying around some gaming controllers!