Winona Ryder Signs On for Mysterious New Netflix Project!
Written by Kevin Donaldson. Published: June 29 2015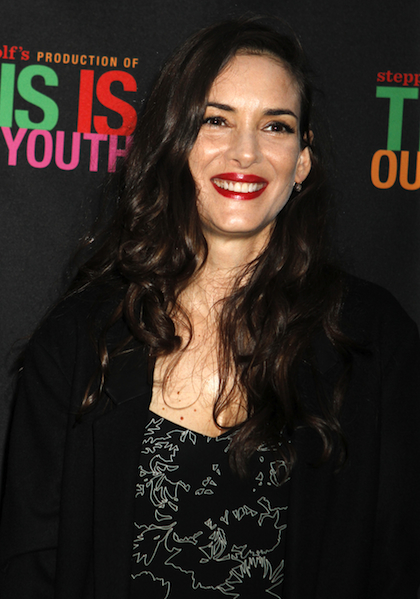 So much awesome stuff is going on with Netflix these days. They've got a movie deal going on with Brad Pitt, they're givingPee Wee Herman (Paul Reubens) a new movie in Pee Wee's Big Holiday, a Bill Murray Christmas special, and tons of new original shows, as well as returns of old original Netflix programs and reboots of shows like "Full House". Now they've got another new show in the works with actress Winona Ryder and "Wayward Pines" brotherly writing team of Matt andRoss Duffer.
The show was originally titled "Montauk", but that has apparently been thrown out. The new title has yet to be released, but the show will focus around the disappearance of 12-year-old boy in (you guessed it) Montauk, Long Island. People close to the boy and local law enforcement look to save the boy but uncover a world of "top-secret government experiments, terrifying supernatural forces, and one strange little girl." No, Ryder does not play the strange little girl; she plays the missing boy's single mother, Joyce. The Duffer Brothers will write and direct all eight episodes.
On top of being a sci-fi thriller, the show has also been described as being "a love letter to the '80s classics that captivated a generation." There is also something out there you may or may not have heard of known as the Montauk Project, which conspiracy theorists have said is a secret government program exploring time travel and psychological warfare, among other things. Its origins in science-fiction are disputed by many, and it is unclear if the Montauk Project is an influence for this series or not.
But the main thing for the rest of us to remember is that this will be a love letter to '80s classics, many of which Ryder has been a part. In fact, one of my favorite movies starring her, Heathers, is crazy '80s, really funny, and streaming on Netflix right now! You may also remember her being in the '80s classicBeetlejuice, which Ryder is said to star in the upcoming sequel at some point. It looks like the race is on, Netflix, what will be made first? The tentatively titled "Montauk" orBeetlejuice 2? No matter what, when we find out what "Montauk" will actually be titled, we'll let you know!
(Photo via Michael Carpenter/WENN)
- Kevin Donaldson, YH Staff