Articles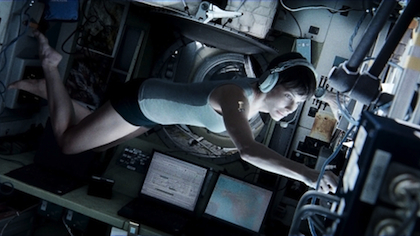 UK-Produced 'Gravity' Lands 11 BAFTA Nods
Watch out, BAFTA nominees, Gravity is coming in hot… without the space shuttle! The film, produced by David Heyman and directed by Alfonso Cuarόn, rose to the top as the toughest competitor to beat for the 2014 BAFTA Film Awards with an impressive 11 nominations.
The votes were announced as of today (January 8) by Harry Potter star Helen McCrory and The Hobbit's Luke Evans. Which brave souls dare to compete against the space disaster survivors? American Hustle and 12 Years a Slave stepped up to the plate, scoring 10 nominations each.
Get comfortable kids, soaring in are the endless nominations for Gravity!
The space thriller film, starring Sandra Bullock and George Clooney, received outstanding nods from voters, with Bullock receiving a nomination for Leading Actress for her heroic role as astronaut Ryan Stone. Among other nominated categories for the film include: Best Film, Director (Cuarόn), Original Screenplay, Original Music, Cinematography, Editing, Production Design, and Sound, just to name eight. The film is easily presumed to be a U.S. film based on its American movie stars and the characters being employees of NASA, but don't be fooled -- it is a USA/UK production. VFX were made in London, which were recognized with a Special Visual Effects nomination.
What's that on the horizon, I see? Make some room for a 100% American film: Captain Phillips is ready to take on any challenge. This film, directed by Paul Greengrass, received nine nominations. Among these are Best Film, Director (Paul Greengrass), Adapted Screenplay, Original Music, Cinematography, Editing, Sound, Supporting Actor (Barkhad Abdi), and Leading Actor (Tom Hanks).
The event, hosted by Stephen Fry, will take place at the London's Royal Opera House and will be broadcast on BBC One on Sunday, February 16. It is evident that we are in for a nail-biting award ceremony!
All nominations for BAFTA 2014 can be found
here
.
(Photo via WENN / © Warner Bros.)
- Simone Remington, YH Staff