Tyler, The Creator's 'Grinch'-Inspired EP Will Get Your Holiday Spirits Soaring!
Written by Meg Spaulding. Published: November 29 2018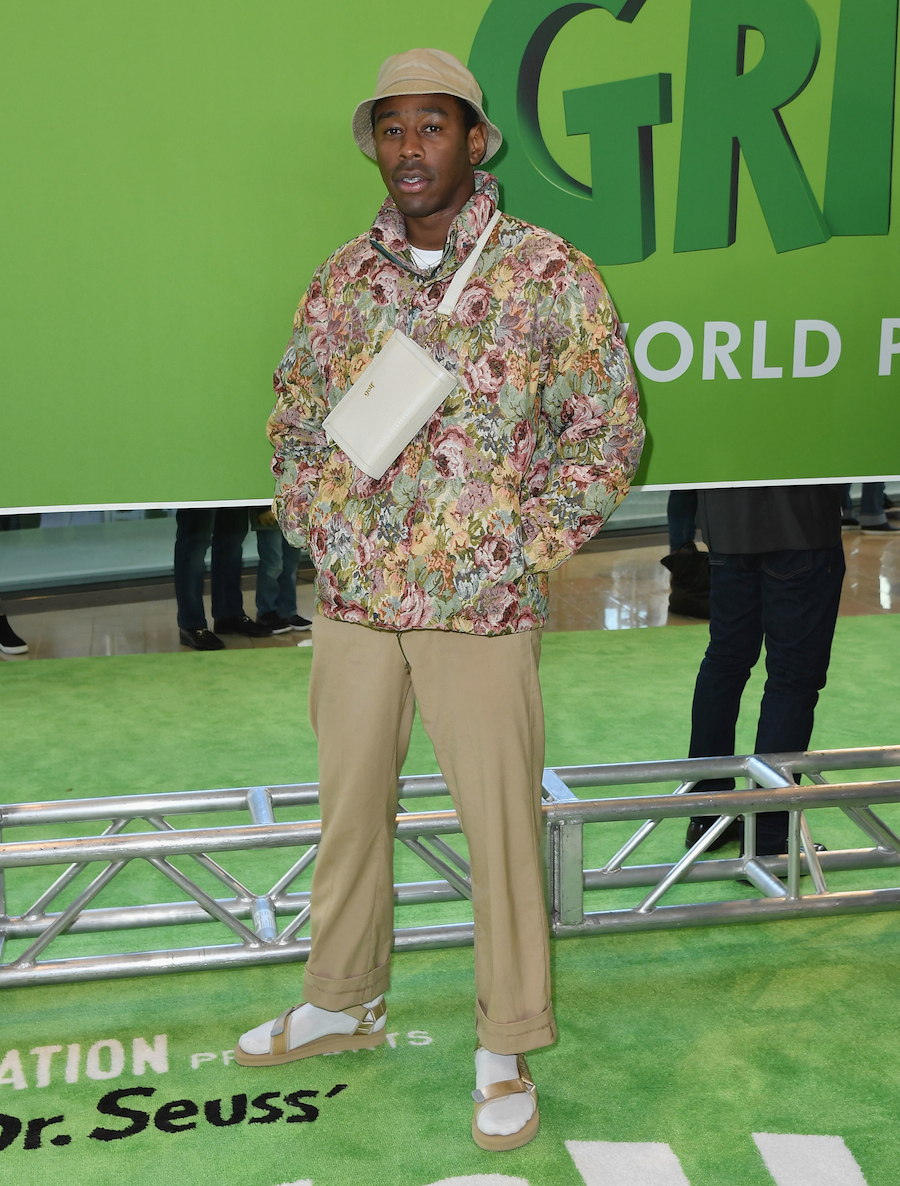 Did you know that Tyler, The Creator wrote 2 new songs for the soundtrack for the new Grinch movie? Did everyone know this already? Am I the only one that didn't know this? Why didn't I know this? Well anyway... there's a lyric video for "I Am The Grinch" and I'm not sure if it's supposed to be funny or not. You decide. Funny or not, it's pretty cool. The second song, a collaboration between Tyler and legendary film composerDanny Elfman, is a new version of the classic "You're a Mean One, Mr. Grinch".
I gotta say, "You're a Mean One, Mr. Grinch" SLAPS. The whole time I was listening to this song I was like... what the heck is going on? But like, in the best way. Please listen to this song. That's it. Thank you for your time.
Not only is Tyler, The Creator the standout of the whole dang soundtrack for Universal's feature animated film The Grinch, he ALSO made a 6-song EP of music INSPIRED by The Grinch. Merry Christmas to ME!
The tracklist features collaborations with Ryan Beatty,Santigold, and Jerry Paper. "Lights On", featuring Santigold and Ryan Beatty, is 2018's contribution to Christmas music. You know how every now and then artists release new Christmas songs, hoping they'll become part of the traditional Christmas rotation? Well, this one could actually make that legendary list. It certainly should.
Christmas is cool again!!! Anyone else crying?
Do you think KOST 103.5 will play this as part of their all-Christmas-music-all-the-time timeslot? It could transition very smoothly into "I'll be Home for Christmas". Now imagine you're at like a cool stylish Christmas party and this song plays—let your mind take you to that dream scenario. Enough said.
You can listen to the whole EP here, and play it at the next cool stylish Christmas party you host.
Let's talk about "Hot Chocolate" featuring Jerry Paper. With this song, again, I'm laughing, but I'm also in awe. Tyler teaches us the proper way to make hot chocolate—he's all about that 2% milk, but he wont judge you if you use water. Really, he says, you can use water. "Excuse me?" I say. In this song, I learned the meaning of tolerance. Later on in the song, Jerry Paper's lyric "jigsaw puzzle with my buddies" is about the purest thing I've ever heard a man say. 
With "Big Bag", we get another chance to imagine what the Grinch would sound like if he was a rapper. If "I Am The Grinch" left you wanting more, here is your more. This is like if the Grinch realized how successful his first single was so he was like "Okay, let's give these people another taste." Thank you, Grinch.
The EP begins and ends with an instrumental, I assume for when you're baking cookies and need to concentrate on the recipe. Clearly, this EP has something for everyone, and if it doesn't get you into the holiday spirit, I'm not sure what will, besides maybe a jigsaw puzzle with your buddies, creamy hot chocolate in hand. Give it a listen and maybe even go watch The Grinch, in theaters now!
(Image via ANGELA WEISS/AFP/Getty Images)
- Meg Spaulding, YH Contributing Writer