TRACK BY TRACK: Lady Gaga's 'Chromatica'
06-08-2020 by Dalila Bevab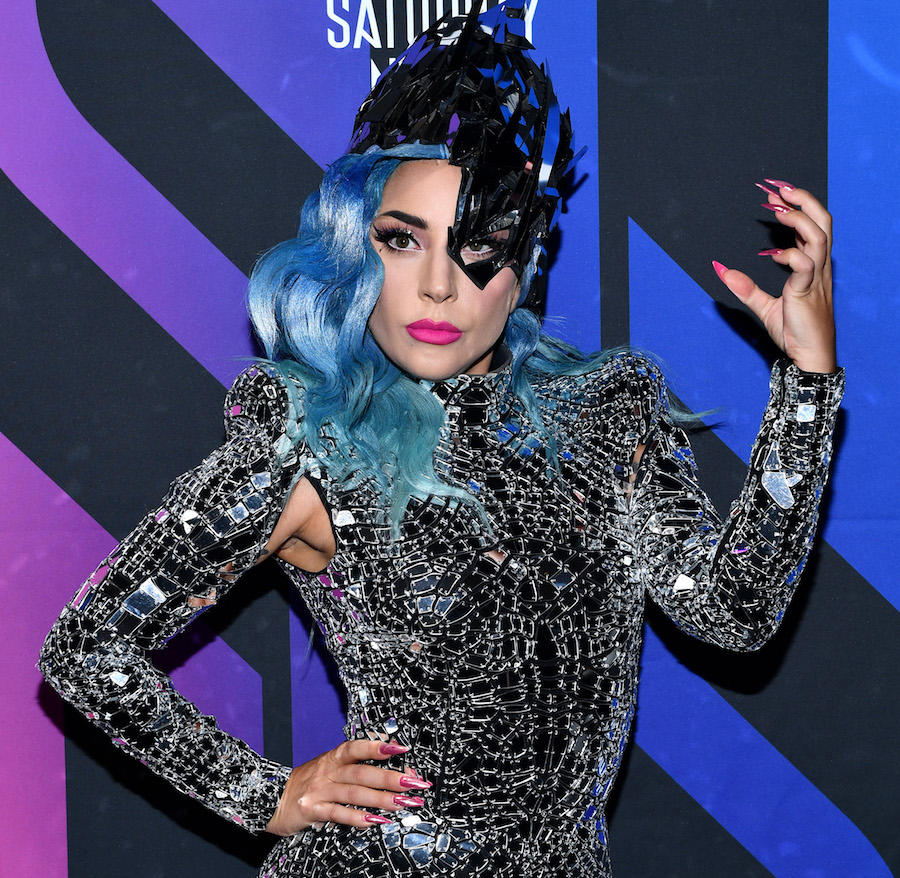 It's not a memorable summer without that one defining album everyone can't get enough of, and Lady Gaga's sixth project Chromatica is THAT album. The 16-track masterpiece, released on May 29, is fun, nostalgic, and it transported us into another dimension, which is quite fitting for her futuristic and otherworldly theme. In the midst of everything going on in the world, the Queen of Pop couldn't have released her groundbreaking album at a better time, and we here at Young Hollywood are obsessed!

The concept of Chromatica is a planet where Lady Gaga wants the listener to envision themselves because it's a safe place, and we definitely need that sense of comfort right about now. The album is the perfect summer anthem with its positive dance-pop vibe with some '70s disco influences while feeling futuristic at the same time. Lady Gaga always keeps fans on edge and never fails to shock or impress listeners.
There are absolutely no skips on this album! Each song has a unique sound and its own message about self-love and acceptance, loneliness, romance, sexual assault, and healing in a perfect dystopian world. Let's get into the track-by-track analysis of the hottest album of the summer!
1. Chromatica I
The ambient, instrumental introduction sets the tone of the 43-minute-long listening experience, and it feels like you're entering a whole new world—the world of Chromatica, which beautifully transitions into the first lyrical track of the album, "Alice"...
2. "Alice"
The first lyrical song of the album is heavily inspired by '70s disco and '80s dance-pop with a contemporary influence that can be seen in Lady Gaga's earlier 2010s singles like "Applause" and "Bad Romance". We all know the story of Alice's Adventures of Wonderland: A young girl named Alice falls down a rabbit role and finds herself in this new, mystical world of fantasy. Many of us probably read the book in our high school English class, and usually the lesson learned was that not all who wander are lost—sometimes we need to fall down a rabbit hole to discover what we're really looking for. Queen Gaga explains just that in the song.Chromatica is about perseverance and learning to love oneself after facing challenges and adversity, and "Alice" tells us that part of the motivation in overcoming those challenges is to dream of a safe place like Wonderland. In this case, Wonderland is to Alice what Chromatica is to Lady Gaga. Gaga exclaims, "Take me on a trip, DJ, free my mind," and the beat does just that. Get up from your bed, think of your own Wonderland, and dance your worries away.
Favorite lyrics: "My name isn't Alice, but I'll keep looking, I'll keep looking for Wonderland..."

3. "Stupid Love"
Lady Gaga released "Stupid Love" in late-February, officially kicking off the iconic Chromatica Era. The song is a perfect mix of disco and modern electronic dance music—the "Gaga sound". There's no way you can listen to this song without dancing your butt off! "Stupid Love" has a more uplifting tone than the previous track, and it's about loving someone and having fun with it. We take many things too seriously today, especially love. The Queen is here to remind us to not let love overcome us and to enjoy the experience. It shouldn't be a scary thing but rather a beautiful thing. Besides the endearing message that we need to love more, the track makes me want to put on my roller skates and flared jeans and dance the night away!
Favorite lyrics: "Gotta quit this cryin', nobody's gonna heal me if I don't open the door / Kinda hard to believe, gotta have faith in me..."
4. "Rain on Me" (feat. Ariana Grande)
Okay, I won't lie. When it was announced that Lady Gaga ANDAriana Grande would be releasing a song... TOGETHER ...I screamed, a lot. "Rain on Me" is one of the most iconic collaborations in recent music history. Two pop queens on one record—um… yes! Lady Gaga and Ariana are two entirely different artists with their own distinctive styles, but they make it work. Gaga called the song "a celebration of tears" in an interview with Paper Magazine, and it's exactly that.
When I first listened to the uplifting song at 12:01am on the day of its release, I felt like I could conquer anything. The world may seem a bit dark right now with everything going on, but "Rain on Me" is a reminder that there is light at the end of the tunnel and beauty comes from pain. Ari's angelic vocals and Gaga's powerful pipes mix beautifully and make you feel like you're in Pop Diva Heaven, and the unique background vocals add a sci-fi feel to the song. If you haven't watched the accompanying music video yet, do yourself a favor and bless your eyes because it's one heck of a visual experience.
Favorite lyrics: "Gotta live my truth, not keep it bottled in so I don't lose my mind..."

5. "Free Woman"
Lady Gaga is all about female empowerment and stickin' it to The Man. First of all, let's talk about the beat. Miss Gaga knows exactly how to make me miss an era I wasn't even alive in (2000s babies, where you at?). The '70s disco influence really popped out in this song and it feels like a new "baddie" anthem, because who needs a man to feel powerful and amazing? Not me! And for sure neither does Lady Gaga.
But the lyrics go deeper than the surface. The planet of Chromatica seems to be the place where she was able to celebrate all she had to go through to get to where she is today. In the album's editor notes on Apple Music, she said her sexual assault by a music producer inspired her to write "Free Woman". She said, "It's me going, 'I no longer am going to define myself as a survivor or a victim of sexual assault. I just am a person that is free, who went through some f**ked-up s**t." Lady Gaga is undoubtedly a brave, strong woman and role model for many fans, and her courage in writing an emotionally raw song about survival and celebrating her journey to being free and powerful is why she'll always be the Queen of Pop.
Favorite lyrics: "I'm not nothing unless I know I can / I'm still something if I don't got a man, I'm a free woman..."
6 "Fun Tonight"
We've all fallen victim to our own negative thoughts and mindset, right? It's only part of being human. Lady Gaga recognizes that part of us and on Spotify tells us, "When you listen to this song, imagine you're singing to yourself." This song speaks to my soul, so noted, Gaga, definitely noted.
"Fun Tonight" is one of those upbeat songs you'd expect to be accompanied by happy lyrics, but nope, and it's definitely a pattern on Chromatica so far. But we're not complaining. It's therapeutic to dance and bop to sad songs when no one's watching. I mean, what's not great about crying while dancing?

Favorite lyrics: "Yeah, I can see it in your face, you don't think I've pulled my weight / Maybe it's time for us to say goodbye..."
7. Chromatica II
OMG! The transition from "Fun Tonight" to the second interlude, "Chromatica II", is nothing short of perfect. So far, Lady Gaga's stuck with the galactic theme, and these 42 seconds of bliss sound like something you'd hear while floating in outer space, you know, if aliens could create musical masterpieces. But the best part of the song is the transition into "911"… prepare yourself for audible euphoria.
8. "911"
We can all agree that Lady Gaga is the CEO of transitions, and I certainly wasn't prepared for the switch to the darker techno beat in "911". This song pays tribute to the old Lady Gaga bops from back in the day like "Applause" and "ARTPOP", and it sounds like pure nostalgia. In her Apple Music editor's notes, she said the song is about an antipsychotic drug she takes, "and it's because I can't always control things that my brain does… and I have to take medication to stop the process that occurs." She sings, "My biggest is enemy is me, pop a 911," and honestly, that line is relatable at times. The entire album is her sharing her internal struggles with fans, but this song hit differently. And that bass, wow!
Favorite lyrics: "Holding on so tight to this status / It's not real but I'll try to grab it / Keep myself in beautiful places, paradise is in my hands..."
9. "Plastic Doll"
Why do you love Lady Gaga? Is it her unique style? Her killer voice? Her amazing acting skills ("American Horror Story" Season 5 is where it's at!)? Well, whatever draws you to the Queen, you can't deny that she's one of the biggest pop stars in history, and with that comes some struggles that we can't begin to imagine. Being in the spotlight 24/7 and having every move critiqued by the public sounds exhausting, and she pours her heart out in this vulnerable track.

Female pop artists are objectified on the daily, and in this song, Lady Gaga explains how she feels like a plastic doll placed into a box by society that's supposed to be perfect by saying, "I've lived in a pink box so long / I am top shelf, they built me strong." There's no arguing that society dehumanizes popstars and expects them to be flawless all the time, but they're human, too. Even though most of us aren't pop stars, we can still relate to feeling like toys for boys and the world in general. Charlie Puth took to Twitter and fangirled over the song, saying, "'Plastic Doll,' period." This song is personally one of my top favorites on Chromaticabecause it's so raw, and coupled with the fun beat that we've heard so far in the album, it's just… *chef's kiss*.
Favorite lyrics: "Don't play with me, it just hurts me / I'm bouncing off the balls, no, no, no, I'm not your plastic doll..."
10. "Sour Candy" (feat. BLACKPINK)
Who doesn't love K-Pop? Lady Gaga blessed us with yet another legendary collaboration with the incredible South Korean girl group, BLACKPINK. The genre has taken over the world in recent years with its catchy melodies, amazing songwriting, and badass dance moves, taking us back to the glorious world of Western '90s boy bands. "Sour Candy" is another "baddie" anthem on the album, reminding girls not to settle for less. If someone can't accept you for who you are and your flaws, then they're not worth it. "I'm hard on the outside, but if you give me time, then I could make time for your love," meaning, if you can't handle my worst, then you're definitely not getting my best. Sadly, the song is relatively short compared to the other tracks, but it's still a bop. If you haven't listened to a K-Pop song before, "Sour Candy" will pull you in for good. 
Favorite lyrics: "I'm sour candy, so sweet then I get a little angry..."
11. "Enigma"
If you're a diehard Gaga stan and the word "enigma" sounds familiar to you, it's the name of her Las Vegas concert residency that was sadly cut short due to COVID-19. Once again, the disco-pop beat carries through the whole album and especially flourishes in this song, sounding like a lostDonna Summer hit. It's no secret that Lady Gaga has powerful vocals, and she came through in the chorus. The song is her telling a love interest and that she could be his enigma, a mysterious adventure "even just tonight." "Enigma" is classic Gaga because it's one of the more fun and light-hearted songs on the album. She seems to be cementing the idea that love shouldn't be taken too seriously, like in "Stupid Love", and Chromatica is that place where you can play around with the idea and be spontaneous and crazy with it.

Favorite lyrics: "We could be anything you want / We could be jokes, brought to the daylight / We could break all of our stigma / I'll, I'll be your enigma"
12. "Replay"
This next track's title is appropriate because we can't stop replaying it! "Replay" pays homage to Lady Gaga's iconic "Monster" days. She sings, "The monster inside you is torturing me, the scars on my mind are on replay." This song is more melodic, and the vibe is calmer than the darker "Monster" where Gaga seems to be more hurt and angrier. We're reminded that Chromatica is a place where scars can heal, and the healing occurs by seemingly dancing the pain away.
Favorite lyrics: "I don't know what to do, you don't know what to say / The scars on my mind are on replay..."
13. "Chromatica III"
Alas, the last interlude on Chromatica and a stunning way to present the last few songs of the album, and yet another perfect transition into my favorite song, "Sine from Above" featuringElton John.
14. "Sine from Above" (feat. Elton John)
This song is EVERYTHING! The first time I listened to it, I was SHOOK, flabbergasted, and all the synonyms! Gaga treated us to several memorable collaborations on this album, but this one takes the cake for being the best one. Elton John is absolutely legendary and his voice blends so well with Gaga's. In the Apple Music editor's notes for the album, Lady Gaga said, "S-I-N-E, because it's a sound wave. That sound, sine, from above is what healed me to be able to dance my way out of this album." The wordplay is genius because "sine" sounds like "sign" and the sound she heard was ethereal, going back to the cosmic theme of Chromatica. Gaga has used religious imagery in the past, and she's continuing her allusions to God in the Chromatica Era. Out of all the songs, "Sine from Above" has a special sound—it sounds like a mix of early-2010s and mid-1970s electronic-dance beats. Whatever it is, I can't get enough.
Favorite lyrics: "I heard one sine from above, then the signal split in two / The sound created stars like me and you..."
15. "1000 Doves"
I cried listening to "1000 Doves" for the first time. It was a mix of emotions, and I think that's what Lady Gaga intended us to feel. We have to let go of our past mistakes and celebrate the adversity we've overcome so we can move and feel the hope and happiness we deserve. It's like Gaga's singing directly to herself and fans at the same time, which makes it all the more comforting. Gaga reminds us that Chromatica is a place of self-discovery and growth and our time on it is worth the pain, because, in the end, we arise as a different person for the better.
Favorite lyrics: The entire song! No, but seriously, I loved, "Lift me up, give me a start 'cause I've been flying with some broken arms..."
16. "Babylon"
Okay, I totally expected the album to end with an absolute banger, but I did NOT expect a finale like "Babylon". Does it sound familiar? Yes, I thought so, too! There's a huge "Vogue" influence from Madonna, and I'm hoping a fandom-war doesn't erupt from this pop-diva homage. In my opinion, I love that Lady Gaga drew inspiration from the OG Queen of Pop. I can only describe the song in one word: art. Babylon is a real ancient city that's also mentioned in the Bible, once again a religious allusion in classic Gaga style. Imagine walking down the street on a warm summer day blasting this song. Oh honey, you're going to feel glamorous. Am I the only one who wants a remix featuring Madonna?
Favorite lyrics: "Strut it out, walk a mile / Serve it ancient city style..."
Queen Gaga delivered an entire dance album full of bops that will never get old, and it's just what we needed during these trying times. Hopefully this pandemic ends soon so we can go to the clubs and party along to our favorites from Chromatica, because you will definitely catch me crying on the dance floor. Everyone say "Thank you, Mother Monster!"