TRACK BY TRACK: Halsey's 'If I Can't Have Love, I Want Power'
09-02-2021 by Rebecca Breitfeller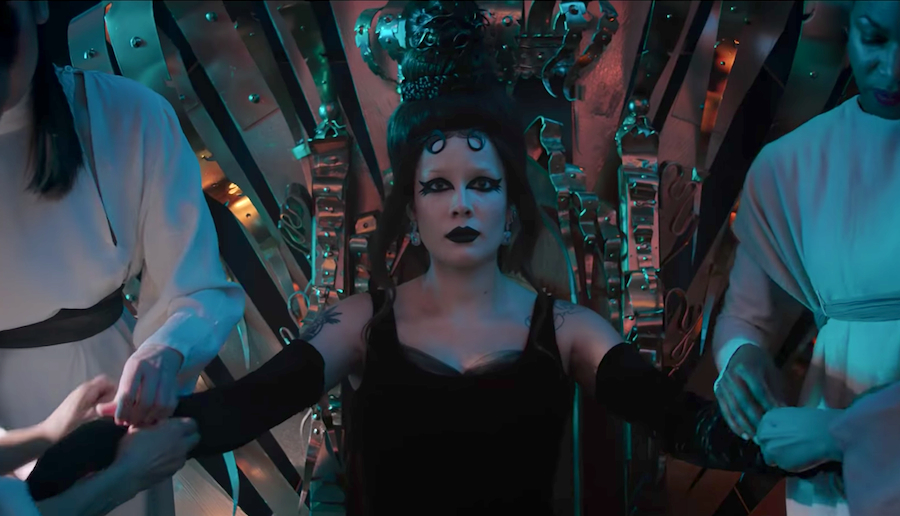 (Halsey/YouTube)
The fourth studio album from Halsey is here and it's the divine feminine energy that we all needed. If I Can't Have Love, I Want Power feels like a love letter to women everywhere and a commentary on how the perception of women's autonomy is/what it should aim to be. The album is accompanied by a film of the same name to give a Gothic art type of visual to the powerful body of work. This album is filled with 13 tracks of pure gold, and though it feels like Halsey as a whole, the album -- which was produced by the Oscar-winning team of Trent Reznor and Atticus Ross -- is a wonderful departure to something even better within her lyrics and vision.
Buckle up because we have a lot to discuss and dissect, so let's break it down track by track!
1. "The Tradition"
This track is haunting, with a capital H. There are a million ways to interpret this song. It touches on so many things, from fame and the cycle of bad treatment of women to the abuse women endure and more. If there were ever a song to help open an album perfectly, it was this one. Halsey's voice is beautiful on the track and mixes well with the eerie yet beautiful piano that drives the song.
Favorite lyrics: "Her soul is black and it's a fact / That her sneer will eat you alive..."
2. "Bells in Santa Fe"
"Bells in Santa Fe" is a high-strung track both musically and lyrically. Halsey sings about temporary love and fleeting attraction. The production of the track echoes the sentiment perfectly with choppy synth throughout, almost giving the song a sneaky type of aura. 
Favorite lyrics: "Jesus needed a three-day weekend..."
3. "Easier than Lying"
If you wanted a head-banging rock type of Halsey song, well here it is. This song is a heavy hitter on the album, especially after the first two tracks. The track is ridiculously cool and upbeat, featuring vocals that seem full of power and conviction. I recommend listening to this track with headphones on for full effect.
Favorite lyrics: "My heart is massive, but it's empty / A permanent part of me, that innocent artery..."
4. "Lilith"
This is, without a doubt, a stand-out track in my mind. Halsey discusses the acception of the dual reality that you can mess things up and be the absolute worst, but in the end you can still open your heart. Even if you have been labeled a certain way by society or your inner thoughts, you are allowed to claim those things as your power rather than your weakness. (The title of the track refers to the first wife of the Bibilical Adam from Judaic mythology who was considered a "she-demon".) I am very obsessed with this one!
Favorite lyrics: "The more that you give away / The more that you have..."
5. "Girl is a Gun"
"Girl is a Gun" is the perfect clubbing song. It's impeccably catchy and upbeat and a pretty deep contrast to the 4 tracks that precede it. This song will have you up and dancing after the first 10 seconds with its bubbly bass line and lyrics about the unwavering dangers of falling in and out of love.
Favorite lyrics: "It's a shot in the dark, I'm not a walk in the park / I come loaded with the safety switched off..."
6. "You asked for this"
I personally LOVE this one. I think this song is such a powerful message as to what is expected from women as we grow up. We are viewed as objects in society so nonchalantly, and this song attempts to make sense of all the ways in which women wish to grow up and have their own voice, all the while feeling like they have to prove themselves. 
Favorite lyrics: "You wished upon a falling star / And then left behind the avant-garde..."
7. "Darling"
This track is incredibly heartwarming and heavy all in one. "Darling" is a love letter to Halsey's first-born child, Ender, and follows a simple plucky acoustic guitar and heartfelt lyrics for when life just feels too heavy.
Favorite lyrics: "I'll kidnap all the stars and I will keep them in your eyes..."
8. "1121"
The production of this song echoes the production on "Bells in Santa Fe" but still takes on its own life. Halsey's vocals are so good on this song and feel so much more mature than past albums. The title refers to the date (November 21) that Halsey discovered she was pregnant.
Favorite lyrics: "You could have my heart / And I would break it for you..."
9. "honey"
This songs gives off big Paramore vibes. It seems so different than the other songs on the album, but still blends perfectly into the project as a whole. Halsey stated in a recent livestream that this song was purely experimental, as she was trying to show her younger brother how she writes. In an unexpected twist, she ended up loving the song and ultimately put it on the album. 
Favorite lyrics: "Well, she stings like she means it, she's mean and she's mine..."
10. "Whispers"
I know I've raved about every song, but this one may just take the cake. "Whispers" is a haunting reality of what slipping mental health can do in a relationship. Halsey sings about sabotaging love and not even understanding why it's happening. It's a feeling I think so many people can relate to, and an incredibly vulnerable thing to sing about.
Favorite lyrics: "I've got a monster inside me that eats personality types..."
11. "I am not a woman, I'm a god"
There is an awesome duality to this song. It handles themes of self-confidence and insecurity and balances them out though they are polar opposite. I think this track is such a wonderful depiction of the human experience and, of course, the experience of women particularly. Not to mention... it is so catchy, it's unreal.
Favorite lyrics: "I am not a woman, I'm a god / I am not a martyr, I'm a problem..."
12. "The Lighthouse"
If Greek mythology is your thing, then this song will be your absolute favorite. This song takes on a more gritty vibe than some of the others, and the instrumentals are reminiscent of early-2000s grunge. At the same time, it's sort of a song in a league of its own. Halsey relates to sirens in this track, mythical creatures that used to lure sailors deep out at sea. It's a very clever song.
Favorite lyrics: "But a sailor ain't a savior 'cause they only tell you lies / So I left him there 'til the sunrise..."
13. "Ya'aburnee"
This song acts as a love letter to Halsey's newborn son and partner, and it's really the perfect way to close the album. It has the same haunting production that we hear on "The Tradition", but there's a more heartfelt sentiment here. It's beautifully tragic – yet another way Halsey blends the good and bad so well on this album. The title is an Arabic phrase that translates to "may he [or you] bury me" and refers to the hope that one dies before their loved one does because they could not bear to live without them.
Favorite lyrics: "I can't decide / If I love you more in mornin / Or I love you more at night..."
Which song off the new album is your favorite?!