TRACK BY TRACK: Bebe Rexha's 'Bebe'
Written by Gabi Lamb. Published: May 12 2023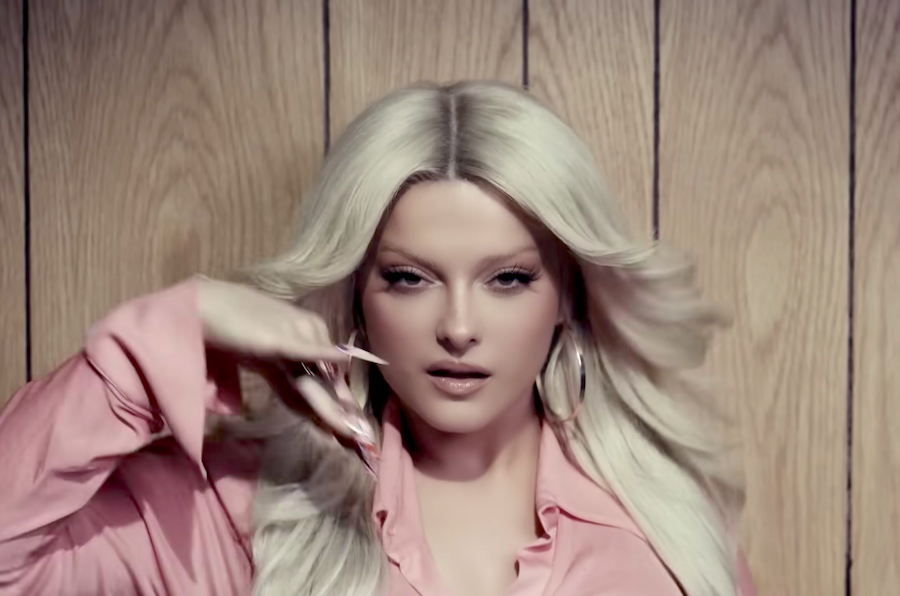 (Photo: Bebe Rexha/YouTube)
Music sensation and iconic songwriter Bebe Rexha has just released her third studio album, self-titled as Bebe. The cover looks straight out of '70s, with Rexha's intense eyelashes and the sepia color choice, but it was really released this past April 28. It's an exciting time for Bebe — it's her first album since 2021, and her style only continues to evolve.
So let's break down Bebe track-by-track!
1. "Heart Wants What It Wants"
Rexha's opening track begins like a Fleetwood Mac song before morphing into a more glam, dancing song. It's an anthem about desire, and its twinkling groove makes it full of motion. There's a feeling of acceleration leading into the rest of the album, and the tinge of her typical electronic style thrown into an otherwise '70s-inspired song makes it completely her own. "Heart Wants What It Wants" is a shiny, promising start toBebe.
Favorite Lyrics: "Go ahead and cry a river / You can go and fill the sea..."
2. "Miracle Man"
The syncopated complication of layered synth chords creates a glimmering, slower mood in "Miracle Man". The breathy, high vocals in the verse contrast with the charged sexuality of the chorus — there's a religious effervescence to the miracle vision Bebe conjures; the sound itself is like a mirage.
Favorite Lyrics: "Drink your holy water / Savor slow..."
3. "Satellite" (feat. Snoop Dogg)
The unexpected collaboration of the album, "Satellite" draws on the voice of Snoop Dogg to make the kind of pop song we would have heard everywhere in the early-2010s. It's starry and triumphant, with a long rap interlude thrown in the middle. It's nostalgic for a time we remember and offers a break from the domination of '70s grooves. It's easy and fun: no complaints!
Favorite Lyrics: "I'm the captain here, my dear"... (thank you, Snoop)
4. "When It Rains"
Flashing lights and late nights are what "When It Rains" brings to mind. It's quick and bass-heavy but intricately structured. The intensity it brings after the more easygoing "Satellite" is much needed, and it depicts themes of crazy love and wanting to go back to someone, even when they're not good for you.
Favorite lyrics: "When it rains / You're like God to me..."
5. "Call on Me"
I think it can be agreed that Bebe Rexha is the queen of dance songs. No matter the pace or content, it would be at home in the club. "Call on Me" returns to that 2010s dance song style again, and the piano portions combined with airy synths and powerhouse vocals are key to the feeling. Bring back the 2010s!
Favorite lyrics: "I'd call on me / If I need a lover..."
6. "I'm Good (Blue)" (feat. David Guetta)
With longtime collaborator David Guetta, Bebe Rexha keeps on with the vibes of "Call on Me" only with more instrumental segments. It's hypnotically repetitive and dance-ready, all about having a fun time. This song is also currently trending on Tiktok — bravo, Bebe!
Favorite Lyrics: "Middle of the floor / That's where I'll be..."
7. "Visions (Don't Go)"
The crystalline start of "Visions (Don't Go)" creates a perfect matrix in which Rexha drops her clap-track backed bouncy pop. The transcendent content gives the song the energy of meeting an interesting stranger; making eye contact and dancing, the question of "will we or won't we?". It's passionate and exciting, another song for the night.
Favorite lyrics: "Yeah you got me floating on the floor"...
8. "I'm Not High, I'm In Love"
The most intriguing break of Bebe, "I'm Not High, I'm In Love" begins orchestral, and goes dark and dangerous as Rexha falls into severe love. It's kaleidoscopic, a sort of eerie and breathless disco that captures all the senses. The shriek of strings dotting the song makes it, sound-wise, fascinating and new.
Favorite Lyrics: "I can't even eat, I can't even sleep"...
9. "Blue Moon"
Back to the Fleetwood Mac inspo at the start of the album, Rexha layers dark vocals over it to carry over the themes of "I'm Not High, I'm In Love". "Blue Moon" is a rocking kind of song, and the push into the chorus marks a dizzying kind of momentum. The key change at the end is impressive and unexpected — it cuts the repetition to keep it feeling fresh.
Favorite Lyrics: "And when fate comes knockin' / No, you can't call it luck..."
10. "Born Again"
In line with the title, "Born Again" revamps Bebe with a ballad. It's choral and slow, with tangy guitar and powerful vocals. It's a classic love song and lets the album breathe after the speed of the rest of the album. The ending is the best part — the guitar? Epic.
Favorite lyrics: "Who needs Heaven when you're here tonight?"
11. "I Am"
Another soft song but with its speed returned. The crawl of Rexha's voice grows into heavy power. It's lamenting on a lost love, but she reclaims her power with affirmation in the chorus. It's a healing kind of song needed after a long night out.
Favorite Lyrics: "I am a God / I've danced with the devil..."
12. "Seasons" (feat. Dolly Parton)
The acoustic, stripped-down "Seasons" turns Bebe on its own head. It features the iconic Dolly Parton in a gorgeous, country-inspired duet and welcomes the changes of life. It's the most intimate song off the album and grapples with questions of aging and growing. It's like, you wake up expecting to be older and knowing everything, but you just wake up as yourself every day. It's thoughtful and confessional — it really shows off her songwriting talents.
Favorite Lyrics: "And I run, run, run / Away from me..."