TRACK BY TRACK: Ariana Grande's 'positions'
11-02-2020 by Tyler Bey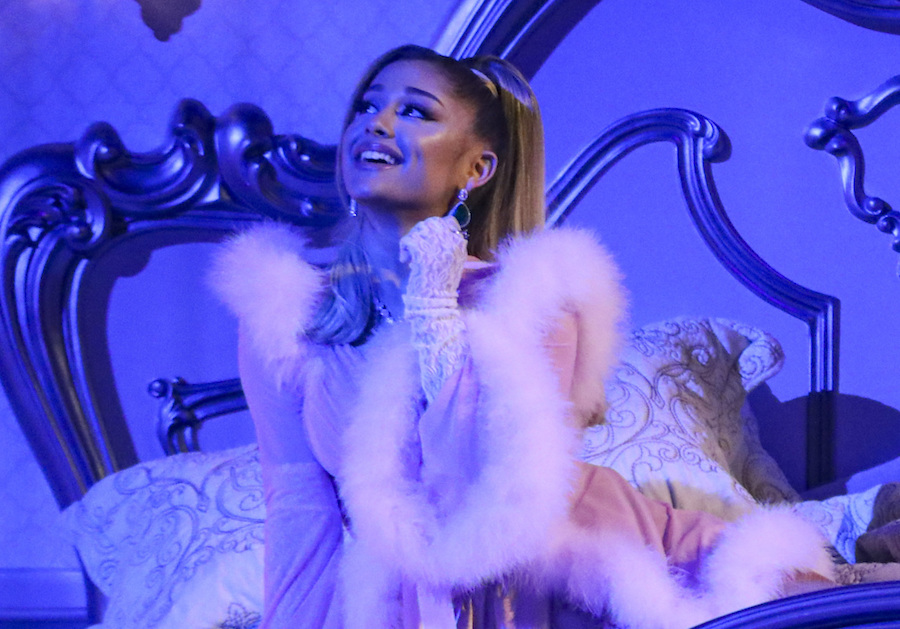 ( © Monty Brinton/CBS via Getty Images)  
Vocal goddessAriana Grande is back with her 6th studio albumpositions, which trades her traditional pop signatures for more of an R&B flare. Showing more of her salacious side, Ariana is officially not the teen girl we knew her as from "Victorious" anymore! With 14 songs and features from artists likeDoja Cat and The Weeknd, Ariana Grande comes for the crown with positions.

Here's a blow-by-blow breakdown of every song on the album so you can know what you might like before you give it a listen!
1. "shut up"
Starting out with a melodramatic and harmonic break-up song, Ariana suggests to an unnamed character, "Maybe you should shut up." She brings back her rhythmic sing-talking, the same she uses on the likes of "7 rings". Although we know Ariana cansang, songs like "shut up" make it much easier for the regular folks like me who can carry a tune okay to sing along too.
Favorite Lyrics: "How you be using your tongue? (How?) / You be so worried 'bout mine (Mine) / Can't even get yourself none / You know you sound so dumb (so dumb, so dumb)..."
2. "34+35"
Wait wait wait… Ariana's talking about… sex?!Yes, everyone, it's okay to say it: the sweet innocent Nickelodeon star has grown up! When you do the math, it's clear what Ariana is talking about, and, well… there's not much else to say about it. Vocally she did what she had to do as always!
Favorite Lyrics: "Can you stay up all night / F*** me 'till the daylight"
3. "motive" (feat. Doja Cat)
Let me paint a picture: it's one of the last few minutes of a long party and you just went hard. What kinda song do you want? Something chill and relaxed while you vibe out with some friends before you crash at home. This is exactly the song you wanna listen to. With a feature from Doja Cat, "motive" is a chill bop reminiscent of the same vibes Calvin Harris typically gets into.
Favorite Lyrics: "I could call bullshit out from a mile away (Don't say) / You want me if you can keep comin' back for me..."
4. "just like magic"
With themes of manifesting riches and the power Ariana has at her fingertips, "just like magic" is a pretty girl bop. Ariana knows how powerful she is and it shows. This is actually one of the first songs on the album where she starts to sing out, making this a song you'll definitely get stuck in your head… and maybe that too is Ariana's magic!
Favorite Lyrics: "Middle finger to my thumb and then I snap it / Just like magic (oh), I'm attractive (ah, yeah)..."
5. "off the table" (feat. The Weeknd)
This song features The Weeknd, and even from the first few seconds, it sounds so much like a song he'd be on. Leaning into the drama of R&B, the slow thumping beat and sensual harmony allows Ariana and The Weeknd to passionately sing their hearts out to each other in classic '90s R&B fashion!
Favorite Lyrics: "Am I too cold? Am I not nice? / Might not be quite yet healed already / Should I be goin' too steady? (too steady)"
6. "six thirty"
Getting back into her rhythmic sing-talking, Ariana gives us another song we can sing along to. I can hear the kids singing this song now riding past me on their way to school. Ariana is good at giving us pretty bops and this is no exception. This song is full of strong vocal choices; at one point she seems to be completely whispering, and at another, it sounds like she's rapping. The song is simple and so much fun.
Favorite Lyrics: "I just wonder, baby, if you're gonna stay / Even if, one day, I lose it and go crazy..."
7. "safety net" (feat. Ty Dolla $ign)
You read that right -- featuring R&B's favorite feature and maybe the music industry's busiest artist (just because he really is on SO many songs), Ty Dolla $ign is a nice addition to the song. His ad-libs and harmonies elevate the song to give it that replay factor. This is one of those songs that you'd accidentally play twice on a car ride and not change it -- it's just that good!
Favorite Lyrics: "I've never been this scared before / Feelings I just can't ignore / Don't know if I should fight or fly / But I don't mind..."
8. "my hair"
Instantly reading the title of this song I'm reminded of Ariana's complicated relationship with her hair; her signature ponytail was born out of a protective measure to revive her follicles after frying them on Nickelodeon sets. This is one of the first times we've seen Ariana express strong positivity about her hair, and it's warming to know her relationship with it has only gotten better. The song itself is jazzy and funky enough to add to your… sensuality playlist. Even featuring one of Ariana's classic whistle notes toward the end, the song is truly special!
Favorite Lyrics: "Usually don't let people touch it / But tonight, you get a pass..."
9. "nasty" 
This song will have you hot and steamy as Grande expresses that tonight's the night she wants to get nasty. Lyrics aside, Ariana's production on this track is slowed down and stripped back, making it easy to dance and sing along to. 
Favorite Lyrics: "Boy, you know the vibes, I don't waste no time / Take what's on your mind, make it real life..."
10. "west side"
Coming in in the album's third act, "west side" is one of those songs on your Get Ready playlist that's more about dancing in the mirror than actually getting ready. It's about following your feelings and leaning into the person you know you love, even if they're not good for you. The only flaw about this song is that it's two minutes too short.
Favorite Lyrics: "Hold up, there shouldn't be no hold-up / There's more love if you follow emotions / Show up, now if you're down to roll up / Meet me on the west side for me..."
11. "love language"
One of the more upbeat songs recently on the album, "love language" is about playing your cards right to get that one person to love you back. It's a kick-back song (not a party song but definitely not a slow song) that's the perfect background for mustering up the confidence to talk to the person who's been starring at you across the room.
Lyrics: "I ain't tryna sign no lease / I'm just gon' make you my home..."
12. "positions"
Released ahead of her full album, "positions" got swept up by the internet real quick. It's about moving in a relationship real fast -- forget "taking it slow", "positions" is about doing the things you usually don't do and switching up for a change!
Favorite Lyrics: "Said, boy, I'm tryna meet your mama on a Sunday / Then make a lotta love on a Monday (ah, ah)..."
13. "obvious" 
This song's about love at first sight and whether or not someone is picking up on your signs. We've all had that feeling of butterflies in our stomach while talking to our crush who doesn't even know they're our crush yet. Sometimes, when we think we're being obvious, the person we have feelings for really has no idea what's going on!
Favorite Lyrics: "I love the thought

 

of us in the evening / Crave the feeling..."
14. "pov"
To close us out, Ariana serenades us with a powerful ballad that reminds us that she's truly one of the best. One of her more pop-influenced songs on the largely R&B album, for those of you looking for something a lot more like her older music, "pov" has some of those elements you may miss. It's about being grateful, falling in love, and wanting to see new perspectives.
Favorite Lyrics: "Ooh, for all of my pretty and all of my ugly too / I'd love to see me from your point of view..."
Overall, if you like R&B, this will be a special treat for you! While Ariana dabbles in themes like lust, power, and success,positions is definitely the album where she rediscovers herself and leans even deeper into these themes. But I'd advise you to listen to the album yourself! Enjoypositions now streaming everywhere!