TRACK BY TRACK: Alicia Keys's 'Alicia'
10-06-2020 by Tyler Bey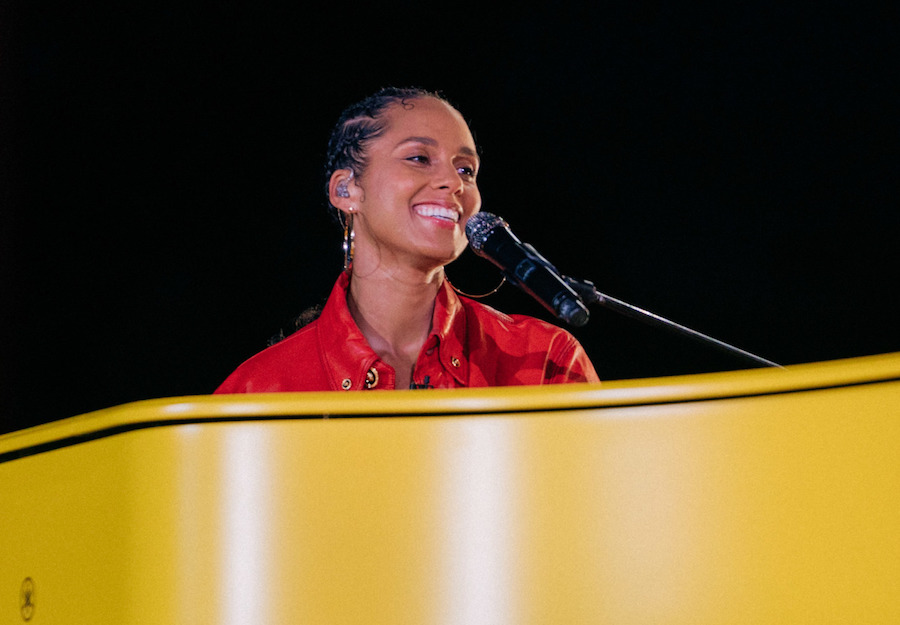 ( © Terence Patrick/CBS via Getty Images)  
Alicia Keys is back and better than ever with a 15-track self-titled album introducing sonic elements brand new to the 15-time Grammy Award-winning musician. With this being her 7th studio album, the 7-time platinum recording artist has been making music for over 18 years. Still looking gorgeous as ever on the cover of Alicia, this album carries an overarching theme of getting up after being knocked down. How timely could a theme be in 2020? Potentially her most political album, Keys has an assortment of music videos for this album touching on subjects like the BLM movement, inclusivity, the universality of love, and far more. With features from Miguel,Khalid, Jill Scott, and many others, there's truly something for everyone!

Let's break it down track-by-track!
1. "Truth Without Love"
The backbone of this song is in the soaring synths and heavenly instrumentation that propel themes like illusions, love, and hate to the foreground. Alicia grapples with her process of finding love without illusions: "Truth without love is just a lie..." The gorgeous sentiment, accompanied by a heartfelt music video of Alicia's family and fondest moments of love, makes this song a heartfelt masterpiece! 
Favorite Lyrics: "What if I wasn't Alicia? Would it please ya? / How would I feed ya? / What if to you, I was just a leecher / Why would I need ya?"
2. "Time Machine" 
With yet another video for the comeback queen, the funk-a-licious skate sequence takes the audience on a journey through time in the sophomore track. With a soulful punch, Keys reminds us that her influence stretches far and wide -- this ain't her first rodeo, and you can tell in the blending of pop, funk, and R&B on the track.
Favorite Lyrics: "Scared of what we're made of / And what we might be / Young life flies out the window, yeah / It's not the time that changed us..."
3. "Authors Of Forever"
This time Alicia hits us with a smooth and fun sing-along as she tells us "It's alright". The song makes me miss summer, the beach, and pre-COVID times where people could just dance, and not 6 feet apart! This song makes me miss being at festivals and parties -- hearing it just makes you wanna sip a frosty and catch a breeze on a warm day. The song unites us together and tells us, wherever we are, it's alright!

Favorite Lyrics: "We are seven billion stories / And we know the faith and glory and it's alright / Alright, oh..."
4. "Wasted Energy" (ft. Diamond Platnumz)
You know when you're having a good night, I mean a really good night, and then someone just ruins it?! That's exactly the feeling I remember when Alicia talks about how the person she was with messed up something that was going really well, and all she's left with is wasted time and wasted energy. With a feature fromDiamond Platnumz, the song mixes soulful R&B with hints of reggae to create a perfect vibe for the passionate lyrics.
Favorite Lyrics: "Why did you f*ck up the chemistry?"
5. "Underdog" 
Telling a story of breaking the mold and chasing dreams, Keys reminds us that we can rise up in times of despair. With yet another video, the icon celebrates a wide range of stories and uplifts us as she sings her heart out. The song reminds us that this is the same Keys that shook the world with "This Girl is on Fire", the Billboard Top 20 sensation that stayed 15 weeks on the charts. If there's one thing Alicia can do, it's bring people together with her music, and "Underdog" is perfect for the occasion. 
Favorite Lyrics: "This goes out to the underdog / Keep on keeping at what you love / You'll find that someday soon enough / You will rise up, rise up, yeah..."
6. "3 Hour Drive" (ft. Sampha) 
This track is truly stunning. With a feature from Sampha, the vocal work on the song will take you to one of those special nighttime places. Maybe it's that one highway you'd always glide down late at night because you know it'll be empty. Or that window in your house where you can see the last few droplets of sunset before dark. Illuminating a theme of searching for love, "3 Hour Drive" brings the album back to a reflective place. As Keys and Sampha go down this road side by side, they both sing about looking for lost love.

Lyrics: "I keep travеlin' by, keep travelin' by / Lookin' for love, you got me lookin' for love..."
7. "Me x 7" (ft. Tierra Whack)
Probably the most straight-forward song on the album, Keys simply says this relationship needs to be about her! With a solid verse from rising rap star and Freshman XXL 2019 stunner Tierra Whack, the song recenters the album about Alicia. 
Favorite Lyrics: "This room got my head spinnin' /Like a carousel at a fair / I know I should give it up / But there's somethin' 'bout the chase / 'Cause when our bodies touch / It erase everything..."
8. "Show Me Love" (ft. Miguel) 
Woah! You're gonna wanna watch the YouTube video for this one. Labeled a "Visual Sonic Experience", Alicia takes us on an artful journey through 3 different stories of love and struggle. The music video features Michael B. Jordan,Zoe Saldana, Marc Perego Sadana, Alicia of course, and Miguel, who's also featured on the song. The video itself is a gorgeous and beautifully stylized understanding of the trials and tribulations that love can entail. She generously uses water and paint to signify the danger, beauty, and power that love possesses. 
Favorite Lyrics: "I always get wrapped up in you, baby, (I'm in love) / We gon' get this lovin' like we never done it / (Baby, I'm in love)..."

9. "So Done" (ft. Khalid) 
With yet another video, Keys and Khalid are performing at a traditional high school prom when mayhem strikes to liberate the night. The song itself is a decision to stop living life for the sake of others and start living for yourself. The simple guitar and sustained harmony between the duo in the chorus gives the song a feeling of cleansing -- detoxifying outside opinions to focus on who you want yourself to be.
Favorite Lyrics: "Cause I'm so, so done (So done, so done) / Guardin' my tongue, holdin' me back (Yeah) / I'm livin' the way that I want (I want)..."
10. "Gramercy Park"
The song finds the middle between folk and R&B as Alicia admits she's having trouble believing truths as her love falls for someone else. She sings about losing herself in an image of who she used to be before she was betrayed. 
Favorite Lyrics: "And I've been trying to be everything I think you want me to be / I've been doing all the things that I think you wanna see..."
11. "Love Looks Better"
Hitting listeners with another upbeat and unifying track, Keys powerfully tells listeners a tale of strength and promise. Keys's music has a heartwarming theme of unconditional love, and it shines through in this track especially.

Lyrics: "Don't matter what I give it to / My love looks better on you..."
12. "You Save Me" (ft. Snow Aalegra) 
Now THIS is Alicia Keys! The song is more stripped down than the rest, but that only brings Keys and her brilliant voice to the front of the piece. The track sounds like the Alicia Keys I grew up listening to on Saturday mornings with my mom. While Alicia's new sound is brilliant, sometimes it's good to return to your roots, and Keys does just that on this track.
Favorite Lyrics: "I know you got me / There's nothin' like your love / You know I got you..."
13. "Jill Scott" (ft. Jill Scott)
Yup, you read that right! And yup, she's on the song too! With a feature from the queen herself, Jill Scott, the track gives listeners pure joy and safety in describing serene moments of love. 
Favorite Lyric: "Ooh, when you are righteously loving somebody / And that somebody is righteously loving you too / It's a vibration..."

14. "Perfect Way to Die"
A striking ballad highlighting our nation's police brutality pandemic, Keys sings her heart out in dedication to the ones we've lost as of late. The song is accompanied by a tear-jerking video that includes a final shot of the giant list of names we've lost to police brutality. Ahmad Aubrey, Darius Tarver, Michael Brown, and George Floyd are just a few names visible in the piece.
Favorite Lyrics: "At least you'll stay forever young / I guess you picked a perfect way to die..."
15. "Good Job"
Keys closes her album with a track to re-ground listeners. In our complicated social, political, and economic landscape, Keys is telling us to keep on pushing on. Truly a singer of immense compassion, Alicia Keys reminds us of the strength inside us to keep pushing.
Favorite Lyrics: "The mothers, the fathers, the teachers that reach us...This is for you, you make me fearless..."
Alicia Keys is back in business with hit after hit on her self-titled album. If you want to be taken on a glorious journey of emotions, listen to Alicia wherever you stream your music -- you won't regret it!