Adam Sandler Gets His Spook on In Netflix's 'Hubie Halloween'!
10-06-2020 by Mary Shannon Donnelly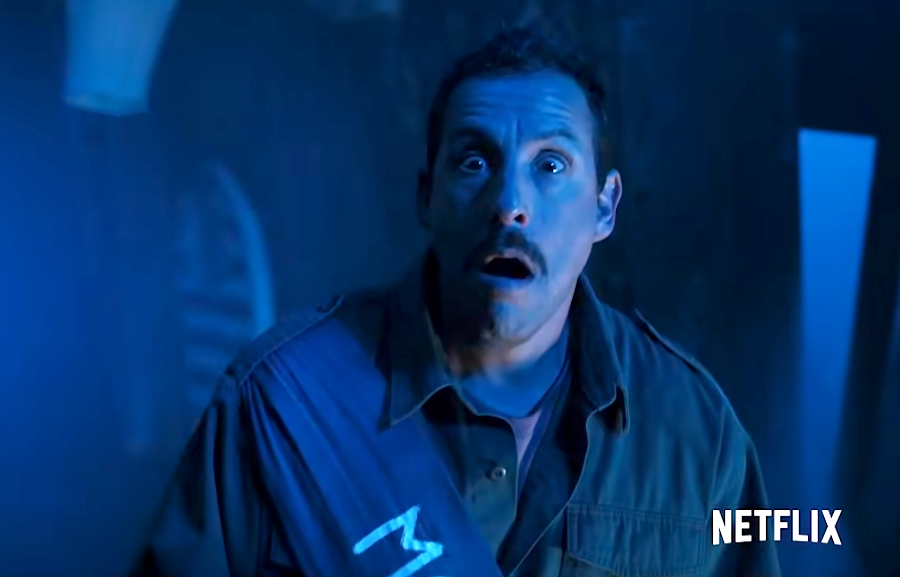 ( © Netflix)  
October is here and with it comes pumpkin pie, candy corn, and, of course, Halloween movies! Hubie Halloween, available to stream starting TOMORROW, October 7, is a new Netflix comedy-horror film about October 31st in the spookiest town in America, Salem, Massachusetts!
The movie follows Hubie Dubois, an eccentric community volunteer who spends every Halloween making sure that the people of Salem are celebrating safely! However, this year, things turn a little upside-down for Hubie. An escaped criminal is on the loose in Salem, and many of Hubie's neighbors are going missing! It Is up to Hubie to make sure that the people of Salem and the police department realize that the town is in danger, but no one seems to believe him. Hubie is often the center of all the neighborhood jokes, and the people of Salem believe this is just an elaborate scheme set up by Hubie to ruin their Halloween celebrations.
The movie stars Adam Sandler as Hubie Dubois and is the latest in the long line of films that have since been created by Netflix after Sandler's production company, Happy Madison, signed a deal with them back in 2014. Similar to his movies likeThe Do-Over and Murder Mystery, Hubie Halloween is star-packed with a talented cast and some pretty great cameos. Some familiar faces you may see on your screen this Halloween season include: Peyton List andKaran Brar, most notably known from the Disney series "Jessie"; Noah Schnapp from "Stranger Things"; Kevin James aka Paul Blart: Mall Cop; as well as Maya Rudolph,Paris Berelec, China Anne McClain, Julie Bowen (who played Sandler's love interest in Happy Gilmore), and more!
 

 

Sep 9, 2020 at 12:37pm PDT
Just in time to get into the Halloween spirit, Hubie Halloween is the perfect family movie for guaranteed laughs and maybe even a few scares. So, this October 7,  grab your popcorn, get comfy, and stream Hubie Halloween to find out if Adam Sandler is going to solve this murder case!