Top 9 Most Out-of-This-World "It's Always Sunny..." Season Promos!
Written by Kevin Donaldson. Published: October 29 2014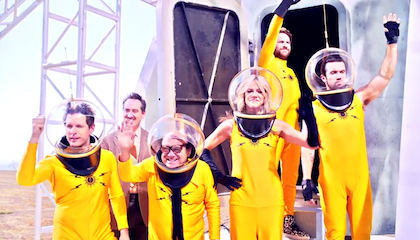 "It's Always Sunny in Philadelphia" has been known as a darkly humorous juggernaut of a series for FX and has helped to amp up the network's name in comedic television. Something that "It's Always Sunny" does every year that I look forward to almost as much as their actual television show is the trailers they put out for each season. This year has been no exception. Check it out below:
Hilarious! Not only that, but the epic scale of it all is quite impressive considering the show itself has a pretty low budget. I mean, shooting them in space?! That's insane! Is this taking a little stab at Interstellar? Plus, it got most of the characters they've wronged from past seasons in the mix. It's awesome and is a prime example of the great lengths "It's Always Sunny" goes to in getting its fans psyched for each season. How about we check out some of the best ones from past seasons?
Season 9
This collection of trailers from Season 9 works on a few levels. It's so weird that it's funny by making fun of Scandinavian art house film director Ingmar Bergman, and it helped to promote FX's latest venture to expand their channel by the creation of a new channel FXX.
Season 8
Imagine if we lived in a world where this actually happened? I'd still watch it!Candice Cameron from "Full House" playing Charlie just sounds incredible.
Season 7
These could be my favorite promos of "It's Always Sunny", which take aim at ABC Family-type shows.
Season 3
And finally, I will leave with my favorite promo from Season 3:
That's a funny little beatbox to get the crowd pumped up. After watching that, I'm probably going to binge on the whole show right now on Netflix. But remember, folks, "It's Always Sunny" starts up again with Season 10 at an undetermined date in January 2015! Until then, check out one of my favorite clips and drink plenty of coffee (slightly NSFW):
(Screenshot via YouTube)
- Kevin Donaldson, YH Staff