Tim Curry's Most Iconic Roles
Written by Greg McIver. Published: June 10 2015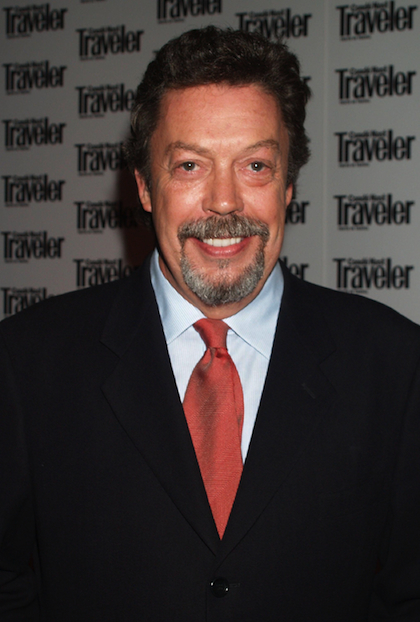 A titanic figure in show business was just recently honored, as Tim Curry accepted the Actor's Fund Lifetime Achievement Award at their annual Tony Awards Viewing Party. This award comes two years after the actor suffered a stroke that has left him wheelchair-bound. I have a lot of love in my heart for the entertainment that Tim Curry has provided to myself and millions of other people over the years. For nearly half a century, the Brit-born thespian has run the gamet in terms of the variety of roles he's played, from devious villains to cheeky butlers and everything in between. He is a tremendous talent and one that deserves all the recognition in the world for his achievements. That being said, below I have listed a few of Tim Curry's most iconic film roles that are sure to stand the test of time.
1. Clue (1985)
When I think of Tim Curry, I will always think ofClue first and foremost, because it is the movie that allowed for him to display his unimaginably brilliant comedic chops. In this film, Curry plays the butler Wadsworth, a seemingly trustworthy man who has brought a group of blackmail victims together to face their common enemy: Mr. Body. When Mr. Body and several others are killed, it is up to Wadsworth to piece together the clues and discover who the murderer is. This film was filled to the brim with talented actors and actresses like Michael McKean, Christopher Lloyd, Martin Mull, and the great Madeline Kahn. But it is Tim Curry who steals the show with what is undoubtedly a superbly grand comic performance.
2. It (1990)
Aaaaggghhhhh!!!! Sorry, but that is a typical reaction one might have when discussing It and Tim Curry's utterly perfect portrayal of Pennywise the Dancing Clown. In 1990, ABC adapted King's brilliantly terrifying novel into a two-part miniseries. This is one of the better adaptations of King's work (please do not try and tell me that the second half is bad because it isn't) and was elevated even higher with the casting of Curry as the evil clown that stalks and eats children. King himself said he wasn't sure if Tim Curry was the right person for the role but that ultimately his performance and people's reaction to it proved that he was a perfect fit. The absolute malevolence and dark joy that curry injected into Pennywise ensured the character's place in horror history and in our dark dreams forever.
3. The Rocky Horror Picture Show(1975)
I'm going to be completely honest here when I say, I'm not sure if I truly get this movie. I have nothing but the highest respect for it as it seemed to shock and dismay folks back in the '70s when it came out, and probably still shocks and dismays folks to this very day. Any film that can give complacency a good kick in the rear is okay in my book. Plus, you would have to be blind or insane to not recognize the sheer awesomeness of Tim Curry's portrayal of sweet transvestite Dr. Frank-N-Furter. But enough of me prattling on. Here is a clip of Tim Curry influencing generations of theatre and film folk:
4. Legend (1985)
Legend is a film that takes place in a magical land where all life is threatened to be swallowed up by eternal darkness if a mighty demon (coincidentally called Darkness) succeeds in killing the last of the unicorns and marrying Sloane fromFerris Beuller's Day Off. It is up to a forest boy played by Tom Cruise (who may or may not be an actual forest boy in real life) to stop the wedding and save the last unicorn from the clutches of Darkness. Our demonic hero Darkness is played by, you guessed it, Mr. Tim Curry, and he is all but unrecognizable underneath the pounds of red devilish flesh. But as memorable as the makeup is, it is Curry who infuses the character with a dark and seductive soul that brings the devil to life. For many folks in my generation, this was their first introduction to Mr. Curry and his wonderful talents, and as far as first impressions are concerned, you'd be hard pressed to find a better (or more intimidating) one.
Editor's Note: As far as I am concerned, THIS is Tim Curry's finest moment. Fight me. --Katie M.
(Photo via WENN)
- Greg McIver, YH Staff