The Most Memorable Moments of the 2019 Oscars!
Written by Katie Marzullo. Published: February 25 2019
(© Kevin Winter/Getty Images)
Just when you think you got everything figured out, the Academy Awards swoop in to remind you that you know NOTHING!
Most things went according to plan during last night's 91st annual Oscars ceremony, but there were still some surprises and delights waiting to sneak up on us. Let's break it all down!
Diversity: Part 1
The Academy really spread the wealth this year, as no one film dominated the winner's list. The most wins by a single movie was Bohemian Rhapsody with 4, while Green Book, Black Panther, and Roma tied for 3.BlackKklansman, The Favourite, A Star Is Born, Vice, and If Beale Street Could Talkall received one award each, which is one less than Alfonso Cuarón all by himself!
No Host? No Problem!
After theKevin Hart Debacle that started at the end of last year, everyone was waiting to see who would replace him as the host at the Oscars, only to eventually find out that there would be no host at all. An anomaly to be sure, as it's something that hasn't really happened before… But you know what? Everything went fine! The show opened with a performance from Adam Lambert and the surviving members ofQueen, followed by an opening monologue from the Holy Trinity of Amy Poehler, Tina Fey, and Maya Rudolph. From there, the show was pretty much in the hands of the presenters, and it didn't skip a beat. I say, drop hosts altogether from now on! Well, unless they hire Keegan-Michael Key and Jordan Peele, because that would be amazing…
Diversity: Part 2
Not only was there a great variety of winning films, the artists themselves came from a wide range of backgrounds. Every year it seems new ground is broken at the Oscars, which is a great thing not only in and of itself but because it won't be too long before we don't need to keep saying "The First Female" This or "The First African-American" That, etc. For starters, 3 out of the 4 acting winners were People of Color (2 African-Americans and 1 Egyptian). Ruth E. Carter was the first African-American woman to win for Best Costume Design (for her truly inspired and painstakingly detailed work on Black Panther), while Hannah Beachler became the first African-American, period, to win Best Production Design (also for Black Panther). These 2 wins alone were the first non-acting Oscar wins for African-American women in 30 years! Meanwhile, Mahershala Ali became the only other African-American actor to receive 2 acting Oscars, after Denzel Washington. With Black Panther's multiple wins, Marvel Studios has their first Oscar cred. Alfonso Cuarón achieved a rare feat of being one of, if not the, only Oscar-winning directors to also have received an Academy Award for Editing as well as Cinematography… not to mention Best Foreign Language Film.
OTP Alert!
Whoever in their infinite wisdom decided to pair Dame Helen Mirren and Khal Jason Momoa as presenters, I tip my hat to you, Sir or Ma'am. This was a pair I never knew I wanted and I am pretty sure I ship them now?! They were even sort of color-coordinated!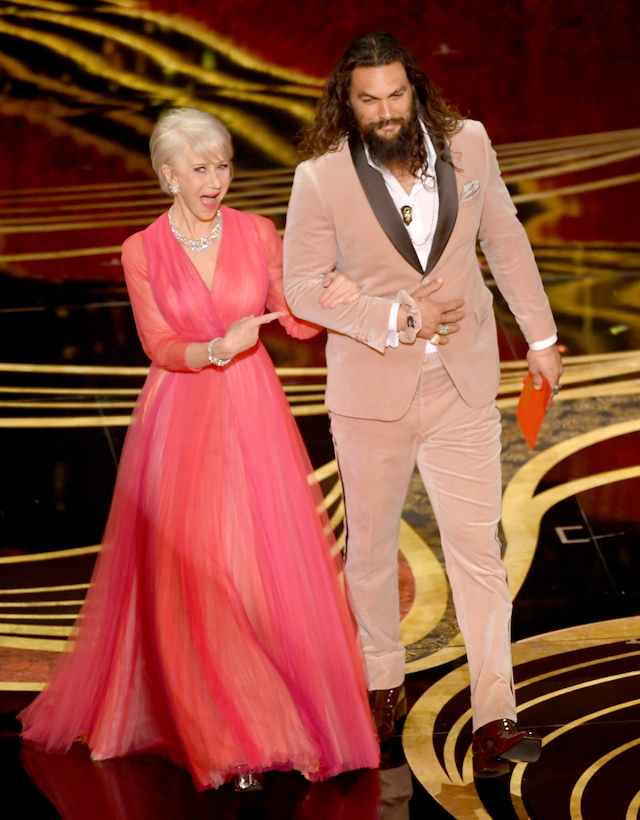 (© Kevin Winter/Getty Images)
Diversity: Part 3
Female artists were also very well-represented last night. In addition to the achievements of the Black Panther design team,Kate Biscoe and Patricia DeHaneyearned an Oscar for their makeup work on Vice;Rayka Zehtabchi and Melissa Berton took home the Oscar for their documentary short "Period. End of Sentence" (about menstruation, no less!);Elizabeth Chai Vasarhelyi and Shannon Dill were one of several recipients of the Oscar for Best Documentary Feature for Free Solo; and Pixar'sDomee Shi and Becky Neiman-Cobbwere awarded for the animated short "Bao".
The Queens Reign!
Nobody was really surprised that Regina King took home Best Supporting Actress for If Beale Street Could Talk (I haven't seen the movie but just that short clip they showed while announcing the nominees had me feeling all sorts of ways), but it was still a delight seeing her parlay her Award Season dominance with the biggest prize of all – something that was, let's face it, a long time coming! And considering her name literally means "Queen" (yes, her name is Queen King), it seemed only natural.
But she wasn't the only "queen" in the house to reign victorious. In possibly the biggest upset of Award Season, the utterly delightful and far-too-slept-on Olivia Colman beat out frontrunner Glenn Close for Best Actress for her turn as Queen Anne of England in The Favourite. This came as a shock not only because everything expected Close – the sentimental favorite who had been cleaning up at every other major awards show – to come out on top, but also because Colman has been relatively quiet this Award Season. Aside from a Golden Globe (in the split-off Comedy category) and an understandably patriotic win at the BAFTAs, Colman had not proven to be the dark horse everyone thought she might be. Lady Gaga was the favorite heading into Award Season, but then Glenn Close started winning everything, so that was the direction everyone thought the Oscars would go as well. Nope! Hopefully this well-deserved win will encourage and inspire people to find out more about the real Queen Anne, who was the first monarch to unite England and Scotland to become Great Britain – something they didn't have time to mention in The Favourite in between the binge-eating and the tantrums I guess. You can read more about Anne here.
Some Questionable Decisions
Not everything was sunshine, daisies, and Olivia Colman last night, though. A few decisions had at least my head scratching. For starters, why was "All The Stars" from Black Panther the only Oscar-nominated song to not get a live performance? Even if it was logistically impossible to get Kendrick Lamarand SZA on stage together at the same time (SZA was actually there at the ceremony), could they not have gotten someone else to perform it, like Bette Midlerperforming the Mary Poppins song in Emily Blunt's place? Was the Academy just afraid that this superior song on the ballot would overshadow Gaga's Big Moment™? I guess we'll never know.
Another head-scratcher was First Man's win for Best Visual Effects. Don't get me wrong, it looked great, but here's the thing – we've seen it before. You could probably name a half-dozen space movies off the top of your head right now that featured the same thing. And not only have we seen it before on-screen, we've seen itin real-life. Meanwhile, the other nominees in this category (Ready Player One, Solo: A Star Wars Story, Avengers: Infinity War, and, to a lesser extent, Christopher Robin) all had to create entirely new characters and worlds from scratch. I feel that requires a lot more ingenuity than just recreating something NASA has been beaming into our living rooms for decades now, no?
The Academy Did The Right Thing
For a filmmaker as prolific as Spike Lee, it's quite amazing to realize that, before last night, he had never won a competitive Oscar. That particular injustice finally came to an end when Lee's adapted screenplay for BlackKklansman took home the top prize. A well-deserved win culminated in one of the best reactions (that leap into Samuel L. Jackson's arms though!) and also one of the most rousing speeches of the evening. Lee also paid tribute to Radio Raheem from Do The Right Thing(R.I.P. – to both the character and the actor Bill Nunn) by wearing his iconic "LOVE" and "HATE" gold knuckle rings to match his Prince-inspired purple ensemble. I couldn't help but notice also how different Lee's demeanor was before and after his win – from tense and focused to loose and hyped. Who can blame him? Congrats, Spike!
Spoiler Alerts!
As good a job as the presenters did last night, there had to have been at least half a dozen of them who totally gave away who the winner was before the name was even announced! From Chris Evans's silent salute when Black Panther won for Best Production Design, to Guillermo Del Torocommenting "Here is a name I can pronounce" before naming Alfonso Cuarón as Best Director, to Samuel L. Jackson practically jumping out of his skin upon seeing Spike Lee's name on the winner's card, presenters not only seemed hand-picked to present awards to the specific winners but had no chill at all about containing their joy. Which was, admittedly, a joy to see! Nothing better than seeing people at the top of their game get excited for their colleagues at the top of theirs.
Check out the full list of winners here.
(Top image via Frazer Harrison/Getty Images)
- Katie Marzullo, YH Staff Editor